petak, 22.01.2010.
Mutants (2009)

Mutanti (2009)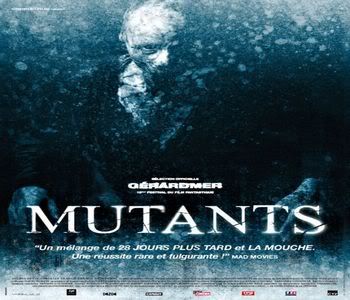 Produkcija: Sombrero Productions / Région Picardie / CNC / Cofinova 4 / Canal+ / CinéCinéma / TPS Star
Redatelj: David Morlet
Scenarij: Louis-Paul Desanges i David Morlet

Uloge:
Hélčne de Fougerolles (Sonia)...............Francis Renaud (Marco)
Dida Diafat (Virgile).................................Marie-Sohna Conde (Perez)
Nicolas Briançon (Franck).....................Luz Mandon (Dany)


Film je izašao u kina 06. svibnja, 2009 godine
Trajanje: 95 minuta
Foršpan filma...




SADRŽAJ:
"- Par mladih ljubavnika nađe se usred virusne pandemije koja se vrlo brzo raširi čitavom Francuskom. Virus ljude pretvara u krvožedne mutante željne ljudskog mesa, a Sonia i Marco bježe pred gradskim kaosom, te se vozilom Hitne pomoći prebacuju do napuštene vojne zgrade zvane NOAH u brdovitom području.
Iako, daleko od zaraženih Sonia ima problem, jer Marco ima zaraženu krv i polagano se pretvara u jednog od mutanata. Sama Sonia je bila ugrižena, no izgleda da je njeno tijelo otporno na virus, te je tako i nada za cijelo čovječanstvo, jer u toj njenoj otpornosti leži riješenje za suzbijanje i lječenje opakog virusa.
Marco je u zadnjem stadiju pretvaranja u čudovište, a okolna brda su preplavljena mutantima i samo je pitanje vremena kad će provaliti u zgradu...a još kad se pojave drugi preživjeli i nezaraženi problemi za našu heroinu postaju još gori, jer njihovo je ponašanje sve samo ne prijateljsko..."




RECENZIJA:
- Mislim da filmovi o zaraženima nisu bili nikad popularniji u ovih par godina (28 Days/Weeks Later, REC...), pa tako svake godine imamo po par novih naslova. Prošla je godina bila također dosta dobra.
Imali smo razvikani "Carriers", od kojeg je po mome sudu današnji film mnogo bolji.
Dakako oba se filma razlikuju po radnji tj. ovdje imamo radnju baziranu na zaraženima koji mutiraju i napadaju normalne/nezaražene dok se američki film više bazira na tome da je sam virus najveća prijetnja ljudima i to na način ala "Outbreak" (1995) ili "Variola Vera" (1982).

Već smo ponavljali da Francuzi već par godina konstantno proizvode jako dobre horor filmove sa naglašenom relanom slikom grafičkog nasilja i ogavnih scena.
Iako, se vidi da je film ograničen vrlo malim budžetom njegova kvaliteta nije upitna. Sam film se da opisati kao mješavina filmova "28 Days/Weeks Later" i "Mutant Chronicles" (2008) i to najviše zbog izgleda zaraženih (također liče pomalo na Crawlere iz Marshalovog "The Descenta"), ali i sama radnja jako baca na "28 Days..." s tim da je radnja iz Engleske prebačena u Francusku. Početak filma je odlično napravljen s tim da kamera vodi glavnu riječ (fin kut snimanja, ali i fotografija francuskog pejzaža prekrivenog snijegom) i način na koji je snimljen može se shvatiti kao mali intermezzo između "28 Days Later" (2007) (nemojte zaboraviti da kraj filma završava u Francuskoj) i ako se ikad snimi "28 Months Later".




Glumica Hélčne de Fougerolles kao Sonia je uvjerljiva i vrlo brzo uđe gledatelju pod kožu. Glumac Francis Renaud kao Marco je ostvario finu karakterizaciju lika tj. njegovo polagano pretvaranje u mutanta, no kod mene ipak neće ostati dugo u pamćenju. Ostali glumci su solidni, no scenarij im nije dao mnogo prostora da se iskažu.
Specijalni efekti i šminka su odlični (film ima 4-5 predivnih krvavih scena - kad ženu zgazi auto ili kad metak pogodi tipa u glavu ili obračun kad meci pršte i pogađaju).
Sam film nema loših strana osim što je sadržajno trebao biti konkretniji (kraj je nekako ubrzan nasuprot sporijem početku) i žešći kako u akcijskim tako i jezovitim scenama (recimo na način koji smo vidjeli u filmu Dannyja Boylea ili u REC-u), te mu je scenarij trebao biti bogatiji u dijalozima.
Kad se sve zbroji mogu reći da sam uživao u gledanju ovog filma (virus, kvazi zombiji, snijeg i hladnoća, par glumaca i depresivna atmosfera...sve lijepo pogođeno za ovakvu vrst filma), koji sigurno spada među najbolje filmove iz 2009 godine, ali i najbolje uratke iz podžanra filmova o zaraženima. Toplo preporučam gledanje ovog francuskog hororca...

p.s. - skoro zaboravih nemojte miješati ovaj film sa "Mutants" (2008) u kojem gl. ulogu igra Michael Ironside.


THE SCENA:
- automobil gazi ženu - je jedna od najboljih saobraćajnih nesreća koje sam vidio