nedjelja, 06.12.2009.
Chaw (2009)

Vepar (2009)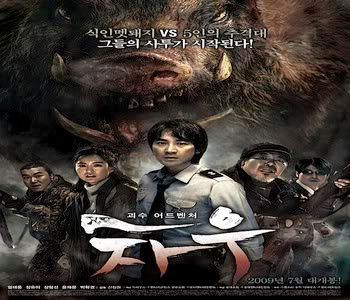 Produkcija: Lotte Entertainment / Polygon Entertainment
Redatelj: Jeong-won Shin
Specijalni efekti: Digitrove, Inc


Uloge:
Tae-woong Eom...................Policajac Kim
Yoon Jae-Moon.....................Lovac Baek
Yu-mi Jeong..........................Su-ryeon
Josiah D. Lee........................Detektiv br.1


Film je izašao u kina 15. srpnja, 2009 godine
Trajanje: 121 minuta
Službena stranica filma (na korejskom)
Foršpan filma...




SADRŽAJ:
"- U malom južnokorejskom selu Sameri kriminala nema već 10 godina. Kad netko oskrnavi lokalno groblje i iskopa mrtvaca policija se vrlo brzo baca na posao otkrivanja krivca. No, ubrzo slučaj postaje ozbiljniji kad lokalni ekolozi otkriju na jednom šumovitom području djelove raskomadanog leša. Policija ostaje zbunjena, ali uz pomoć savjeta lokalnog legendarnog lovca Chun il-mana, čija je unuka jedna od žrtava, otkrivaju da je za sve krivac gigantski vepar.
Sad grupica najhrabrijih - Chun il-man, kao vodič i čovjek od iskustva, Baek, mladi lovac koji se želi dokazati, detektiv Sim, čovjek zadužen za cijeli slučaj, Soo-ryun, ekologinja i mladi policajac KIM Kang-soo odlaze u šumovita brda, gdje će se jednom za svagda obračunati sa gladnom zvijeri."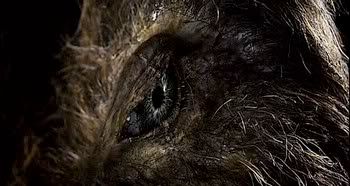 RECENZIJA:
- U zadnje vrijeme se pojavilo vrlo malo kvalitetnijih filmova o napadu životinja na ljude (namjerno izuzimam one filmove iz ŽNJ produkcije) tako da sam se jako razveselio kad sam čuo da južnokorejci rade jedan takav film. Razveselilo me je to što u zadnje vrijeme južnokorejska filmska industrija doživljava novu mladost, te nam daje kvalitetne naslove u svim žanrovima, pa tako i u hororu (sjetimo se samo Domaćina).
Nakon što je izašao i prvi službeni foršpan film je obećavao dovoljnu dozu zabave, iako se vidjelo da film nema neke predispozicije da bude recimo neko horor remek djelo ili barem film koji će biti omiljen široj grupi ljudi. E, sad nakon odgledanog o filmu mogu reći sljedeće:

Što valja kod filma:
- priča i glumci
- početni dio filma
- neki specijalni efekti
- par smiješnih i 2-3 hororične scene


Što ne valja kod filma:
- slab scenarij i karakterizacija nekih likova
- predugo traje
- CGI efekti vepra slabi (vidi se da film ima slabiji budžet)
- atmosfera i manjak krvavijih scena
- sredina filma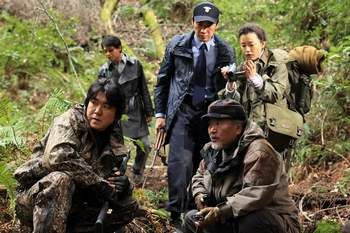 Završna riječ:
- Film me nije razočarao no niti razveselio. Činjenica je da filmu fali više napetosti i atmosferičnosti sa kojom bi se neke scene bolje naglasile. Ako se tome doda i to da je scenarij dosta slabo napisan, te da neki likovi pate od manjka bolje karakterizacije možemo reći da film i nije lošije ispao, jer da je ovo dopalo u ruke nekog slabijeg redatelja nego što je to Jeong-won Shin mislim da bi film ispao i još gori. Doduše Shin nema neke očaravajuće redateljske kvalitete no svakako je uslijed slabog budžeta i produkcijiskih problema odradio solidan posao.
Film stvarno dobro počinje i uvodi gledatelja u priču, te isto tako mu prezentira paletu šarolikih likova koji po čudnosti jako nalikuju na one u remek djelu "The Host" (2006), no negdje od 40-45 te minute film odlazi u omanji prazni hod, te ta sredina otupljuje daljni tijek radnje. Kraj me je malo razočarao jer ima tipično američki happy end što se tiče glavnih junaka, no ono što me je pomalo smetalo, ali što nije moglo nikako drugačije da se u filmu prikaže jeste veliki utjecaj nekih drugih odličnih filmova - "Jaws" (1975) i "Razorback" (1984).

Pa, pa tako imamo početak filma ala "Jaws" samo što ovdje imamo veprinu a ne psinu (scena kad se uhvati ženka našeg vepra,a prvi krivac mužjak je još negdje na slobodi) i način na koji beštija djeluje je isti, dok je čak prekopiran onaj dio kako gradski oci ne žele slušati savijete policije o sigurnosti zbog zarade (u Spilbergovu filmu zarada od turista koji ljetuju na plažama, a ovdje zarada od seoskog turizma).
Kraj filma je umnoge sličan odličnom australskom filmu "Razorback" sa očitim uzorom istovjetne tematike, a oni koji su gledali film znat će o čemu govorim (ostalima ne želim pokvariti gledanje filma).
Chaw unatoč par smiješnih scena (koje vidimo većinom na početku filma i koji dobro služe za upoznavanje likova), te tu i tamo stvarno stravičnih prizora (scena sa Chun il-manovom unukom je fenomenalna i najbolja u filmu) koji se stidljivo pojave i uvjerljivim glumcima (solidna gluma kad se gleda da ih je scenarij stvarno ograničavao) film je na moju žalost preporučljiv samo za jedno gledanje, a onda ćete ga sigurno vrlo brzo zaboraviti.
Možda bih bio blaži da je CGI vepra bio uvjerljiviji i bolji ili da je film bio malo krvaviji, no ovako kakav je vepar takav je film nit smrdi nit miriše...a bogme je film stvarno mogao biti kraći za čak 30 minuta. A ako slučajno želite vidjeti baš pravu akciju sa ogromnim veprom koji bez problema jede i djecu, te terorizira Australska bespuća onda je i dan danas br.1 "Razorback", te ako ga niste već gledali toplo ga preporučam unatoč ovom modernijem filmu.



THE SCENA:
- nakon što Chun il-manovu unuku udari kombi, vozači koji su vozili pripiti je bace u obližnji jarak, gdje je još živu pojedu naš vpera i njegova družica...