nedjelja, 29.11.2009.
Jennifer's Body (2009)

Tijelo Lijepe Jennifer (2009)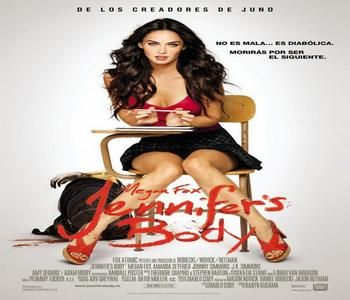 Produkcija: Dune Entertainment /Fox Atomic / Hard C
Redateljica: Karyn Kusama
Scenarij: Diablo Cody


Uloge:
Megan Fox................................Jennifer
Amanda Seyfried ......................Needy
Johnny Simmons......................Chip
Adam Brody..............................Nikolai


Film je izašao u kina 10. rujna, 2009 godine (Toronto International Film Festival)
Trajanje: 102 minute
Foršpan filma...
Budžet: oko 16 milijuna $
Zarada: 16 195 523 $
Zarada prvog vikenda u SAD-u: 6 868 397 $ (u 2 702 kina)




SADRŽAJ:
"- Film donosi priču o Jennifer (Megan Fox), učenici srednje škole u malom gradiću, koju opsjedne gladni demon zbog čega postaje prava inkarnacija zla. Blještava ljepotica postaje blijedo i boležljivo stvorenje koje neprestano žudi za sljedećim mesnim obrokom, a frajeri koji joj ranije nisu bili nimalo zanimljivi dobivaju novu notu privlačnosti uz Jenniferinu neutaživu glad.
U međuvremenu, Jenniferina najbolja prijateljica iz djetinjstva Needy (Amanda Seyfried), koja je godinama živjela u njenoj sjeni, mora preuzeti odgovornost i zaštititi mladiće grada, uključujući svog dečka Chipa (Johnny Simmons)."


Jedna od poznatijih scena u filmu

RECENZIJA:
- Evo još jednog izdanka školskog horor filma ili ga ja barem tako običavam zvati "Tijelo Lijepe Jennifer" (2009). Po netu se je dugo reklamirao kao sigurni hit (barem u okviru horor žanra), ne da li je film takv možete vidjeti prema njegovoj zaradi u SAD-u.
Kako vidimo budžet mu je bio 16 milijuna, a toliko je i zaradio, znači da je film teško podbacio jer je jedva pokrio troškove snimanja. No, što je sa kvalitetom? Pa, krenimo od standardnog početka...dobre/loše strane:


Što valja kod filma:
- gluma Amande Seyfried
- okosnica priče
- kraj filma
- cameo pojava Lancea Henriksena


Što ne valja kod filma:
- gluma Megan Fox
- manajk specijalnih efekata
- režija, priča i scenarij
- karakterizacija likova
- nepoznavanje mitologije
- loše iskorišten J.K. Simmons




Završna riječ:
- Mogu slobodno reći da je ovaj film sigurno jedan od najgorih horora snimljenih ove godine. Ne samo da nije nezanimljiv za gledanje nego je podbacio u svim mogućim segmentima, tako da on sam sadrži par mizernih pluseva. Najprije bih se osvrnuo na očajno napisani scenarij za što je zaslužna Diablo Cody (zaradila Oskara 2007, za scenarij filma "Juno") koja je najviše zaslužna zašto je ovako loše film ispao.
Evo samo nekih negativnih stvari samog scenarija:

- da su dvije najbolje prijateljice neugledna i povučena Needy i najljepša školska ljepotica (bez momka??) Jennifer, koja je 'školski zla' to je teško povjerovati
- sukubi su demoni to je točno i uzimaju ženski oblik što je isto točno, no oni kroz snove izvlače životnu energiju iz muškarca, a ne kako je ovdje potretirano da se svako malo hrane muškim mesom (da je Jennifer ostala samo neki neimenovani demon ovo bi bilo mnogo bolje)
- film nema nikakvo objašnjenje o porijeklu demona ili one misteriozne rupe u rijeci što bi dublje okarakteriziralo zlo (kad ovo kažem ne mislim da mi sve treba objašnjavati ali ovakva vrsta filma treba imati uhodano upoznavanje sa zlom, pa makar ono bilo i nepoznato i tajanstveno) i uvelo malo bolje gledatelja u radnju
- onda ona scena kad izgori kafić gdje ljudi zapaljeni trče glavni likovi se ponašaju neverojatno flegmatično kao da je to svakodnevna pojava
- a tek kad Jennifer dođe nakon 'žrtvovanja' sva krvava kod Needy i počne jesti sirovo meso i povraćati crnu krv po podu...to Needy nimalo nije čudno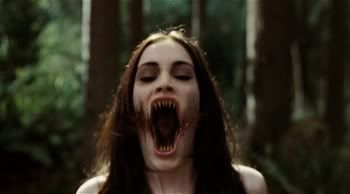 O karakterizaciji likova neću govoriti jer je uopće nema (lik Mr. Wroblewskog kojeg glumi J. K. Simmons je tako trivijalno prikazan da je ovog dobrog glumca žalosno gledati). Efekti?? Koji efekti?
Film nema nikakvih efekata, iako je film to nekako svojim reklamiranjem naznačivao. Ubojstva su većinom nemaštovita, a neka su napravljena u sjeni izvan pogleda kamere. Drugi veliki minus je radateljica Karyn Kusama, koja su nije snaša što zbog redateljskog neiskustva (početnica u tom poslu, izbjegavanje potrebnih strašnijih i krvavijih scena za horor film znači skoro pa smrt za taku vrst filma), ali zbog toga što ne zna uputiti glumce kako da odglume svoje likove. No, niti scenarij joj nije mnogo pomogao kao što smo vidjeli iz priloženog.
Treći minus koji je po meni možda ne najveći no svakako najznačajniji za cijelokupan film jeste Megan Fox, najslabije glumačko ostvarenje u filmu. Ne samo da je ovom svojom prvom pravom glavnom ulogom dokazala da nije kvalitetna glumica (u ovom filmu prevladava joj dosada u licu i preglumljivanje i neuvjeljivost), nego je dokazala ni da nema onaj skladni seksipil kao što imaju Monica Bellucci i Angelina Jolie (ako je kupanje u jezeru i povremeno napučivanje usana to onda ne znam što bih rekao).

Jedino čega ću se dobro sjećati jest cameo pojava Lancea Henriksena (nekreditiran!!!), glumce Amande Seyfried koja je dala u glumačkom smislu više nego joj je to scenarij dopuštao (još ćemo mi za ovu glumicu čuti...bar se nadam) i fenomenalnog kraja koji kreće od kraja filma tj. kad Needy bježi iz bolnice pa kad krene odjavna špica.
Šteta što je okosnice priče obećavala, no na našu žalost cijeli film je ostao samo na pukom obećanju. Bolje vam je pogledati "The Craft" (1996) i "The Faculty" (1998) filmove koji su različiti u podžanrovima, no svakako djela koji upadaju u taj školski horor i koja su konkretnija i definitivno kudikamo bolja i zabavnija (da ne govorimo strašnija) od današnje recenziranog filma.
Zato zaobiđite ovaj film, jer nećete mnogo propusiti ako ga gledate...