utorak, 17.11.2009.
#13 Scream Scena: Irreversible (2002)

Nepovratno (2002)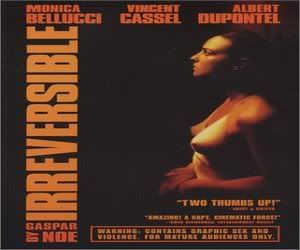 Režija i scenarij: Gaspar Noe

Glume:
Monica Bellucci...................(Alex)
Vincent Cassel....................(Marcus)
Albert Dupontel....................(Pierre)


SADRŽAJ:
"- Nakon svađe sa svojim dečkom Marcusom (Vincent Cassel), Alex (Monica Bellucci) odlazi sa zabave. Na putu do kuće, u pustom tunelu grubo je silovana i nikada ne dolazi kući. Ljuti, povrijeđeni dečko i njegov prijatelj Pierre (Albert Dupontel) odluče uzeti pravdu u svoje ruke i uloviti silovatelja sami."


O SCENI:




- Silovanje...jedna od najgorih stvari što se može dogoditi ljudskom biću.
Što je najgore na svijetu postoje ljudi koji tvrde da se silovanje ne može dogoditi, kao što je to tvrdio jedan odvjetnik dok je branio svog klijenta silovatelja o kojem legendarni pisac i novinar Hunter S. Thompson piše u svojoj knjizi "Hell's Angels: The Strange and Terrible Saga of the Outlaw Motorcycle Gangs", a koji svoje mišljenje o tom slučaju i samom silovanju iskazuje sljedećim riječima:

"- Bilo koji odvjetnik koji kaže da ne postoji takva stvar kao što je silovanje trebao bi biti odveden na javno mjesto gdje bi bio sodomiziran u podne od strane tri ogromna perveznjaka, gdje bi ga svi njegovi klijenti gledali...."

Ovaj vrlo neobični eksperimentalni dramski film ne samo da ima zanimljivu priču nego i odlične glumce. No, ono što se najviše (nažalost) pamti i što baca cijelu priču u drugi plan jeste ogavna scena silovanja uvijek zamamne Monice Bellucci (koja je uzgred i odlična glumica) od nevjerojatnih skoro 9 minuta.
Što reći nego da je ovo sigurno jedna od najšokatnijih scena ikad viđenih u nekom filmu a da nije horor.



Scena br. Pierre smrskava silovatelju lice aparatom za gašenje požara

- Osim ove gore spomenute scene film Gaspara Noe ima još jednu isto tako jedva gledljivu ali sjajnu scenu i koja svojom realnošću gadi čak mene, bez obzira što sam se nagledao svakakvih gadarija u životu.
To je scena kad prijatelj silovane Alex Pierre aparatom za gašenje požara pronađe silovatelja u SM gay klubu i pred mnoštvom rulje mu smrska lice (dobar uvod u realnost ovakvih scena koje ćemo kasnije vidjeti u francuskim hororima novog vala). Sirovo i tako relanu scenu nisam vidio godinama (ne znam ni kako su je usopće uspijeli snimiti) jer gledatelj ne samo da dobije osjećaj da gleda stvarnu scenu i čivjeka na izdisaju, nego u njemu igraju razni osjećaji:

- Mojsijev osjećaj "oko za oko zub za zub" i da je gad zaslužio sve što ga ide zbog silovanja Alex
- osjećaj čovječnosti i sažaljenja, pa misliš iako je gad i najveći šljam ovog svijeta žao ti ga je

Baš zbog ovakvih stvari obožavam horore, kad oni u tebi probude razne dvojake osjećaje baš kao što je ova potonja scena vjerujem i u vama probudila...
Tko nije gledao film toplo ga preporučujem ne samo zbog ove dvije scene, nego zbog same priče, ali i uspijelog eksperimentalnog načina pričanje priče tje. cijela radnja se odvija od kraja prema početku....(sličnu smo stvar vidjeli i u također odličnom filmu "Memento", 2000)


p.s. - najgore od svega toga je što sam vrlo sličnu scenu sa aparatom vidio u stvarnom životu kad sam jednu subotnju noć bio u jednom kafiću i kad je nastala tuča između dvojice tipova gdje je jedan od njih uzeo zrnati bokser iz džepa i klepio ovog drugog svom snagom po glavi tako da mu se tjeme raspuklo ko dinja. Na svu sreću tipa je spasila Hitna pomoć jer bi da je samo 5 minuta zakasnila odnijela mrtvog čovjeka...ne trebam niti reći da tu većer nisam mogao zaspati jer mi se ta scena stalno odvijala pred očima.