subota, 14.11.2009.
9 (2009)

Devet (2009)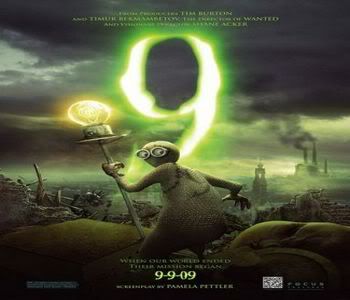 Produkcija: Focus Features / Relativity Media / Starz Animation
Redatelj i priča: Shane Acker
Scenarij: Pamela Pettler


Glasove posudili:
Elijah Wood (#9)...............................Jennifer Connelly (#7)
Christopher Plummer (#1)................Martin Landau (#2)
John C. Reilly (#5).............................Crispin Glover (#6)
Fred Tatasciore (#8 / Radio najavljivač)


Film je izašao u kina 09. rujna, 2009 godine
Trajanje: 79 minuta
Budžet: oko 33 milijuna $
Zarada: 31 506 416 $ (SAD)
Zarada prvog vikenda u SAD-u: 10 740 446 $ (u 1661 kina)
Službena stranica filma
Foršpan filma...





SADRŽAJ:
"- U mračnoj budućnosti planete Zemlje, ljudi više nema; uništili su ih strojevi koje su sami stvorili kako bi si olakšali život. Međutim, ljudski duh je ostao očuvan u šačici majušnih mehaničkih humanoidnih krpenih lutaka, ali sa srcima koja su prožeta tanašnim djelićem duha znanstvenika koji ih je stvorio kada je nestajala ljudska civilizacija.
Svaki od njih ima naslikan broj na svojim leđima, a posljednji od njih – 'devetka' – postat će nova nada za malena bića i njihovu budućnost."




RECENZIJA:
- Evo i sa 31 godinom na leđima i dalje mi je gušt pogledati dobar crtani film i to bez obzira bio on onaj crtan rukom tj. klasičan ili onaj rađen uz kompjuterske animacije. "9" je jedan od četiri kompjuterski animirana filma koji je dobio predikat PG-13 (ostali su - "Final Fantasy: The Spirits Within" (2001), "Beowulf" (2007) i "Kaena: The Prophecy") i to s razlogom.
Naime film obiluje sa par vrlo uznemirujućih scena, koje i baš nisu primjerene maloj djeci, a također film ima 'egzotičnih' prizora - npr:

- način na koji strojevi ubijaju malene krpene lutke je jezovit (ako ga se promatra dječijim očima) i ujedno fascinantan (sisanje životne energije na sličan način kako su to radili svemirski vampiri u Hooperovom ZF hororcu "Lifeforce", 1985), te način na koje ih love je također izveden vizualno besprijekorno
- prva od scena koje su me iznenadile su prikazi tri leša od kojih najviše šokira scena sa majkom i djetetom, jer takvo nešto ne da nisam mislio da ću vidjeti u crtiću koji je kao namjenjen za djecu (barem su nam to u foršpanu sugerirali) nisam ni mislio da će producenti to dopusititi
- koketiranje s erotikom (kipovi žena imaju lijepo oblikovane dojke) i očigledna aluzija na drogiranje (osmica se 'puca' ili 'stimulira' magnetom po glavi pri tome svojom mimikom lica odaje da mu to pričinja veliko zadovoljstvo)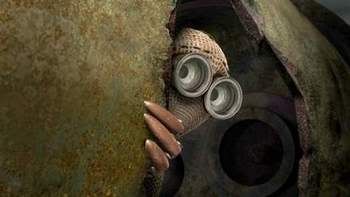 Jedino što ovaj animirani film pomalo koči u tome da bude totalno besprijekorno napravljeno djelo jest pomalo slabije napisan scenarij završnice i sadržajno pojednostavljeni dijalozi, pa tako sam stekao dojam da bi crtić bolje funkcionirao u epizodnom trajanju ne više od kojih 35-45 minuta (kao da redatelj nije uspio do kraja iznijeti svoje ideje scenaristici).
Sve ostalo je odrađeno jako dobro od karakterizacije (koja ipak varira od sjajne pa sve do pomalo labave, no ovo potonje poništava specifična osobnost i vizualna karakteristika svih 9 malih bića), posuđenih glasova (angažirani su kvalitetni glumci, koji su svojim glasovnim sposobnostima fino udahnuli život svojim junacima) do akcijskih sekvenci. Ipak, najviše me se dojmila sama priča za koju je trebalo imati cojones u održavanju onog morbidnog i depresivnog ozračja koje vlada večinom filma (ljudi su istrebljeni i to se osjeća u svakom kadru) i za što skidam kapu redatelju Shane Ackeru.
Vjerujem da mu je mnogo pomoglo i to što su mu jedni od glavnih producenata bili Timur Bekmambetov i Tim Burton (on je sigurno podržao morbidan ugođaj), koji su pokrenuli projekt nakon što su odgledali njegov kratki istoimeni 11 minutni (za Oskara nominirani) animirani film iz 2005 godine. Također, animacija likova je jedna od najboljih koje sam vidio (malo šlepaju dok Krpeni trče i vatra izgleda slabije nego kod drugih kompjuterskih crtića...no to su jedini minusi animacije).

Kad bih opisivao radnju nekom tko će tek da gleda ovaj film onda bih mu rekao da je ona nastala kao odličan miks najboljeg što znanstvena fantastika nudi, pa tako imamo malo "War of the Worlds" (2005) uništavanja civilizacije, pa "Matrix" (1999) i "Terminator" serijala, gdje roboti umnogo liče ne one iz dotičnih filmova.
Evo reći ću i to da mi je najdojmljivije bilo mehaničko čudovište znano kao The Seamstress (Spider-snake) koji me umnoge podsjećao na kiborge iz filmova "Virus" (1999) i "Screamers" (1995).
Devetka je iznimno zabavan i složen animirani film, koji neće svakom sjesti onako kako treba i koji će svojim mračnijim elementima i depresivnom atmosferom zadovoljiti one zahtijevnije SF ljubitelje. Samo Ackerovo djelo treba gledati pod drugačijem svjetlom (nije vam ovo jebeni Disney) nego što je to recimo bio slučaj sa mnogo vedrijim "WALL-E" (2008), jer iako tako izgleda na prvi pogled ovaj film nije samo puka zabava...on je ipak nešto više od toga, jer se bavi ozbiljnijim Sci-Fi temama. Svakako gledati ako to niste već napravili.






THE SCENA:
- definitivno kad The Seamstress (Spider-snake) krene u napad. Jer iako sekundarni protivnik naših likova prezentira nam pamtljivog jezivog negativca koji se na ovakav način dugo nije već pojavio u animiranim filmovima i koji načinom kako se ophodi prema žrtvama i samom svojom pojavom stvara nelagodnost u najboljoj akcijskoj ali i horor sceni....