ponedjeljak, 09.11.2009.
Zombieland (2009)

"Dobrodošli u Zemlju Zombija" (2009)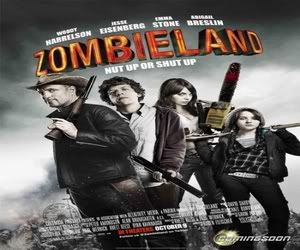 Produkcija: Columbia Pictures / Relativity Media / Pariah
Redatelj: Ruben Fleischer
Scenarij: Rhett Reese i Paul Wernick


Uloge:
Jesse Eisenberg (Columbus).......................Woody Harrelson (Tallahassee)
Emma Stone (Wichita)..................................Abigail Breslin (Little Rock)
Amber Heard (djevojka iz sobe 406).............Bill Murray (Bill Murray)


Film je izašao u kina 02. kolovoza, 2009 godine
Trajanje: 88 minuta
Budžet: 23, 6 milijuna $
Zarada: 67 213 400 $ (SAD)
Zarad u prvom vikendu u SAD-u: 24 733 155 $
Foršpan filma...
Službena stranica filma
Nagrade:
2009 godina - osvojio nagradu publike na međunarodnom filmskom festivalu u Sitgesu, Španjolska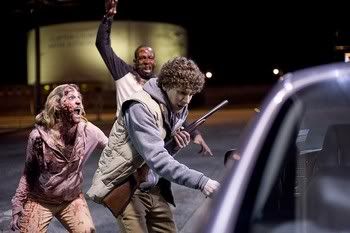 SADRŽAJ:
"- U svijetu kojim vladaju zombiji, najstrašljiviji čovjek na svijetu predvodi grupu ljudi u potrazi za skloništem...
Columbus je strašljivi mladić, koji zahvaljujući svojim mnogobrojnim strahovima i paranoičnim mislima uspijeva preživjeti zombi infestaciju u svom gradu. Tallahassee je ubojica zombija. Nakon što se udruže sa djevojkom Wichitom i njenom 12-godišnjom sestrom Little Rock koji također imaju načine da pobjegnu od zombija moraju odlučiti šta je gore: vjerovati jedni drugima ili se sukobiti sa zombijima sami i odvojeni od grupe..."



Naša ekipa koju gledamo u filmu

RECENZIJA:
- Evo napokon filma koji za razliku od sličnih 'nabrijanih' hororaca isporučuje ono što obeća svojom reklamom. Ako ste već pogledali reklamu za ovaj film onda znajte da sve što vidite u njoj savršeno prikazuje kakav će film biti kad ga krenete gledati.
Mislim da ste shvatili iz gornje dvije rečenice da sam totalno oduševljen filmom, koji kod nas nosi naslov "Dobro Došli u Zemlju Zombija" iako mu je pravi naslov "Zemlja Zombija". Da oduševio me je nakon par stvarno usranih zombi filmova koje sam imao prilike gledati prije njega (kao što je recimo "Diary of the Dead", 2007).

Ova zombi komedija i ujedno svojevrsni film ceste izgleda kao američka verzija "Shaun of the Dead" (2004) ili da se još bolje izrazim kao profinjen i izbalansirani mix "Dawn of the Dead" (2004) i moderne tinejđerske komedije sa pametnim humorom ala "Superbad" (2007).
Ono što je jaka podveznica sa filmom Zacka Snydera je što i u ovom filmu se zombiji maratonci sa istim onim gadljivim ugrizima na svojim žrtvama (a dodatni je plus što zombiji stalno povraćaju krv poput zaraženih u "28 Days Later", 2002), te da oba filma imaju fantastične uvodne špice.
Iako, DOTD ima još neprikosnoven početak, film Rubena Fleischera mu je opasno blizu. Početak ne samo da prikaže kako se brzo zaraza širi, nego to čini uz vrhunsku zabavu, a sve zahvaljujući odličnoj montaži i fotografiji (događaji se redaju svaki kadar u slow motionu, dok špica ne odvrti svoje uz odličan soundtrack) dvojca Alana Baumgartena i Michaela Bonvillaina.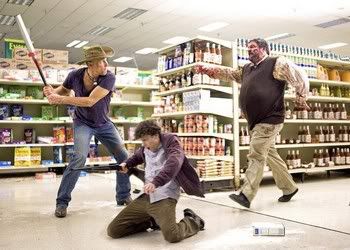 Glumačka postava je izvrsna i svaki glumac i glumica odrađuje svoj posao bez ikakvih mana ili grešaka. Jesse Eisenberg kao Columbus je lik koji vam odmah priraste srcu baš zbog te svoje mnogobrojne paranoje (legendarni strah od klauna) i odličnih pravila (kojih bi se trebao držati svaki onaj tko je preživio ili preživljava zombi infestaciju), dok liku Wichite slatka Emma Stone svojom staloženom glumom daje dozu seksipila koju pametno kombinira sa akcijskim nastupima, pa sigurno konkurira za naj glumicu ove godine. Mala Abigail Breslin ne zaostaje za Emmom, pa tako uvjerljivo glumi Wichitinu mlađu sestru Little Rock.
Što se tiče Woodya Harrelsona on je u svom elementu koju mu najviše leži i slobodno mogu reći da mu je ovo jedna od najboljih uloga iako nije jaka u onoj dramskoj značajki (kao recimo ona Larryja Flynta). Vidi se da je uloga simpatičnog, ali pomalo čudnog Tallahasseeja (filmoznalca) baš pisana za njega.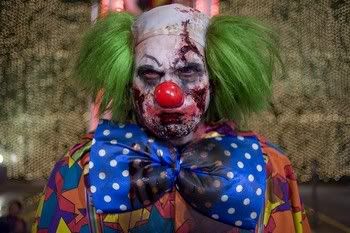 Jedan naj zombija u filmu

Za kraj bih rekao da film ima svega pomalo i kravih scena i humora, te da u svojih 88 minuta radnja nigdje nema prazan hod ili neku dosadnu sekvencu. Scenarij je dosta dobro napisan (naj plus je svakako naracija glavnog lika Columbusa i nabrajanje njegovih pravila koja se pojavljuju u primjerima kroz cijeli film i to da naglasim u neisforsiranom tonu) i diči se dubokom karakterizacijom glavnih likova, dok se sredina filma više ordinira na odnos među samim likovima nego na same zombije i infestaciju, što je svakako pozitivna stvar.
Jedina opaska scenarija je ta što nije filmu podario neki klimaks u kojem bi bilo više akcije a u kojem bi naši muški junaci spašavali naše junakinje (doduše takva scena postoji, no ne odiše adrenalinom kao što se to događa u recimo DOTD rimejku) i fali možda više ogavnijih scena za one okrojelije gore fanove, no meni osobno to i nije toliko smetalo.
Svakako šlag na torti je i kameo pojava Billa Murraya koju u filmu glumi samog sebe (stvarno zabavno). Ovo je svakako film koji vrijedi gledati ne samo jednom, nego i više puta...pa čak i se ekipom. Ugodna zabava je zagarantirana, a toplo se nadam da ćemo dobiti i nastavak ovog odličnog zombi filma, jer kraj jednostavno vapi za tim.



THE SCENA:
- Početak filma... jednostavno prelijepo
- Kameo pojava Bill Murraya
- te napad djevojke iz sobe 406 (slika dolje)




*U našim kinima od 17. 12. 2009 godine (nadam se da će do tada biti gotovo kino u Šibeniku pa da ga pogledam i u našem kinu)