ponedjeljak, 12.10.2009.
Doghouse (2009)

U nemilosti (2009)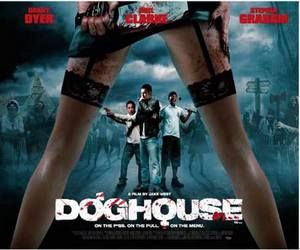 Produkcija: Carnaby International / Hanover Films / Molinare Studio
Redatelj: Jake West
Scenarij: Dan Schaffer
Glazba: Richard Wells


Uloge:
Danny Dyer (Neil)..............................Stephen Graham (Vince)
Noel Clarke (Mikey)...........................Emily Booth (The Snipper)
Lee Ingleby (Matt)..............................Keith-Lee Castle (Patrick)
Emil Marwa (Graham).......................Neil Maskell (Banksy)


Film je izašao u kina 12. lipnja, 2009 godine
Trajanje: 89 minuta
Budžet: oko 4 milijuna $
Zarada: 109 060 Ł
Službena stranica filma
Foršpan filma...






SADRŽAJ:
"- Grupa prijatelja odlazi u udaljeno englesko mjestašce po imenu Moodley kako bi u opuštenoj atmosferi uz glazbu i pivo oraspoložili svog prijatelja Vincea, koji je sviježe razveden. Kad stignu u mjestašce ono izgleda napušteno, no kad uđu u pub "The Cock & Bull" vrlo brzo otkriju da su svi muški mještani masakrirani, a sve žene pretvorene u čudovišne spodobe čiji je cilj pobiti sve muškarce, a sve zahvaljujući vojnom eksperimentu i jednom vrstom virusa, koji ih pretvara u ubilačke mašine.
Sada Neil, Vince i ostali dio društva moraju brzo smisliti kako pobijeći iz Moodleya, jer ne samo što su ženski monstrumi opremljeni svakojakim hladnim oružjem nego vrlo brzo evoluiraju iz faze jedan u fazu dva što ih iz neorganiziranih spodoba pretvara u bića koja počinju misliti i planirati."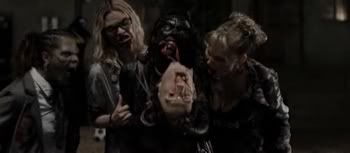 RECENZIJA:
- Nakon što je prije četiri godine snimio odličan nsikobuđetni crno humorni SF "Evil Aliens" redatelj Jake West nam se ove godine vraća sa još jednim hororcem. Pošto mi se jako svidio njegov prošli uradak ne samo svojom svježinom u humornom smislu, nego i svom pristupu radnji koja je te godine stvarno bila osvježavajuća kako za horor tako za ZF žanr, ne trebam naglašavati to da sam imao velika očekivanja u vezi ovog filma. A bogme i foršpan je obećavao mnogo toga. Na kraju moram reći izreći onu legendarnu - tresla se brda rodio se miš... No, krenimo od početka:


Što valja kod filma:
- poznata glumačka ekipa britanskih glumaca koju predvode Danny Dyer i Stephen Graham
- okosnica glavne radnje
- šminka i maske
- Emily Booth nenametljivo glumi jednu od monstruoznih žena u filmu (koka sa škarama zvana The Snipper)
- gore scene jako dobre
- uvodna šica filma
- rascopana glava živog rastrganog vojnika



neprepoznatljiva slatkica Emily Booth napada škarama


Što ne valja kod filma:
- scenarij i sama razrada priče
- scena kad naiđu na još živog rastrganog vojnika (jako loše odrađeni efekti dok on govori)
- slaba karakterizacija glavnih likova
- prenaglašeni humor koji je negativno isforsiran
- kraj filma
- "Lesbian Vampire Killers" (2009) je skoro pa bolji film od ovog (nažalost)



Završna riječ:
- Silno sam se razočarao u ovaj film i što je najgore u svemu on ima samo par negativnih stvari, no koje su vrlo krucijalne u cijelokupnom pogledu (ali i onoj zadnjoj ocijeni) na sam film.
Stepenica na kojoj se film poskliznuo je bila humor. Njega ima i to u dobrim količinama, no nikako nije efektivan kao recimo "Evil Aliens" ili već mnogo puta spominjan "Shaun of the Dead" (2004). Iako nisam mislio uspoređivati ovaj film sa Shaunom, to se ipak nije moglo izbijeći zbog sličnosti scena oba filma u kojem glavni likovi neobičnom dosjetkom žele proći neopaženo pored zombija/zaraženih. Tako u ovom filmu imamo scenu gdje se dio muške ekipe obuče u žene kako bi se neopaženo provukli pored monstruoznih žena (ako ovo nije slično sa onom scenom u Shaunu gdje njegova ekipa glumi zombije onda ne znam što je...iako podcrtavam ne vidim kopiranje dotične scene od strane Westa). Sličnih scena ima poprilično (recimo scena sa autićem na daljinski) no iako su pogrešno odrađene, zamišljene i isforsirane nisu toliko loše da bih rekao da spadaju u groteskni humor ala "Feast 2 i 3". Dapače nekima će se on svidjeti (čak će biti onih kojima se Evil Aliens nisu svijdeli, a ovaj će film naprosto obožavati), no na moju veliku žalost takva vrsta humora ne prolazi.




Scenarij je očajno napisan i to možemo zahvaliti novaku u ovom poslu Danu Schafferu, što talentiranom redatelju Westu ne mogu tek tako oprostiti. Zbog toga film pati ne samo od loše karakterizacije (jako plošni likovi, a početak je obećavao), nego i od prevelikih rupa u radnji koje dodatno zbunjuju gledatelja - npr. pojava gradonačelnice (koja je njena svrha nakon velikog naglašavanja njenog lika kroz cijeli film?), bolja razrada o virusu i vojsci (ne treba biti sve objašnjeno, no ipak taj dio bi trebao biti malo bolje posložen) i jeben mu kakav je to kraj?
Film odjednom završava bez da je imao efektnu završnicu (a sve je vuklo prema tome) pa sam se osjećao ne zakinuto nego dobro namagarčeno od strane redatelja i njegove filmske ekipe. Kao da su im tad rekli producenti da im ne daju više love i da završe film kako znaju, a ovi su ga završili tako da je kraj svojstveniji nekoj romantičnoj (mozak na pašu) komediji. Eto, spomenut ću i glumu - ona je takva kakva je i glumci nisu nimalo krivi za samo solidnu izvedbu (mogu oni i bolje od ovog što su nam pokazali), jer ih je sam scenarij maksimalno prigušio (a bogme im niti redatelj West nije nimalo pomogao). Maska i šminka su odlične, a u filmu ima dovoljno gore scena.
Ovo je jedva solidan horor film koji ima tendeciju da s godinama upadne u onu listu samo jednom pogledati i zaboraviti ga... šteta.