četvrtak, 01.10.2009.
The Hills Run Red (2009)

Brda Krvare Crveno (2009)




Produkcija: Dark Castle Entertainment / Warner Premiere / Fever Dreams / Ludovico Technique
Redatelj: Dave Parker
Scenarij: John Dombrow i David J. Schow
Priča: John Carchietta

Uloge:
William Sadler.....................Wilson Wyler Concannon
Sophie Monk........................Alexa
Tad Hilgenbrink...................Tyler
Janet Montgomery..............Serina
Mike Straub.........................Gabe
Raicho Vasilev....................Babyface
Danko Jordanov..................Babyface


Film ima svoju DVD premijeru 29. rujna, 2009 godine
Trajanje: 82 minute
Foršpan filma...






SADRŽAJ:
"- Radnja filma se vrti oko filmskog fanatika koji ima opsesiju pronaći kompletnu kopiju čuvenog 'izgubljenog' slasher filma "The Hills Run Red" (2009) što ga navodi da zajedno sa par prijatelja krene na putovanje prema lokaciji gdje je film originalno sniman. Kad stignu u šumsku zabit i pronađu prve tragove koji govore da su na dobrom putu u pronalaženju filma. No, kako se sve više približavaju osamljenoj kući u kojoj su snimani njegovi zadnji djelovi spoznaju da sva krvava ubojstva koja su vidjeli u foršpanu stvarna, a kad ih zaskoči i sam ubojica Babyface ostaje im samo da pokušaju spasiti vlastite živote ili će se i oni sami naći kao dio filma i to samo kao jedne od mnogobrojnih stvarnih žrtava maskiranog luđaka..."






RECENZIJA:
- Kad se pojavio prvi foršpan ovog filma on je obećavao. Kad su na web stranici www.bloody-disgusting.com naveliko počeli najavljivati DVD premijeru (uz to Brad Miska aka MrDisgusting mu je dao visoku ocijenu 7/10) i kad je Fangoria imala opsežan tekst o samom filmu on je obećavao. Sad kad sam pogledao film mogu reći da je film totalna katastrofa i to takva da ga samo korak dijeli od toga da ga nazovem čistokrvnim filmskim horor proljevom. Prije nastavka gađenja ovog filma dajmo mu brzi pregleda dobrih i loših strana:


Što valja kod filma:
- gola Sophie Monk i to što u filmu vidimo prirodne velike i male dojke
- epizodna pojava Williama Sadlera
- početna špica filma kad dok idu slova uz jezivu uspavanku Babyface kao tinejđer škarama odreže lice komad po komad
- maska ubojice i baza priče
- tri scene u filmu (dvije konverzacije i jedan krvavi kill)
- maska tj. pravo lice ubojice Babyface
- fotografija 2-3 kadra






Što ne valja kod filma:
- režija, scenarij (dijalog), fotografija i montaža
- gluma svih glumaca, a pogotovo veterana Williama Sadlera
- kopiranje svih poznatijih filmova iz slasher i survival horor podžanra
- lik Babyfacea (jedan od najgorih slasher ubojica koje sam ikad vidio) i način pristupu samoj radnji
- psiholološki profil ubojica
- prepun slasher klišeja ubačenih u film bez ikakvih finesa
- film u filmu je krvaviji od pravog filma


Završna riječ:
- Sam film počinje kao jedna od epizoda serijala "Masters of Horror": John Carpenter's Cigarette Burns (2005) i mislim da su scenaristi bazu ideje dobrano posudili baš od Carpenterove epizode. Neki bi čak rekli da tu ima i utjecaja "The Blair Witch Project" (1999) i "Behind the Mask: The Rise of Leslie Vernon" (2006), no ja ne bih išao tako daleko iako su i tu neke omanje podveznice slične.
Ono što ovaj film dijeli korak od toga da ga proglasim filmskim proljevom jeste što u njemu ništa ne valja niti funkcionira kako treba, a sam redatelj kao da je potpuno izgubio busolu.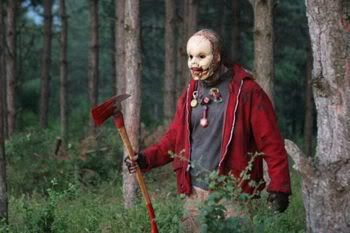 Gluma svih glumaca je očajna i više je priliči amaterskim filmovima, no najgore od svega je što se iskusni glumac veteran William Sadler koji ima zavidnu karijeru i koji u glumačkom izričaju ima talenta se do zla boga preglumljuje (a za petama mu je i Sophie Monk). Dijalog je izrazito slabo napisan s tim da pojedini izraženiji djelovi teksta nikako ne pristaju uz određene scene i zbog toga izgledaju stvarno bedasto.
Kamera je jedna od lošijih što sam vidio u nekom horor filmu u zadnje vrijeme, a to kažem jer u nekim scenama imate dojam da se radi o stvarno amaterskom uradtku, dok odmah u sljedećoj sceni ponovo dobijete fotografiju B-horor filma nižeg budžeta pa kad se ta dva stila pomiješaju vrlo se brzo gubite u tome kakvu vrstu filma vi to uopće gledate.

No, ovo gore nije najgore od svega i još se kako tako progutati bez obzira na sve minuse i mane samog filma. Najgore je to što i sam glavni negativac pod imenom Babyface ne funkcionira u niti jednom segmentu svoje pojave (pogotovo djelovanja!!), a ne pomaže niti to što glumac(ci) koji glumi dotičnog slasher manijaka vrlo loše kopira Jasona Voorheesa (kako onog Kane Hoodera tako i ovog novog iz rimejka) i tako nam od svoje mimike ne pruža ništa novo i osviježavajuće (mali Quinn Lord koji glumi Sama iz "Trick 'r Treat (2008)" bi mu mogao biti mentor).
Uz lošeg slasher ubojicu u ovom očiglednom slasher filmu jedino gore od svega navedenog u zadnje tri rečenice je to što niti sam redatelj Dave Parker ne zna što bi želio dočarati gledateljima ovim filmom, jer je kako sam već rekao izmiješao par horor podžanrova, pa svakim kadrom plovi od jednog do drugog ne zadržavajući se na niti jednom mnogo vremena. Tako jedan dio filma počinje kao tipični blijedi slasher inspiriran Petkom 13-tim, da bi se kasnije kratkom dionicom prebacio na survival horor (ala "Wrong Turn") i onda sve završava u nekoj bljutavo/blijedoj maniri petparačkog torture porn filma ponajviše inspiriranim francuskim novim valom filmova strave i užasa u kojima krv curi u hektolitrima.
Ovo nit je vidjelo horor filma niti slasher podžanra (unatoč prisustvu maskiranog ubojice i samim horor elementima) i žali Bože što sam nasjeo forsiranom reklamiranju i čudnim ocjenama nekih recenzenata jer ovaj film ne samo da nije niti blizu kvaliteti jednog odličnog filma kao što je "Behind the Mask: The Rise of Leslie Vernon" (2006) sa kim dijeli mnogo sličnosti, nego nije niti zaslužio da ga se stavlja u slasher podžanr. Bez obzira što rekli drugi, ja kažem da je film čisto smeće nad smećima i jedan od najgorih filmova što sam gledao ove godine....

p.s. - dokaz mega gluposti je i ta što je Warner Bros do maksimalnosti izreklamirao ovo nedjelo, a za "Trick 'r Treat (2008)" nije utrošio niti 5 kuna za promociju....sramota da ne može biti veća