utorak, 22.09.2009.
Blood: The Last Vampire (2009)

Krv: Posljednji Vampir (2009)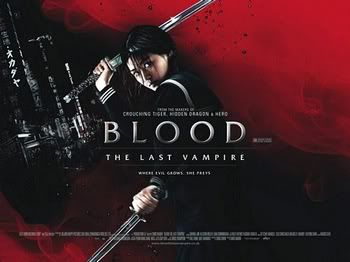 Produkcija: East Wing Holdings / SAJ
Redatelj: Chris Nahon
Scenarij: Chris Chow
Kratori lika: Kenji Kamiyama i Katsuya Terada
Remake anime filma : Blood: The Last Vampire (2000)


Uloge:
Gianna Jun (Saya).................................Allison Miller (Alice Mckee)
Liam Cunningham (Michael).................JJ Feild (Luke)
Koyuki (Onigen).....................................Colin Salmon (Powell)


Film je izašao u kina 29. svibnja, 2009 godine
Trajanje: 91 minuta
Službena stranica + foršpan filma; Žešći foršpan
Budžet: oko 30 milijuna $ž
Zarada: 256 681 $ (SAD); 8 776 054 $ (Svjetska zarada bez SAD-a)



Jedino vrijedno gledanja - Saya

SADRŽAJ:
"- Saya je 400 godišnja djevojka polu-čovjek polu-vampir čiji je jedini cilj loviti druge vampire.
U mladosti ju je odgojio starac po imenu Kato, koji ju je naučio drevnim birilačkim vještinama. Sada radi za tajanstvenu organizaciju znanu samo kao "Koncil" i za njih ubija demone i vampire, dok traži najjačeg od svih demona Onigena, koji je kriv za smrt starca Katoa. Uz pomoć mlade djevojke Alice Saya uspijeva doći do sviježih tragova koji vode k njenom glavnom neprijatelju, a kad se nađu oči u oči slijedi posljednji obračun..."






RECENZIJA:
- Nisam još imao volje za pogledati anime film iz 2000 godine i čekam pravi trenutak za to, no nisam mogao a da ne odolim pogledati ovaj film. Meni osobno su jako privlačni borci protiv demona i vampira aka Vampire Hunter D ili Blade, pa mi je taj detalj uvijek prevagnuo kad bih se odlučio gledati jedan među grupom filmova. Najprije ću ipak nakratko spomenuti dobre i loše strane:


Što valja kod filma:
- Gianna Jun kao Saya
- cameo pojava Colina Salmona kao poznatijeg glumca u hororcima
- neki djelovi koreografije borbi (nažalost samo 10%)
- uvodna špica i naslov filma


Što ne valja kod filma:
- specijalni efekti
- 90% koreografije borbi
- glavni negativac
- svi likovi osim glavne junakinje tj. njihova gluma
- kopiranje par filmova: "300" (2006) i "Underworld: Evolution" (2006)
- priča i sama radnja
- scenarij i plošnost likova
- borba Saye i Onigena


Saya u elementu

Završna riječ:
- Koliko vidite film je jako loš i blag bi bio izraz kad bih rekao da sam samo razočaran. Film je smeće kakvo ovaj mjesec još nisam gledao (ujedno ulazi u moju listu najgorih filmova ove godine). U njemu ništa ne valja - najprije bih rekao da je scenarij toliko konfuzan i što je najgore prepun ogromnih grešaka kojima u ovakvom filmu nije mjesto i koje se ne mogu tolerirati (evo jedan od primjera: spomenuo bih scenu u kojoj je Saya opasno ranjena i Alice kao drugi glavni lik filma joj daje svoju krv da se oporavi od rana...molim te kako to Alice zna da treba napraviti kad se u filmu njoj kao liku ne otkriva što je zapravo Saya?...nažalost ovakvih je primjera i previše), sljedeći veliki minus što su svi likovi totalno nezanimljivi (osim solidne Saye) i nemaju niti malo karakterizacije.
Kakav je scenarij takva je i priča (čitaj: jedna velika zbunjoza), pa o tome neću više trošiti niti redak.

CGI efekti su očajni i bliski su onima koje gledate u ŽNj produkcijama, gdje ljudi krpaju kraj s krajem u mizernom budžetu, pa je opravdano da efekti budi takvi kakvi jesu. No, ovdje je budžet ipak 30 milja što je sasvim pristojna lova da se može u par scena napraviti ako ništa drugo barem pristojni efekti. Ovako imamo kompjuterski generirana čudovišta (mogu reći da beštije u videoigri kao recimo "Doom 3" (2004) izgledaju sto puta bolje i realnije nego u ovom filmu) koja jedva možete gledati dok se bore protiv naših junaka.
Osim jadno napravljenih čudovišta imamo i isto tako žalosnu CGI krv koju vidimo tijekom borbi kad katana siječe neprijatelje (opet ću to usporediti sa videoigrama i reći da onu krv koju vidite u sada već prastaroj igrici "Blood II: The Chosen (1998)" izgleda kudikamo realnije od ove u našem filmu) i mišljenja sam da je pristup prikazu krvi trebao biti onom koji smo imali prilike vidjeti u "Kill Bill: Vol. 1" (2003) tj. dobra stara krv od sirupa maline.




Kod ovog filma se vidi jaki utjecaj borbi iz "300" (2006), no to je tako jadno prekopirano da izgleda skoro neuvijerljivo (čast iznimkama u par scena koje su uspijele), a usporedbe koreografije borbi sa remek djelom "Wo hu cang long" (2000) su smiješne i svakako nepotrebne. Nepotrebno je bilo posuđivati scenu borbe krilate nemani na kamionu koju smo vidjeli u filmu "Underworld: Evolution" (2006) što je dodatni čavao na lijesu ovog filma. Gluma je proljev (kako sam rekao Gianna Jun jedina može proći), kao i finalna borba između Saye i njenog nemesisa (jedna od najgorih finalnih borbi pozitvac vs. negativac koje sam vidio) i to bi bilo sve za reću u ovom segmentu.
Za kraj bih rekao da je ovaj film trebao ispasti novi Blade, a Gianna Jun je trebala ispasti ženski pandan Wesleyu Snipesu (usporedba sa Bladeom je neizbježna jer sve scene podsječaju na Dnevnog Šetaća od borbi do nekih tamnijih kadrova i scena konverzacije među likovima) no stvarna je činjenica da je film čista hrpa gnojiva i žali Bože vremena što sam potrošio gledajući ga.
Film zaobiđite u širokom luku jer nećete uživati u njegovom gledanju, no ako se ipak odvažite znajte da je lijepo gledati slatku Giannu Jun u školskoj uniformi kako maše katanom...barem nešto rekli bi najveći optimisti.


jedan od najgorih obračuna svih vremena