četvrtak, 17.09.2009.
Infestation (2009)

Zaraza (2009)




Produkcija: Heavy Duty Entertainment / Icon Productions
Redatelj i scenarij: Kyle Rankin
Specijalni efekti: iO FILM


Uloge:
Chris Marquette (Cooper)....................Ray Wise (Ethan)
Deborah Geffner (Maureen).................Bru Muller (Roger)
Brooke Nevin (Sara).............................Kinsey Packard (Cindy)
Wesley Thompson (Albert)


Film je izašao u 27. kolovoza, 2009 godine (Film4 FrightFest)
DVD Premijera: 07. rujna, 2009 godine
Trajanje: 93 minute
Službena stranica filma
Foršpan filma...






SADRŽAJ:
"- Kad se mladić po imenu Cooper probudi u svom uredu otkriva da je prekriven nekom čudnovatom paučinom. Ista stvar se dogodila i njegovim radnim kolegama, koje odmah pokuša osloboditi od paučine i stanja nalik snu, no istog tog trena biva napadnut od strane velikog i jako agresivnog kukca, kojeg uspjeva jedva ubiti.
Ubrzo se oko Coopera okupi mala grupica preživjelih sa kojima vrlo brzo otkriva da su njihov grad napali insekti koji su došli iz svemira i jedino što im preostaje jest - preživjeti, no pitanje je koliko su oni sami spremni i snalažljivi za takvu vrst ekstremne situacije...."



legenda Ray Wise stupa na scenu


RECENZIJA:
- Već duže vrijeme se na netu mogao pogledati foršpan za vrlo zanimljivi film imena "Infestation", koji je zbog lijepo osmišljenog trailera i intrigantnih fotografija obećavao mnogo toga ljubiteljima ZF-e, ali i horor filmova.Nakon što sam ga odgledao mogu reći da me film nije razočarao, no isto tako sa žaljenjem mogu konstatirati da me nije niti očarao. Zašto?

Pa, tu imamo par stvari koje ne štimaju kako bi inače trebale u ovakvoj vrsti filmova, a još je gore što nam je sam film svojom reklamnom kampanjom sugerirao da nas čeka nešto ako ne odlično onda barem ugodno i zabavno. Film inače radnjom podsjeća i dijeli mnoge sličnosti sa filmovima poput "Eight Legged Freaks" (2002) i "Evolution" (2001), no tu dolazimo do još jednog dijela koji u Zarazi ne štima, a to je zabava. Djelo Kylea Rankina nije zabavno kao potonja dva filma što je u ovakvim filmovima veliki preduvijet da gledatelj uživa u gledanju (iako ću reći i to da spomenuti filmovi nisu niti oni bez svojih mana), drugi preduvijet je dobra glumačka ekipa koja je ovdje jako flegmatična i gledatelj ju jedva može prihvatiti. No, koliko god gluma bila upitna (ne nije loša jednostavno glumci se baš ne trude previše u svom uživljavanju u svoje uloge) film ipak živne kad se napokon u kadru pojavi legenda Ray Wise kao Cooperov otac Ethan (doduše opet moram naglasiti da mu ovo nije jedna od najboljih uloga).

Treća stvar koja ne štima kako treba jeste to što redatelj i ujedno scenarist filma Rankin ne uspijeva kvalitetno svojom redateljskom vještinom prikazati ono što je zasigurno u glavi jako lijepo zamislio, pa tako scenarij izgleda pomalo suh sa svojim jako pozitivnim stranama:
- glavnina radnje o vanzemaljskim kukcima, neočekivano ubijanje jednog ženskog lika od strane jedne osobe iz grupe, pojava mutanata tj. hibrida ljudi i kukaca, lom noge scena, scena kad Cooper i tata budu zatvoreni u zatvoru od strane paranoičnih seljačina
te na kraju ipak isplivaju oni nepopularni scenaristički nedostaci:
- nedorečen kraj, malo bolje osmišljena atmosfera, više jeze, poneki prazan hod koji nam govori da se scenarist u nekim scenama nije snašao i da stvarno nije znao što dalje, tu i tamo nepotrebna konverzacija
Specijalni efekti su jako dobri i kukci izgledaju više nego dobro za film ovakve produkcije (niža B produkcija), no ipak ne mogu a da ne dam omanji minus aljkavosti samim meštrima iz "iO FILM"-a u pogledu scena kad kamion gazi jednog od preživjelih i kad vanzemaljska osa ispusti svoju ljudsku žrtvu na krov zgrade (obe scene su očajno napravljene i neopreostivo je se njihove strane, pa unatoč tome što je budžet filam vrlo mali).
Dakle da ponovimo: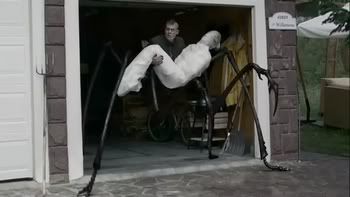 Što valja kod filma:
- okosnica radnje koja je tipični Sci-Fi film u modernom ruhu, a koji reference vuče od filmova poput "Them!" (1954), pa do modernih zajebancija tipa "Eight Legged Freaks" (2002) i "Evolution" (2001)
- dizajn kukaca (ništa originalno, no ipak dosta dobro)
- neočekivano ubojstvo jednog ženskog lika od strane nekoga iz grupe
- 50 minuta - Ray Wise se pojavljuje u epizodnoj ulozi i otad film dobija na dinamici
- mutanti ljudi i kukaca tzv. hibridi
- scena kad lik iskače iz kamiona i u padu slomi nogu (detalj koje obožavam gledati u filmovima jer filmu daje realistiku)
- cameo pojava glumica Deborah Geffner i Linde Park


Što ne valja kod filma:
- specijalni efekti u scenama kad kamion gazi jednog od preživjelih i kad džinovska osa ispusti tipa na krov zgrade
- nedorađenost same priče
- dio atmosfere, jeza
- gluma gl. glumaca Chrisa Marquettea (Charlie Linderman iz "Freddy vs. Jason") i Brooke Nevin
- umjetne dojke glumice Kinsey Packard koja glumi Cindy, a koja nam ih pokaže u jednoj sceni
- blijedi kraj


Ovo je film koji se svakako isplati pogledati, ali da ćete uživati u njemu....pa sumnjam (kako ko), no svakako spada u onu grupu filmova koji će se pogledati i vrlo brzo zaboraviti (postoji velika mogućnost da će dosta vas zahtijavnijih fanova našeg omiljenog žanra biti razočarano nakon gledanja, jer foršpan je mnogo toga obećavao...a sam film je malo toga dao).





THE SCENA:
- neočekivano ubojstvo jednog od likova iz grupice preživjelih od strane preživjelih (takav lik većinom nastrada od čudovišta)