petak, 11.09.2009.
The Gate II: Trespassers (1990)

Vrata 2: Prestupnici (1990)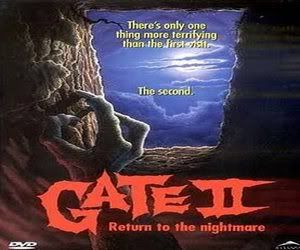 Produkcija: Alliance Entertainment / Epic Productions / New Century Vista Film Company / Vision PDG
Redatelj: Tibor Takács
Scenarij: Michael Nankin
Specijalni efekti: Ruckus Enterprises (Supervizor – Randall William Cook) i Frank C. Carere
Minijature: The Garden of Allah & Michael F. Hoover
Šminka: Craig Reardon

Uloge:
Louis Tripp...................................Terrence 'Terry' Chandler
Simon Reynolds...........................Moe
James Villemaire .........................John
Pamela Adlon...............................Liz
Neil Munro.....................................Art
James Kidnie................................Mr. Coleson



Film je izašao u kina 24. svibnja, 1990 godine
Trajanje: 90 minuta / 93 minute (Kanada)
Zarada: 2 033 000 $ (SAD)
Zarada u prvom vikendu u SAD: 1 035 000 $ (u 350 kina)
Foršpan filma...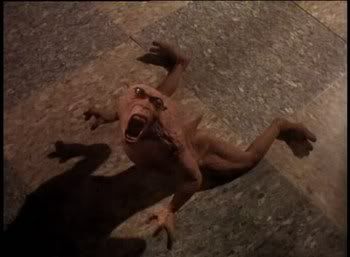 SADRŽAJ:
"- Prošlo je pet godina od kada je Terryjev prijatelj Glen otkrio Vrata Pakla u svom dvorištu. Glen se odselio i Terry se nakon dugo vremena vraća u unutrašnjost ruševne kuće kako bi izveo ritual prizivanja demona, koji bi mu trebali ispuniti želje. No, kad mu se slučajno priduže i troje drugih tinejđera Liz, Moe i John stvari krenu nepredviđenim tokom i vrlo brzo se svi nađu u opasnosti od demona s one strane..."





RECENZIJA:
- Nakon jako dobrog prvog filma naslova The Gate (1987), koji je jedan od pamtljivijih horora iz zlatne ere tj. 80-tih godina prošlog stoljeća tri godine nakon njegovog pojavljivanja dobijamo i njegov nastavak. A njegovi minusi i plusevi su sljedeći:


Što valja kod filma:
- zadnja trećina filma
- stop motion efekti
- šminka i dizajn maski
- pojedini dijalozi i jedna odlična pamtljiva izjava
- 38 minuta: John šakom razvaljiva Gnomovo lice sa par jakih udaraca


Što ne valja kod filma:
- likovi su plošni
- scenarij i 95% dijaloga
- dvije trećine filma
- tromost početka
- kohezija živih glumaca i stop motion efekata na kraju filma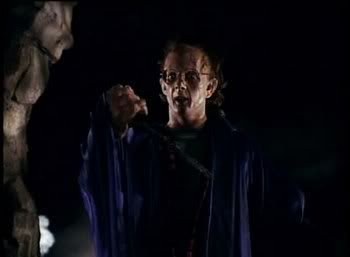 Završna riječ:
- Kako vidimo iz sadržaja ovoga puta nema Glena (izgleda da je Stephen Dorff već tada bio preskup za ponovno aganžiranje) no u priču je uletio njegov prijatelj Terry (Louis Tripp), čije je glumačko umijeće mnogo slabije nego ono kod malog Dorffa. Ostali glumci su što se tiče glume na nivou slabijih B horor filmova. Možda najveći problem filma je taj što se orijentirao više na demonski pristup ala "Night of the Demons" (1988) ili "Demon Wind" (1990) nego na onaj pristup kakav smo vidjeli u prvom dijelu (atmosfera i ''Poltergeist'' ugođaj). Baš to oslanjanje na demone je (vidljivo na kraju filma) krivi pristup ne zato jer je to loša ideja, nego što je scenarist Michael Nankin vrlo slab ne samo u osmišljavanju radnje (početak je vrlo naivan i težak za prihvačanje) nego i dobrih dijaloga (iako sam se na dvije scene nasmijao zbog načina govora većina dijaloga je već viđena u mnogo horora ŽNj produkcije i čistokrvni su klišej). A nemojmo zaboraviti da je on bio scenarist i prvog dijela, pa se spravom možemo pitati kako se scenaristički mogao srozati u ovom filmu.

Redatelj Tibor Takács se opet vratio i vidi se njegova ruka, no ovaj film ipak nije zabavan kao prvi dio. Prve dvije trećine filma je dosadno i radnja se sporo odvija, a jedino što film drži u nekom fokusu je stop motion malog Gnoma kojeg je Terry uhvatio, ali je zato zadnja trećina (oko zadnjih pola sata) mnogo bolja i dinamičnija, a bogme dobija i dijelić one demonske atmosfere (dio kad svi završe u drugoj dimenziji). Taj treći dio izvlače stop motion specijalni efekti i jako dobra šminka i maske, a da su bolje uglađene scene živih glumaca i stop motion demona, te da film nema na kraju sretan završetak moji bi dojmovi bili mnogo bolji.
Ovako film vrijedi pogledati jednom kad stvarno ne budete imali što raditi i ako ste gledali prva Vrata, no odluku gledanja filma ipak prepuštam vama jer ja nakon odgledanog nisam uopće bio oduševljen filmom. Štoviše nakon jedinice nastavak je veliko razočarenje, no sada sam obavio i taj posao, te ga odgledao i ne vjerujem da ću mu se ikada više vratiti...





THE SCENA:
scena 1 - John: "- Proklete ženske, čovječe. Kome trebaju demoni kad imaš ženske?"

scena 2:
Moe (Gnomu svezanom u vreći, koji se otima i kriči): "- ŠUTI!!!"
John: "- Šuti! Volim to. Rekao je šuti gremlinu."
(kasnije Gnoma Moe Gnoma napuši dimom marihuane, ali mališan postane još više nasilan i hiperaktivan)