subota, 05.09.2009.
Vikaren (2007)

Zamjena (2007)




Produkcija: Thura Film
Redatelj: Ole Bornedal
Scenarij: Ole Bornedal i Henrik Prip

Uloge:
Paprika Steen (Ulla Harms)..................................Ulrich Thomsen (Jesper Osböll)
Jonas Wandschneider (Carl)................................Nikolaj Falkenberg-Klok (Phillip)
Emma Juel Justesen (Rikke)................................Mollie Maria Gilmartin (Lotte)
Josephine Gents (Camilla)....................................Emma Claudia Sřndergaard (Laura)



Film je izašao u kina 15. lipnja, 2007 godine
Trajanje: 93 minute
Službena stranica + foršpan
YouTube Foršpan...
Nagrade:
2008 godina - osvojio nagrade L'Écran Fantastique, Bodil (za najbolju kameru - Dan Laustsen) i Zulu (najbolja glumica - Paprika Steen), te zaradio nominaciju za nagradu Bodil (najbolja glumica) i 10 nagrada Robert (najbolja glumica, najbolji dječiji / obiteljski film, najbolja montaža, najbolji zvuk, najbolji sporedni glumac, najbolji sepcijalni efekti, najbolja kamera, najbolji kostim, najbolja produkcija i najbolja šminka)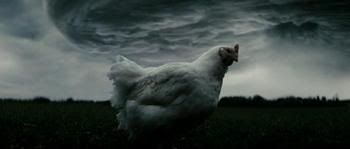 SADRŽAJ:
"- Jedan od danskih 6-tih razreda dobija privremenu zamjensku učiteljicu po imenu Ulla, koja ima zadatak trenirati učenike za međunarodno natjecanje u školskim aktivnostima koje se treba odigrati u Parizu.
No, nešto nije savim u redu sa novom ućiteljicom. Svojim čudnim ponašanjem u učionici, ali i van nje sije zrno sumnje među svojim učenicima, da je vanzemaljac. Od svih učenika najsumnjičaviji je dječak Carl, a kad dobije konkretni dokaz da je Ulla opasna vanzemaljka, koja je tek izvidnica za buduću invaziju, kreće sa svojim prijateljima iz razreda u spriječavanje dotične da ostvari planove za invaziju, koja bi značila kraj ljudskog roda..."






RECENZIJA:
- Prvi put kada sam vido reklamu za ovaj film imao sam dvojaka očekivanja i nakon što sam film nabavio čim je bio dostupan, ipak sam pričekao neka drugačija vremena kad moje raspoloženje bude na nivou želje za gledanjem dotičnog filma. I nakon odgledanog steknuh ove dojmove:


Što valja kod ovog filma:
- ovo je znanstveno fantastični horor film za djecu od 7 godina naviše
- film ne sadrži grafičke slike nasilja (ako se gleda s gledišta da se film preporučava djeci)
- glavna glumica Paprika Steen kao gl. negativac
- osnovni tehnički aspekti (kamera, fotografija, montaža...)
- ugođaj i humor


Što ne valja kod ovog filma:
- pojedini CGI efekti i ujedno manjak tih istih efekata
- dio priče i atmosfere, humor kojeg ima u maloj količini
- film ne sadrži nikakve grafičke slike nasilja
- kraj filma


Završna riječ:
- Ovaj danski film mi izgleda kao mješavina par američkih - "My Stepmother Is an Alien" (1988), "Class of 1999" (1990) i "The Faculty" (1998) zbog gl. negativke, a po ugođaju na "Something Wicked This Way Comes" (1983).
Dakako da neki koji su film već gledali spominju i filmove poput - "The Goonies" (1985) ili "The Monster Squad" (1987) zbog toga što su glavni protagonisti djeca, no po meni je ovo prevelika i nepotrebna usporedba, pa unatoč tome što imaju neke omanje sličnosti.

Film mi izgleda kao razblažena modernizirana verzija neke zaboravljene i nikad objavljene priče braće Grimm.
Radnja filma je viđena u više modernijih horor / SF filmova, no svojim pristupom u priči ipak zgodno izgleda. Ipak, isto tako baš zbog te priče i po meni nesređenog scenarija film izgleda pomalo zbunjujući u svojoj zadnjoj trećini kad bi sve trebalo biti nekako žešće, jezovitije s boljom atmosferom kakvu imaju svi malo bolji SF filmovi.
To je ujedno i najveći problem, ali i minus filma - blag i vrlo slab kraj, koji mi se čini u mnogočemu nedorečen (barem po onome što je početak nagovještao). Radnja započinje jako dobro i vrlo zanimljivo, no kako priča odmiče sve nekako gubi svoju čar, pa tako stekneš dojam da je netko došao redatelju i rekao mu da brzo završi sa snimanjem, jer da ono dugo traje. I onda nakon odjavne špice imaš taj dojam nedoslijednosti i nedorečenosti.
Što se tiče specijalnih efekata odrađeni su savim solidno (uz tu i tamo omanju skoro jedva vidljivu omašku), no mišljenja sam da ih je trebalo biti barem zericu malo više.
Najjača karika mu je zasigurno glavna glumica Paprika Steen, koja svojom mimikom i pravilnim grimasama iskazuje karakternu crtu koja njen lik negativke čini najboljim likom dotičnog filma. Ali ako se gleda da je ovaj film najvjerojatnije rađen za mlađu publiku odraslu na filmovima o Harryju Potteru onda nitko tko ga bude gledao ne bi trebao biti razočaran, pa iako film ne sadržava niti jednu 'gore' scenu (najbliže tom pojmu film je bio u trenutku kad se vanzemaljka Ulla hrani živom kokoškom što zasigurno uznemiravajuću scenu redatelj riješava tako da to hranjenje ne prikaže pošto glumica to napravi nama okrenuta leđima)

Film može proći u svrhu da sa njim ubijete jedno dosadno popodne i to bi bilo sve što se tiče nejgove preporuke. Na našu žalost ovo je film koji je obećavao, no vrlo je malo dao i zato nakon što ga jednom pogledate...teško ćete mu se ikad opet vratiti na ponavljanje gradiva....