nedjelja, 09.08.2009.
From Hell (2001)

Iz Pakla (2001)





Produkcija: Twentieth Century-Fox Film Corporation i Underworld Entertainment
Redatelji: Albert i Alan Hughes
Scenarij: Terry Hayes i Rafael Yglesias
Prema stripu: "From Hell" (1991 - 1996) autora Alan Moore (scenarist) i Eddie Campbell (crtač)


Uloge:
Johnny Depp (Inspektor Frederick Abberline)....................Heather Graham (Mary Kelly)
Ian Holm (Sir William Gull).................................................Robbie Coltrane (naredik Peter Godley)
Ian Richardson (Sir Charles Warren)................................Jason Flemyng (kočijaš Netley)
Katrin Cartlidge (Dark Annie Chapman)............................Terence Harvey (Benjamin 'Ben' Kidney)



Film je izašao u kina 19. listopada, 2001 godine
Trajanje: 122 minute
Budžet: 35 milijuna $
Zarada: 31 598 308 $ (SAD); 38 700 761 $ (Svjetska zarada bez SAD)
Foršpan filma...
Nagrade:
2002 godina - zaradio nominaciju nagrade: Zlatni Satelit (najbolja kostimografija - Kym Barrett), IHG - međunarodno udruženje horor kritičara (najbolji film), Bram Stoker (scenarij), Crna Rola (najbolji film i redatelj), Saturn (najbolji horor film, glavni glumac - Johnny Depp i kostimografija)



Abberline se 'odmara'

SADRŽAJ:
"- Pet prijateljica, prostitutki, zajednički pokušava skupiti novac za zaštitu, koji od njih traže članovi Nicholsove bande. Njihova šesta prijateljica, Ann Crook (J. Page) pronašla je bogatog ljubavnika i s njim ima dijete. Jednoga dana Ann nestane, a tajanstveni ubojica počinje, na posebno okrutan način, ubijati ostale pripadnice toga društva. Istragu vode inspektor Frederick Abberline (J. Depp) i narednik Peter Godley (R. Coltrane), a budući da je očito da ubojica dobro poznaje ljudsku anatomiju, stručne savjete traže od poznatog kirurga - sir Williama Gulla (I. Holm).

Inspektor Abberline, uživalac opijuma, absinta i laudanuma, u svojim vizijama vidi žrtve i način ubojstva, ali ne i ubojicu. Kad mu jedna od prostitutki, lijepa Irkinja Mary Kelly (H. Graham), počne pomagati u istrazi, među njima se rađa naklonost. Abberline, koji zna da bi Mary trebala biti peta, posljednja žrtva, učinit će sve da spriječi ubojicu..."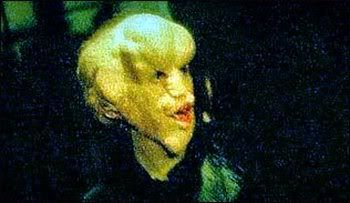 Čovjek-Slon u cameo pojavi


RECENZIJA:
- Jack the Ripper ili kako bi naši rekli Jack Trbosjek je jedan od onih filmskih likova koji su gledatelju uvijek zanimljivi, pa bilo ta da taj isti gledatelj voli ili ne voli horor žanr. Do danas je snimljen dobar broj što dobrih (nažalost, manja skupina) što loših filmova o ovom najpoznatijerm, nikad uhvaćenom, serijskom ubojici koji je ubio pet (ili više) prostitutki u vremenskom periodu od kraja kolovoza do početka studenog 1888 godine u Londonu.
Mogao bih mnogo toga reći o ovom slučaju i iznijeti mnoge teze i teorije, no ipak ću se zaustaviti na ovome i nastaviti u recenziju današnjeg filma.

Djelo braće Hughes (redatelji odličnog "Dead Presidents" [1995]) možda nije najbolji film o Trbosjeku no zasigurno spada u 3 najbolja ikad snimljena, pa unatoč tome što u nekim djelovima film izgleda nekako nepotpun i odaje dojam da nešto fali tj. da neki djelovi priče nisu do kraja ispričani kako valja.
Moram reći da grafički roman tima Alan Moore i Eddie Campbell nisam još imao vremena onako lijepo na miru pročitati (572 str. podjeljeno u 10 svezaka), pa ne mogu još uspoređivati sam film i strip prema kojem je on rađen (wikipedia kaže da ima par značajnih razlika).
Ono što mogu reći jeste da su u njemu ipak prevladale one njegove dobre odlike nauštrb onih nekoliko loših (koji iako mali pozornom su gledatelju očigledni i dobro vidljivi) što je jako pohvalno za ovakvu vrstu filma, jer zbog radnje on postaje vrlo zahtjevan, a to zna biti smrt u početku za snimanje pravog ili barem pristojanog djela.





Glumačka postava od kojih se izdvajaju J. Depp, R. Coltrane i I. Holm odrađuje svoj posao jako dobro (iako moram reći da nitko od njih tu nije prezentirao svoj glumački maksimum), sporedne glumice koje glume prostitutke su jako dobro pogođene (ako se gleda ono vrijeme, ali i izgled Jackovih stvarnih žrtava)..
Film odlično hvata atmosferu Viktorijanskog doba (scenografija i prikaz siromšanih četvrti, cameo pojava Josepha Careya Merricka tzv. Čovjeka-Slona), a to možemo zahvaliti bogatoj fotografiji Petera Deminga i to kako u koloritu, tako u sivim ili crno-bijelim tonovima. Također neke scene imaju čak i gotički ugođaj (npr. scena na početku kad vidimo panoramu Londona i zalazak sunca), no ne onakav kakav smo mogli vidjeti u Hammerovim filmovima.
Od negativnih stvari koje mi uvijek zasmetaju dok gledam film su slijedećim - gl. glumica Heather Graham nije toliko uvijerljiva u svojoj ulozi prostitutke (ovdje bi odgovarao tip glumice kao što je recimo Lilly Taylor), kostimografija iako jako lijepa za ono doba previše čistunski izgleda (recimo da je trebala biti prljavija tj. nalik onoj u "Gangs of New York" [2002]), radnja je ponekad izgleda izgubljeno i previše se vremena troši na odnos Abberline - Kelly umjesto da se film bavi umorstvima i dubljem istraživanju Trbosjeka i od svega sam kraj filma koji odiše sretnim završetkom (da ne spominjem kako su stvarni protagonisti bili mnogo drugačiji od filmskih likova što po privatnom životu što po godinama, ali to ipak možemo pripisati umjetničkim slobodama, koje nisu toliko negativne da bih ih uzeli za krajnje zlo).
"Iz Pakla" je film koji mi se svidio i kojega mogu uvijek gledati, ali mu fali taj malo opširniji Sherlock Holmes đir da bih ga stavio u rang mnogo bolje trosatne serije "Jack the Ripper" (1988) u kojoj je Michael Caine odlično odglumio Fredericka Abberlinea.
Zato ću ga stvaiti u rang skoro savršenih filmova....