subota, 01.08.2009.
Alien Trespass (2009)

Prestup Tuđinca (2009)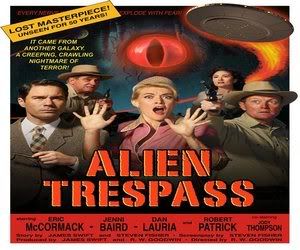 Produkcija: Rangeland Productions
Redatelj: R.W. Goodwin
Scenarij: Steven P. Fisher
Priča: James Swift i Steven P. Fisher


Uloge:
Eric McCormack (Ted Lewis / Urp)........................Jenni Baird (Tammy)
Robert Patrick (Vernon)...........................................Jody Thompson (Lana Lewis)
Dan Lauria (šef Dawson).........................................Aaron Brooks (Cody)
Sarah Smyth (Penny)...............................................Andrew Dunbar (Dick)



Film je izašao u kina u siječnju, 2009 godine (Palm Springs Međunarodni Filmski Festival)
Trajanje: 90 minuta
Zarada: 102 384 $ (u 40 kina)
Službena stranica filma
Foršpan filma...
Nagrade:
2009 godina - nominacija za nagradu Leo u sljedećim kategorijama: najbolja kamera (David Moxness), najbolja izrada kostima (Jenni Gullett), najbolja šminka (Connie Parker), najbolji zvuk (Paul A. Sharpe, Iain Pattison, Graeme Hughes i Patrick Ramsay), najbolja montaža zvuka (Kris Fenske, Brian Campbell i Jay Cheetham), najbolja produkcija (Ian D. Thomas) i najbolja sporedna glumica (Jody Thompson)






SADRŽAJ:
"- Tijekom ljetne večeri 1958 godine usred meteorske kiše koja se je pojavila na nebu iznad pustinje Mojave u Kaliforniji zbog kvara slijeće svemirski brod vanzemaljca po imenu Urp. Dok je došljak iz svemira došao k sebi iz letjelice biježi opasno biće Ghota, čija je namjera nahraniti se ljudima da bi sakupio dovoljno energije nakon koje bi se počeo umnožavati.
Dok se Ghot 'hrani' stanovnicima obližnjeg gradića, Urp zauzima tijelo lokalnog astronoma amatera Teda Lewisa, koji je prvi otkrio mjesto udesa i kreće u potragu za stvorom. U pomoć mu priskače i konobarica Tammy, koja odmah spozna pravu istinu o velikoj prijetnji njenom gradiću. No, hoće li dobri vanzemaljac pronaći inteligentnog Ghota i tako spasiti cijeli naš planet od njegovog umnožavanja ili Zemlji prijeti totalno uništenje kad mnogobrojni Ghotovi započnu svoje hranjenje?"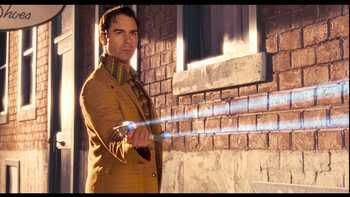 RECENZIJA:
"- Lijepa je činjenica da postoji i danas mnogo ljudi koji uživaju u gledanju starih (većinom crno bijelih) znanstveno fantastičnih filmova iz pedesetih godina prošloga stoljeća od kojih su neki istinski klasici toga žanra (poput "The Thing from Another World" iz 51' ili "Forbidden Planet" iz 56'). Jedan od velikih ljubitelja ovakvih filmova je i R.W. Goodwin kojeg poznavaoci žanra znaju jedino kao glavnog producenta serije "X- FIles".

I baš zbog te velike ljubavi prema Sci-Fi filmovima nastaje "Alien Trespass".
Radnja filma je skoro istovjetna radnji "It Came from Outer Space" (1953), jer i kod jednog i kod drugog vanzemaljci dožive kvar na svom svemirskom brodu te što prije pokušavaju otkloniti kvar. Isto tako u oba slučaja jedan od znatiželjnika koji posjećuje mjesto udesa jest astronom amater, a sličnost jednookih svemirskih bića je očigledna (kad se sve zbroji moglo bi se govoriti i o nekoj slobodnijoj vrsti rimejka). Pojava zlog Ghota me je također podjsećala na vanzemaljce iz filmova "The Crawling Eye" (1958) ili "It Conquered the World" (1956)..
"The Blob" (1958) je također jedan od filmova koji je izvršio svoj utjecaj na radnju (scena sa pijancem i psom...a koju možemo vidjeti i u "Killer Klowns from Outer Space" (1988); pa scena kad se Ghot pojavi u kinu počne jesti ljude baš kao i želatinski organizam u "Mjehuru").






Sljedeće pitanje koje se namaće je - da li film išta valja?
Kako smo vidjeli iz gornjih rečenica ovaj film ne samo da je posveta zlatnom razdoblju filmova zanstvene fantastike nego je ujedno i parodija na te filmove.
Baš kao što su to filmovi "Mars Attacks!" (1996) ili "Matinee" (1993), no ovaj film nema njihovu konstrukciju priče i ugodan protok radnje.
Scenarističkim riječnikom - u filmu ima par mjesta gdje se vidi prazni hod (scene gube na atraktivnost i upadaju u melankoniju...a to znači samo jedno -nerazrađenost scenarija), likovi bi trebali biti životniji, a protok same radnje dinamičniji i prijazniji za samog gledatelja.
Film ima jako lijepu glazbu (sličnu onoj kakvu smo mogli čuti u Bavinoj "Planeti Vampira" ), scenografiju i kostimografiju koja prikazuje tipični stil 50-tih (po kvaliteti bliska onoj koju smo imali prilike vidjeti u zombi filmu "Fido", 2006), a početni dio filma jest i najbolje što možemo vidjeti u njemu (izdvajam scenu kad svemirski brod leti svemirom...ugodan osjećaj specijalnih efekata od prije 50-tak godina).
Od glumačke postave izdvajam jedino Erica McCormacka (Will iz serija "Will & Grace") kao Teda Lewisa / Urpa i Jenni Baird, koja glumi konobaricu Tammy. Njih dvoje su odlično odradili svoje glumačke uloge (Eric me posebno oduševio, jer se stopio sa ulogom...a mogao bih reći i da je uživao glumeći vanzemaljca Urpa), dok se ostali nisu baš proslavili, pa čak ni uvijek kvalitetni Robert Patrick u svojoj kratkoj epizodnoj ulozi kretenskog šerifa Vernona.
Mišljenja sam da je Patrick to samo onako odradio za Goodwina da mu se oduži za to što ga je aganžirao u "X-Files".

Na kraju kad se zbroje svi ti mali nedostaci (scenarij) koje film ima sa par vrlo pozitivnih detalja (smiješne smrti, dvoje glavnih glumaca, štih SF-a 50-tih...), on neće ostaviti duboki trag na gledatelja, no svakako ga vrijedi pogledati, jer ne mogu reći da mi film nije bio nezanimljiv...dapače. Po kvaliteti nije nimalo blizak sa Burtonovom remek-djelom iz 96'-te, jer Goodwin nema Timov talent da ispriča priču na pravilan način. Isto tako film nije bljutavi proljev poput "The Lost Skeleton of Cadavra" (2002) trashoidnog nezavisnog filmića koji je također crpio inspiraciju iz crno-bijelih Sci-Fi filmova.
Šteta da je ova posveta ostala na samo tom pojmu posveta, jer na žalost film nije ništa drugo nego to.
Nadam se samo da će mlađe generacije gledati ovaj film sa pozitivnog stajališta i da im neće smetati jeftin izgled čudovišta, koje priziva najbolje dane kad nije bilo CGI efekata i kad su to bila vremena kad je čudoviše bio čovjek u gumenom odijelu...