četvrtak, 23.07.2009.
Plants vs Zombies (2009)

Biljke Protiv Zombija (2009)





Razvojni tim i izdavač: PopCap Games
Platforma: PC, Mac
Izdan: 05. svibnja, 200 godine
Cijena: 16.95 Eura (125 kn)
Žanr: Tower Defense (akcijska strategija, zagonetke)
Mode: Single player
Multiplayer: nema
Službena stranica igre #1, #2
Foršpan igre... i Prikaz same igre tj. GamePlay
Free Trial (26.7 MB, .exe file)
Dob igrača: 5+ (*igra ne sadrži vulgarno izražavanje i grafičke scene nasilja)
Minimalna konfiguracija:
1.2+GHz (procesor), 65MB prostora na hard disku, 512 RAM-a (radna memorija), Windows 2000/XP/Vista (radi u ovim operativnim sustavima)
DirektX 8 ili noviji, kvaliteta boje 16-bit ili 32-bit color mode (u 256 boje mogla bi ne raditi)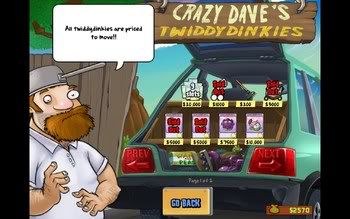 Crazy Dave i njegov 'dućan'


RECENZIJA:
"- Kako u zadnje vrijeme pokušavam malo dati sebi oduška u igranju video igara i tako se malo opustiti od ove nesnosne vrućine, ali ponajviše od poslovnih nagomilavanja stresnih situacija dao sam se u potragu za kakvom jednostavnom ali kvalitetnom igricom koja bi me zaokupila svojom igrivošću.
I tako pukim slučajem naletim na ovo malešno remek djelo koju danas sa guštom recenziram.
Prvo što se primjeti kod dotične igrice jeste vrlo glupav naslov, koji sigurno odbija mnogo igrača, a oni koji se nisu nimalo osvrnuli na njega ne znaju što propuštaju.
Iskreno, ja sam se najviše zagrijao zbog imena zombija u naslovu, te sam otišao ravno na youtube i bacio pogled na dotičan naslov...točnije muzički spot koji predstavlja samu igru - Muzički spot igre - "There's a zombie on your lawn".
Kad sam vidio animacije nije bilo dvojbe - nabavih igru i evo kakva su moja razmišlajnja o njoj:


Što je pozitivno kod igre:
- zarazna igrivost koja te tjera na još jedan nivo
- strategija kombiniranja raznih biljnih oružja, kuglanje
- komični zombiji i njihovi zvukovi koje proizvode (inspiracija se pronalazi u ROTLD), te njihovo raspadanje
- sadrži 50 nivoa u Adventure modu sa tim da se prosječno svaki nivo prelazi za otprilike 10 minuta
- ima 26 vrsta različitih zombija, 40 vrsta biljaka koji predstavljaju vašu zadnju liniju odbrane
- osim Avantura moda postoje još i Survival, Puzzle, Zen Garden i Mini Game izazovi gdje imamo još 50-tak novih nivoa
- za pomoć o vrstama biljaka i zombija i njihovim pozitivnim i negativnim stranama imamo alamanah
- pripomoć vam radi i vaš susjed zvani ludi Dave kod kojeg kupujete poboljšanja
- taman kad igra uplovi u kolotečinu sa istim načinom igre, gdje sve polako upada u monotoniju pozadina bojišnice se mijenja (od tratine u dvorištu do bazena i krova), ali i način igre
- kreativno oružje sa kojim raspolažete (moja favorit je eksplodirajuća trešnja i ljuta paprika)
- ponekad stvarno zahtijevna u igranju, jer zahtijeva dobre logičke kombinacije kad horde zombija krenu, no također igrač treba biti i brz i precizan
- imamo dan i noć efekt, pa nam čak jedan dio igre nevolje donosi magla koja nam zaklanja vidik
- borba protiv zadnjeg Bosa je jako dobra, ali dobro je i kad vas odjednom napadne 15 - 20-tak zombija koje je malo teže umiroviti, te borbe protiv troll zombija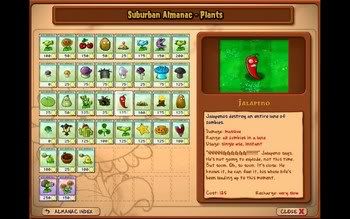 Što je negativno kod igre:
- zombiji se malo glasaju...npr. bilo bi lijepo vidjeti kakav zvučni efekt ili da ponekad nešto izjave u stilu: "- Brains!!" We gona eat your brain!!!
- ponekad igrača uhvati osjećaj monotonije i ima dojam da je sve na isti kalup
- manjak terena na kojima se igra, te fali i pojava snijega ili kiše kao dodatni element iznenađenja koji bi otežali igru
- neke biljke bi trebale bolje izgledati u animatorskom smislu
- Ludi Dave ima preskup dućan





Završan riječ:
- kako vidimo igrica je vrlo jednostavna i vrlo brzo uđete u đir za igranje. Krasi ju zarazna igrivost (koja me je držala da igram i još jedan i još jedan nivo i tako sve do 6 ujutro), lijepa animacija zombija od kojih izdvajam pojavu nikoga drugoga nego Michaela Jacksona kao zombija sa prateća 4 zombi plesaća (inspiracija spot Thriller), bob zombi reprezentacije, Jacques Custo zombija na zombi definu (zajeban protivnik), gusarskih zombija koji kidišu na krađu vaših biljaka, te retro zombija sa motkom...
Cijela igra inspiraciju crpi najviše od serijala "Return of the Living Dead", gdje zombiji ponekad (rijetko) poviču: "- Brains!!", jer je cilj igre obraniti vaš dom i vaš predragocijeni mozak od vrlo gladnih raspadnutih zombija koji napadaju svaki put u sve većem broju, a to postižete sa raznim biljkama koje razmiještate na poljnom području 10 x 5. Ako koji od zombija uspije proći vašu liniju obrane on će ući u kuću i pojesti vaš mozak (čujemo krik i dobijemo poruku sa slovima u stilu 50-tih "Zombiji su pojeli tvoj mozak") i onda opet sve ispočetka.
Oružje kojim raspolažete je mnogobrojno i šaroliko i vrlo kreativno, mini igre također izazivaju ovisnost i nimalo ne zaostaju u svojoj igrivosti.
Ovo je mala čistokrvna 2D igra (uspijeli Tower Defense klon) koja će vas zabaviti kroz ovo ljetno sparno doba. Igrati čim prije i preporučam svim generacijama od 5 do 105 godina, a što je najbolje u njoj nema niti kapi krvi ili kakvih scena neprimjerenih djeci....