nedjelja, 19.07.2009.
Jaws 3-D (1983)

Ralje 3-D (1983)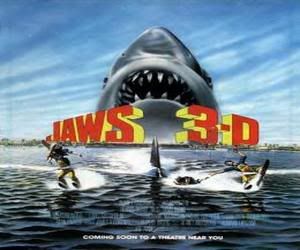 Produkcija: Alan Landsburg Productions / MCA Theatricals / Universal Pictures
Redatelj: Joe Alves
Scenarij: Carl Gottlieb, Michael Kane, Richard Matheson i Guerdon Trueblood


Uloge:
Dennis Quaid..............................Michael 'Mike' Brody
Bess Armstrong..........................Kathryn Morgan
Simon MacCorkindale.................Philip FitzRoyce
Louis Gossett Jr. ........................Calvin Bouchard
John Putch..................................Sean Brody
Lea Thompson............................Kelly Ann Bukowski


Film je izašao u kina 22. lipnja, 1983 godine
Trajanje: 99 minuta
Budžet: 20, 5 mlijuna $
Zarada: 42 245 180 $ (SAD), 42 470 000 (zarada u svijetu)
Zarada u prvom vikendu u SAD: 13 422 500 $
Foršpan filma..., Jaws 3D Special Editon Trailer
Nagrade:
1984 godina - nominacija za nagradu Zlatna Malina u kategoriji najboljeg redatelja, scenarija, najboljeg sporednog glumca (Louis Gosset Jr.), fotografije (Rupert Hitzig)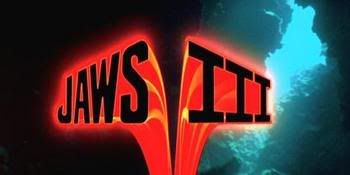 SADRŽAJ:
"- Michael i Sean, sinovi bivšeg policijskog načelnika Martina Brodyja, rade u vodenom parku Morski svijet Floride koji vodi Calvin Bouchard. Sean se sprijatelji s Kelly Ann Bukowski, a Michaelova djevojka je glavna zoologinja koja radi s delfinima Cindy i Sandy. U toj laguni koju je čovjek izgradio oko 12 m ispod površine vode, Morski svijet otvara novi dio koji se zove Kraljevstvo u moru, a koji se sastoji od staklenih tunela s vlastitom kontrolnom sobom.
Svi posjetitelji zabavnog parka oduševljeni su novom atrakcijom koji omogućuju posjetiteljima bliskije iskustvo podmorja nego ikada ranije. Na ceremoniju otvaranja dolaze mnogi ugledni uzvanici... i jedan nepozvani gost; mladunče morskog psa koje slučajno zaluta u lagunu zabavnog parka i koje potom ugiba. Ubrzo, njegova majka, velika preko deset metara, slijedi trag svoga mladunčeta, stvarajući najužasniju priču ikada snimljenu u vodi!"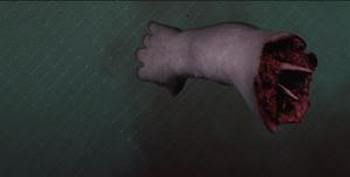 RECENZIJA:
- Nisam mogao vjerovati da ću biti ovako kratak u svojoj recenziji, ali izgleda da se i to moralo jednom dogoditi.
Što reći o ovakvom filmu? Film je takva bedastoća da ne možeš vjerovati da su u njega ulupalo dvadeset ipo milja dolara. Prvi problem filma je taj što je sniman u 3D tehnici, koja je kako znamo slabo prolazila u 80-tima (po meni ta tehnika svoj procvat može dostići tek u sljedećem deseteljeću) i to ne zbog toga jer je ta tehnika loša nego jer tehnologija nije na nivou da to lijepo prezenitra gledatelju. Drugi problem filma i po mom osobnom sudu najveći minus ovog filma jest šljampavo i glupavo napisan scenarij.
Ne samo da su likovi nezanimljivi, nego većina pojedinih situacija kad se ogromni morski pas pojavi vrijeđa inteligenciju samog gledatelja, a evo i primjera:

- kolika je vjerojatnost da istu obitelj po treći put napadne morski pas ogromnih dimenzija? ovo je scenaristička neoriginalnost na kvadrat
filmaši bi trebali shvatiti da nije važna obitelj Brody nego morski pas
- kad Philip FitzRoyce ode namamiti ogromnu morsku psinu u cijev i onda ga ona napadne i pojede (da ne kažem kako je montaža ovdje očajna, jer ne prati redosljed), te morski pas ga ne proguta nego ostane zaglavljen u ustima i sa bombom u ruci, koju će naši vrli junaci tj. Mike Brody aktivirati i uništiti beštiju na isti način kao i njegov otac prije njega (senior Brody sada vodi 2:1 heheh)
- svi znamo zašto se Sean Brody boji mora i glupost je vjerovati kad osoba doživi onakav šok koji smo vidjeli u drugom djelu, da bi na neki nagovor cure išli se kupati moru
- morski pas ne treba biti dug 10 metara da bude strašan i ne treba se svaki put ta njegova dužina turati gledatelju na nos....to iritira

ovakvih gluparija ima dosta no ove tri mi se čine najistaknutijima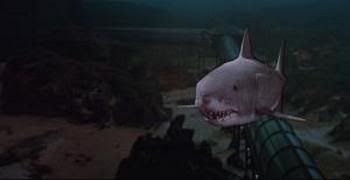 Specijalni efekti su užasno loši, jer gledatelj poput vas i mene misli: "- U jebote treći dio se gleda.... mora da je morski čuko odličan.", a kad ono mućak.
Kad god vidimo morskog psa vidi se da je maketa, pa one makete u prošla dva filma izgledaju mnogo životnije (eto cijepidlačit ću i reći da čak i leđne peraje izgledaju ljepše).
Čovjek bi pomislio da s godinama (od prvog dijela je prošlo dobrih 8 godina) efekti idu samo naprijed i idu, ali ne i u ovom filmu, jer ovo je više nalik onim brzo smučkanim filmovima ala Ed Wood, gdje čovijek nema love ,stišću ga rokovi od 2-3 dana, a za čudovište ima plastično gumenu igračku.


Dijalozi su nezanimljivi, montaža rađena kao da ju je radio čovjek koju nikad nije imao veze sa montažom, a gluma nije ništa bolja (u filmu su najbolji glumci delfini i ne mogu shvatiti kako to da su oni nagrađeni Zlatnom Malinom za najgore nove mlade nade?).
Dennis Quaid se ovdje tek počeo probijati kao glumac, a Lea Thompson je tek u svojoj prvoj filmskoj ulozi...no ipak su trebali i mogli dati mnogo bolje glumačke prezentacije. Što se tiće Louisa Gossetta Jr a on je tu ionako samo kao glumac koji je dobio Oskara za najboljeg sporednog glumca u "An Officer and a Gentleman" (1982) i zato ga ne bi trebali mnogo kritizirati, jer je on tu doveden s ciljem da svojim imenom osigura još par gledatelja više (druga je stvar što je on zadovoljan glumom u sličnim filmovima).
Za redatelja Joea Alvesa ću reći da je dosadan, jer niti je uspio nadići probleme sa specijalnim efektima (mogao je barem regulirati one scene gdje se vidi razlika u velikim i malim maketama mladučneta morskog psa) niti je uspio da prikaže svoje beživotne likove bar malo pristupačnijima gledatelju, a da ne spominjem kako film nema atmosfere niti napetosti (sve izgleda kao da gledam loš dokumentarac National Geographica).
Mislim da ću ovaj film pamtiti ne kao treći film iz serijala Jaws nego više kao film koji je poznat da je u njemu korištena 3D tehnika (uz treće Petak 13. i Amityville), a na stranu što je loše amatersko odrađen može se pohvaliti i činjenicom da je prvi film u kojem morski pas reži (ako ništa drugo film bi trebalo gledati samo zbog toga) što govori koliko je logika u filmu važna, ali i koliko je labilna (slična nebuloza će se pojaviti u filmu "Lara Croft Tomb Raider: The Cradle of Life", 2003).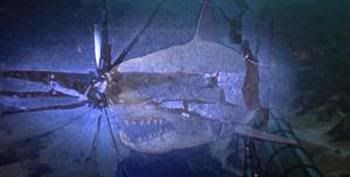 p.s.
Baš ću ovih dana pogledati "L'ultimo squalo" (1981) iliti "Veilika Bijela", koji zbog sudske zabrane koju je isposlovao studio Universal nije mogao ići u kina, jer je imao sličnu radnju kao i treće Ralje. To me odmah privuklo filmu...