srijeda, 08.07.2009.
#12 Scream Scena: The Deep (1977)



Režija: Peter Yates

Glume:
Jacqueline Bisset (Gail Berke)
Nick Nolte (David Sanders)
Robert Shaw (Romer Treece)
Louis Gossett, Jr.(Henri Cloche)
Eli Wallach (Adam Coffin)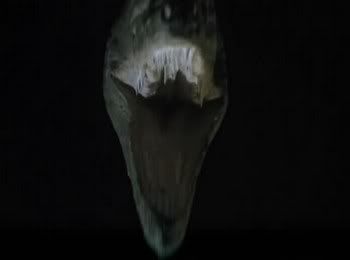 Početak Scene i lijep prikaz ralja ogromne Murine

O SCENI:
- Koliko god lijepo i zavodljivo more bilo ono uvijek krije neke svoje opasnosti. Od morskih pasa, gigantskih hobotnica i lignji (od kojih su neke duge nekoliko metara), pa sve do raznolikih otrovnih stanovnika podmorija.
Kad sam prvi put vidio ovaj film (koji uzgred da napomenem nije horor film, iako ga neki stalno guraju u taj žanr) imao sam oko 6 ili 7 godina, a gledao sam ga jedne sparne subote usred najvrućih ljetnih dana. Gledajući ga bio sam očaran lijepom fotografijom podmorja kojim se film šepuri. Nakon što sam vidio Ralje, morski psi koji se pojavljuju u filmu nisu me baš impresionirali, no kad se pojavi prava zvijezda filma - Murina (unatoč tome što film ima kavalitetnu glumačku postavu) sve staje.
Prvi put kad se pojavi u svoj svojoj gracioznosti u gledatelja izaziva strah, a tek kad raširi svoje ralje...svi dobivamo dobar dokaz da u morskim dubinama među lijepim koraljima ima i drugih stanovnika opasnih za čovjeka.
Tako je najbolja i najpamtljivija scena (osim one gdje Jacqueline Bisset roni u bijeloj majci) ovog filma upravo ona kad se po drugi put pojavi ogromna Murina (Muraena helena) i svojim snažnim raljama ugrize Henrija Clochea (Louis Gossett, Jr) tako jako da mu zdropi i lubanju, zajedno sa maskom.

Svaka čast filmu, ali unatoč glumcima i pomalo osrednjoj radnji najviše kod ovog filma pamtim upravo tu zmijoliku ribu. A koliko mi je ta scena ostala u dobrom pamćenju i kakvu mi je nelagodu zauvijek izazvala govori i to da kad god ronim na dah i vidim neku pukotinu ili rupu u stijeni pomislim da bi u njoj umijesto hobotnice, koju lovim mogla naći Murina....a onda bih se mogao naći u neprilici baš poput Clochea (ta morska beštija ne samo da ima jak ugriz, nego joj je i krv otrovna, a zube nema samo u vilicama, nego i na nepcu i u kostima grla).



Kraj scene i kraj negativca heheheh

p.s. - iako je više jeziva nego privlačna Murina mi je ipak najdraža kao hrana
i to na brudet (kažu da je i ispod peke dobra, no nisam još imao te sreće da probam tu deliciju), no ako koga zanima evo i recept za pripremu opasne beštije:


MURINA NA BRODET

SASTOJCI:
1 kg murine
1 dl ulja
6 češanja češnjaka
peršin
1 luk
20 dag lignjica
2 žlice vinskog octa
2 žlice pirea od rajčice
sol, papar

PRIPREMA:
- Murinu uzduž rasijecite, operite i razrežite u komade. Sitno isjeckan češnjak i malo peršina zažutite na ulju. U njega stavite riblje nareske da se također zažute. Posebno u zapršku zakuhajte malo luka i lignjice, pa taj sok procijedite i polijte po priređenim murinama. Posolite i popaprite pa dolijte malo vode i kuhajte otkriveno 1 sat. Kad četvrtina soka pokuha, domiješajte rajčice i ocat te ostavite da još malo prokuha. Sok procijedite i polijte po murini, posolite i popaprite i povremeno protresite posudu -

Bon apetit