nedjelja, 31.05.2009.
Lesbian Vampire Killers (2009)

Ubojice Lezbijskih Vampirica (2009)




Produkcija: AV Pictures
Redatelj: Phil Claydon
Scenarij: Paul Hupfield i Stewart Williams
Muzika: Debbie Wiseman
Kamera: David Higgs
Montaža: James Herbert
Stilist frizura: Nicola Buck


Uloge:
Paul McGann (župnik)............................James Corden (Fletch)
Mathew Horne (Jimmy)..........................MyAnna Buring (Lotte)
Silvia Colloca (Carmilla).........................Vera Filatova (Eva)
Ashley Mulheron (Trudi)..........................Louise Dylan (Anke)



Film je izašao u kina 06. veljače, 2009 godine (European Film Market)
Trajanje: 88 minuta
Zarada: 1 581 373 Ł (UK)
Službene stranice filma
Foršpan filma...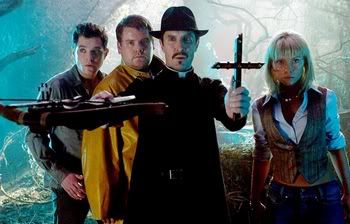 Gl. pozitivnci filma

SADRŽAJ:
"- Nakon što ga po tko zna koji put ostavi djevojka Jimmy Maclaren i njegov najbolji prijatelj Fletch odlaze na kampiranje prirodom. Zahvaljujući nizu čudnih okolnosti nađu se u jednoj ladanjskoj kući okruženi sa grupom predivnih studentica koje su došle istraživati lokalne mitove i legende.
Dok se tako lijepo zabavljaju ne slute da ih iz obližnje šume vrebaju vampirske sljedbenice kraljice svih vampira Carmille, koje žele oživjeti svoju vladaricu. Kad neke od cura nestanu Jimmy i Fletch shvate sa čim imaju posla...no hoće li ta dva nesposobnjakovića uspijeti pobijediti svoje strahove i doživjeti zoru ili će ih lezbijske vampirice isušiti do zadnje kapi krvi?"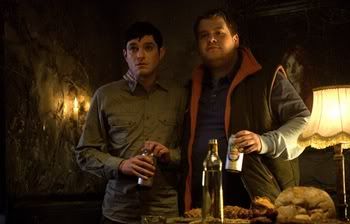 RECENZIJA:
- Još od daleke 1967 godine i "Dance of the Vampires" Romana Polanskog žanr vampirskog filma nije imao kvalitetan film sa izraženom dozom humora (iako je "Innocent Blood" (1992) bio vrlo vrlo blizu). Nažalost takvo stanje stvari ostaje i nakon što sam odgledao i ovaj film.
Kad sam pogledao reklamu za film pomislio sam da bi ovo ipak mogao biti jako zanimljiv vampirski film i on to jeste na neki vrlo čudan način.
Po razno raznim web stranicama sam vidio da film nije baš jako dobro primljen (tako su se izrazili i naši dečki sa Žutog-titla), no ja moram priznati da film nije toliko loš koliko se govori.

Prva loša stvar jest ta što se film reklamira kao "Shaun of the Dead" (2004) sa vampirima, što nimalo ne odgovara pravom stanju stvari. "Lesbian Vampire Killers" (2009) nema onaj pametni pristup dobro zamišljenom humoru (scenaristički i scenski), gdje se scene grafičkog nasilja lijepo stapaju sa humorom (čitaj dobar tajming).
Ovdje je humor bliži geg sekvencama Bennya Hilla (sise i guzice) i strip humoru iz 50-tih gdje se vidi utjecaj i zahodskog humora u razblaženoj verziji. Znači ako tražite pravi humor ala Shaun onda ste izabrali krivi film za gledanje.
Druga loša stvar je ta što mu fali 'žešćih' scena tj. 'gore' efekt, koji stvarno fali u ovakvom vampirskom filmu (bilo bi dovoljno da ima barem 20% krvavijih scena koje je imao "From Dusk Till Dawn", 1996). Ono malo što ga imamo vidjeti u filmu izgleda jako dobro (bez obzira što vampirice krvare bijelu želatinsku krv nalik pudingu i što kad ih se ubije jednostavno se istope u bijelu želatinu). Ako ništa drugo film je po meni sigurno zadovoljio engleski rejting 15 (prikladno za 15-godišnjake i starije)






Inače film počinje sa prologom ala "Bram Stoker's Dracula" (1992), pa onda imamo malo "An American Werewolf in London" (1991) u scenama gdje su naša dva vrla junaka Jimmy i Fletch odlučila na kampiranje u prirodi i završe u krčmi nalik onoj u Landisovom filmu, a onda kad završe u kolibi sve pomalo podsjeća na "Evil Dead" (1991), dok ostatak filma bih okarakterizirao kao mješavina filmova poput - "Vampiros Lesbos" (1971) i "The Vampire Lovers" (1970), a završava kao kraj "The Howling", 1981 (mislim na scenu sa vukodlakom koji zavija, a što nam aludira tko bi trebao biti negativac u nastavku ako ga uopće bude).
Pravog humora u filmu skoro da i nema (iako moram priznati da sam se na čak dvije scene uspio nasmijati, a dok mi je jedna izmamila dobar osmijeh na usne), scenarij je razvodnjen, likovi slabašni, no tehnička izvedba za ovako niskobuđetan film je besprijekorna - od odlične muzike, kamere, montaže, šminke i frizure, te do scenografije i ugođaja koji priziva gotički ugođaj koji smo najviše viđali u Hammerovim filmovima (vampirice u filmu nemaju onaj FX efekt nakaznosti nego samo vampirske očnjake što je još jedna dodirna točka sa ovom britanskom producentskom kućom).
Gledatelji su bili razočarani viđenim no po meni je to jer su očekivali film sa pametnim humorom ala "Shaun of the Dead" (ovo je lijepi primjer kad loše smišljena reklama ubije film na početku), ali ja ga gledam kao moderni grindhouse film sa osuvremljenim trash elementima, koji je na svoj način zabavan, pa iako nije jedan od najboljih vampirskih filmova sigurno spada u solidna ostvarenja sa kojim ćete ubiti 88 minuta i ako ga budete gledali relaksirano bez utjecaja filma Edgara Wrighta mogli bi se lijepo zabaviti.