petak, 29.05.2009.
The Unborn (2009)

Izgubljena Duša (2009)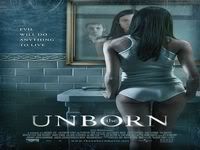 Produkcija: Rogue Pictures / Platinum Dunes / Phantom Four
Redatelj i scenarij: David S. Goyer
Šminka i FX efekti: KNB EFX Group Inc (nadglednici Howard Berger i Greg Nicotero)
Specijalni efekti: Asylum (nadglednici Mitchell S. Drain i Nathan McGuinness)


Uloge:
Odette Yustman (Casey Beldon)......................Gary Oldman (rabin Sendak)
Meagan Good (Romy).......................................Cam Gigandet (Mark Hardigan)
Idris Elba (Arthur Wyndham)............................Jane Alexander (Sofi Kozma)


Film je izašao u kina 09. siječnja, 2009 godine
Trajanje: 87 minuta
Budžet: oko 16 milijuna $
Zarada: 66,4 milijuna $ (Svjetska zarada); 42 638 200 $ (samo SAD)
Zarada prvog vikenda u SAD: 19 810 600 $
Foršpan filma...





SADRŽAJ:
"- Film "Izgubljena duša" je nadnaravni triler o legendi "dybbuk", duhu koji se nastanjuje u ljudima. Mladu Casey Beldon proganjaju nemilosrdni snovi: vizije zastrašujuće unakaženih pasa i zlog djeteta svijetlih plavih očiju. Nakon što ju susjedov sin pogodi u glavu svojim ogledalom, Caseyine oči započnu mijenjati boju i ona uskoro saznaje da ima brata blizanca koji je umro prije rođenja. Casey počne sumnjati da je duh koji ju proganja zapravo duša njezinog blizanca…"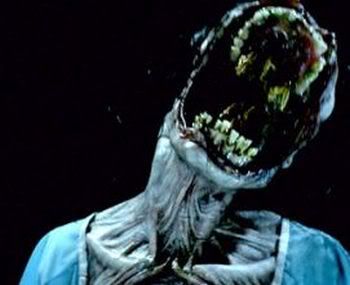 RECENZIJA:
- Evo još jednog razočaravajućeg horor filma (koji ovaj put nije rimejk nekog azijskog horor klasika) kojeg sam imao nesreću da pogledam. Svemu tome je kriv sam foršpan filma koji izgleda neopisivo bolje nego sam film....da dopunim - ovo je ona vrsta horor filmova kojima je reklama filma bolja od njega samog (a da ne govorim kako najbolje djelove filma vidimo u toj istoj reklami, pa tako gubimo efekt iznenađenja dok ga gledamo, jer većinu toga iz foršpana očekujemo da i vidimo u njemu, što ubija ugođaj napetosti). Eh, što se mora nije teško zar ne...pa krenimo:


Što ne valja kod filma:
- nije strašan
- radnja razvučena i skoro nezanimljiva
- slaba upotreba glumačkih veličina Garya Oldmana i Jamesa Remara (Ajax iz "The Warriors", 1979)
- previše bu klišeja i oslanjanja na specijalne efekte
- slabo napisan scenarij čija je tekstualna konstrukcija na granici amaterizma
- gluma mladih glumaca, a posebice Odette Yustman (fali joj glumačkog usavršavanja da bi bila tip i kalibar glumice poput jedne Jennifer Carpenter)
- kopiranje nekih odličnih filmova i njihovih najboljih kreacija u vrlo bijedoj izvedbi
- PG-13 predikat
- kraj filma



Što valja kod filma:
- specijalni efekti
- scene: 'duh u ogledalu', biće sa zubalom i starac sa okrenutom glavom
- Atticus Shaffer kao dovoljno jezivi klinac Matty Newton i digitalni Ethan Cutkosky kao Barto
- dobra zamisao ubacivanja židovske mitologije o duhovima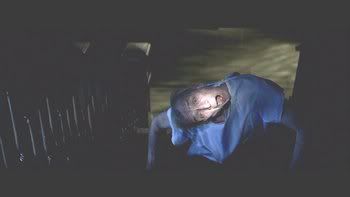 Završna riječ:
- Kako vidimo iz gore priloženih pozitivnih i negativnih stvari filma mnogo više ima ovih potonjih. David S. Goyer je po meni najveći krivac zbog čega imam jako negativno mišljenje o ovom ultra mlakom filmu. David mi svakim svojim novim filmom govori da je tek osrednji redatelj čiji je treći Blade (Blade: Trinity, 2004) iako gledljiv bio najlošiji u trilogiji.
Kao redatelj nije u mogućnosti stvoriti onaj pravi ugođaj kakav je potreban za filmove o duhovima, kletvama i sličnim ukletim podveznicama. Također je slab u u uputama mladim glumacima tj. na koji bi način glumili uloge koje im je dodijelio (mislim na mladi trolist Yustman, Gigandet i Good). No, mene više čudi to što je scenarij ultra loš i to da je njegov autor upravo sam Goyer, koji je trenutno jedan od najboljih scenarista u Hollywoodu (napisao scenarij za filmove: "Dark City" (1998), trilogiju Blade i oba Batmana Christophera Nolana). U tom scenariju priče gotovo da i nema, karakterizacija likova ne postoji, a sve se svodi na jako dobre specijalne efekte i non stop forsiranje bu scena (u kojima se skoro svaki put pojavi Barto).
Čini mi se kao da je on to sve navrat nanos ispiskarao miješajući najbolje detalje iz "Exorcista" (egzorcisam, spider walk scena), "Ju-on: The Grudge" (2003) i "The Grudge" (2004) gdje imamo također jezive scene osobe sa okrenutom glavom koja hoda na sve četri. A mogu reći da me je mali Matty Newton pomalo podsijetio na Dannya Lloyda koji je glumio Dannya Torrancea u Kubrickovom "Isijavanju"

Problem ovog filma leži i u tome što pokušava biti klasičan horor film koji se temelji na atmosferi i jezi (kojih uopće nema), te naravno bu scenama, a svo svoje naslijeđe vuče iz azijskih uspiješnica poput "Ringu" (1998), "Honogurai Mizu no Soko Kara" aka Dark Water (kod nas poznat pod nazivom "Zlo") ili "Chakushin Ari" aka One Missed Call sa kojima u svojoj realizaciji nije uopće imalo usporediv.
"The Unborn" (2009) nije strašan film i više je tip filma koji bi trebao završiti ravno na DVD-u i to ne zbog toga jer je loš, nego jer su se Michael Bay (producent filma) i redatelj Goyer previše dodvorili predikatu PG-13 koji je u potpunosti uništio iluziju da bi on mogao biti ugodno iznenađenje koje je dosta dobar foršan naviješćivao.
Ovako je "Izgubljena duša" (koji glupi naziv filma??!!?) klišejizirani horor filmić namjenjen maloljetnim američkim tinejđerima željnim neobavezne pop corn zabave koji i ne cilja ništa više od toga. Ako ste gledali slične loše proizvode poput "Pulse" (2006) i "The Messengers" (2007) znat ćete na što mislim.

Slobodno preskočite ovaj film, prije nego vas njegov sadržaj i sve u njemu razočaraju.