utorak, 19.05.2009.
Kingdom of the Spiders (1977)

Kraljevstvo Paukova (1977)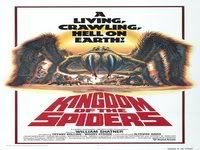 Produkcija: Arachnid Productions Ltd.
Redatelj: John 'Bud' Cardos
Scenarij: Alan Caillou, Richard Robinson i Jeffrey M. Sneller
Priča: Stephen Lodge


Uloge:
William Shatner (Dr. Robert 'Rack' Hansen).........................Tiffany Bolling (Diane Ashley)
Woody Strode (Walter Colby).................................................Lieux Dressler (Emma Washburn)
David McLean (šerif Gene Smith)..........................................Natasha Ryan (Linda Hansen)
Altovise Davis (Birch Colby)...................................................Joe Ross (Vern Johnson)



Film se pojavio u kinima u mjesecu studenom 1977 godine
Budžet: oko 500 000 $
Zarada: 17 milijuna $
Foršpan filma...
Nagrade:
1978 godina - dobio nominaciju nagrade Saturn u kategoriji najboljeg horor filma i najboljeg glumca u horor filmu (W. Shatner)



Junakinja koja se ne boji paukova...jeah

SADRŽAJ:
"- U gradiću Verde Valley u Arizoni nešto ubija stoku lokalnog farmera Waltera Colbya (Woody Strode). Lokalni veterinar Dr. Robert 'Rack' Hansen (William Shatner) udružuje se sa entomologinjom Diane Asley (Tiffany Boilling) da otkrije bit problema.
Vrlo brzo otkrivaju da je u blizini Colbyeve farme velika kolonija iznimno otrovnih i agresivnih tarantula. No, ta kolonija nije i jedina, jer po cijelom okrugu počnu se pojavljivati stotine kolonija u kojoj se može naći i po tisuće takvih paukova, a kad on krenu u osvajanje područja i traženja žrtvi nitko im ne može stati na put...."



jedan od najljepših scena filma


RECENZIJA:
- Kako vjerojatno znate (ako pratite horor žanr) 70-te godine prošlog stoljeća su bile plodno desetljeće za filmove o napadima razno raznih životinja ili o osveti prirode, koje znamo i pod američkim imenom animal attack.
Današnji film je jedan od svijetlijih primjera ovog podžanra, te isto tako drugi najbolji film čiji su glavni negativci pauci. Nakon što je prošlo skoro 20 godina od kada sam ga prvi put pogledao odlučio sam se na novo gledanje, te da se nanovo podsjetim par scena koje su mi vječno ostale u pamćenju.
Ono prvo što se kod ovog filma treba spomenuti da je rađen sa vrlo malim budžetom od samo pola mlijuna dolara od kojih je čak 50 000 otišlo na 5000 paukova i koji je bio iznenađujući hit na američkim kino blagajnama sa zaradom od nevjerojatnih 17 mlijuna zelembaća (33 puta više nego je u njega uloženo). Nevjerojatno zar ne?

Druga stvar koja upada u oči je ta da ima iznenađujuće solidnu glumačku postavu (Shatner, Strode, Ashley i Davis) unatoč mizernom budžetu što je odmah u startu veliki plus filma. William Shatner je iako skromnih glumačkih mogućnosti (ulogu života odigrao u seriji "Boston Legal" kao Denny Crane) sasvim solidno odglumio veterinara Hansena, također je uz sličan dojam odradio epizodni aganžman i Woody Strode (crni revolveraš Stony iz Leonovog "Bilo Jednom na Divljem Zapadu", 1968, jedan od trojice koji čekaju C. Bronsona na želj. stanici), te isto takav dopadljiv doprinos daje i ženska glumačka ekipa na čelu sa zanosnom Tiffany Bolling i zatajnom Altovise Davis (žena Sammya Davisa Jr-a).
Dakle, gluma je prihvatljiva, no ne i do kraja uvjerljiva, a to se najviše može zahvaliti relativno vodensto napisanom scenariju, koji ne dopušta ozbiljniji pristup dubljoj karakterizaciji samih glavnih likova.
Isto tako scenarij ima podosta omanjih propusta u nekim scenama te nije do kraja ispoliran, pa gledatelj u drugom dijelu filma vrlo lako uočava tu nedorađenost. Također prilikom gledanja filma primjećuje se i slabo redateljsko kordirniranje nekim scenama (kad pauci napadnu pilota ili kad napadnu ljude u gradiću, a što tek reći na scenu kad Altovise Davis puca na pauka koji joj je na ruci) redatelja Johna 'Buda' Cardosa, koji slične greške ponavlja i u svom drugom najpoznatijem filmu "Night Shadows" (1984).
Baš u tim scenama koje su pomalo neuvijerljive niti montaža u tim trenutcima ne pomaže (znate one scene kad jedan od likova pogleda u jednu stranu nema ničega, ali već u sljedećoj desetinki sekunde kad opet pogleda na isto mjesto već imamo desetke paukova, koji su se stvorili kao čarolijom i sl.).




Denny Crane ovaj James T. Kirk ovaj.....Shatner u grdnim problemima


Ima tu i primjese Spilbergovih "Ralja" (gradonačelnik ne želi otkazati sajam, iako postoji mogućnost opasnosti od najezde paukova), dok film u svom završnom dijelu pomalo baca na Romerov "Night of the Living Dead" (1968), jer se naši glavni junaci zabarikidiraju u kuću dok vani bijesni sve veća najezda paukova, čiji broj raste iz sata u sat.
Cardosin film uz to što cijelim svojim trajanjem pruža gledatelju ugodnu atmosferu ima i par odličnih scena (izdvajam najbolju - Verde Valley prekriven paučinom) koje su lijepo nadograđene atmosferičnom glazbom, dobrim kadiranjem solo paukova (ovdje su scene uvjerljivije nego kad imamo grupu paukova na okupu) čija je zadaća podizanje napetosti i tendencija (scena sa Tiffany Bolling kad naiđe na prvog pauka). Naravno film igra i na kartu arahnofobije (straha od paukova).
"Kingdom of the Spiders" (1977) unatoč gorespomenutim manama i omanjim nesavršenostima, poput razvučenosti i usporenosti, ipak uspijeva funkcionirati kao čistokrvni 'animal attack' film i ako mogu dodati jedan je od najboljih iz tog razdoblja u tome podžanru. Također je ono sve što su filmovi poput "Squirm" (1976) ili "Frogs" (1972) željeli biti, a nisu uspijeti u takvoj vrsti realizacije.
Ako ste kojim slučajem gledali "The Swarm" (1978) sa Michaelom Caineom onda sličnu radnju možete očekivati i kod ovog filma, samo što su ovdje umjesto pčela ubojica tarantule u prvom planu.
Kako bilo ovo je film koji vrijedi pogledati pa iako više spada u filmove katastrofe (podžanr čija je većina 'animal attack' filmova izravni produkt) nego u horor žanr.



THE SCENA:
scena No. 1 - iako se primjećuje slaba fotomontaža gradića Verde Valley prekrivenog u paučini, ipak ta zadnja scena filma budi u gledatelju dobru dozu jeze





scena No. 2 - apsurdni prizor kad Altovise Davis puca na paukove pištoljem i onda joj se jedan pojavi na ruci, a ona ne misleći da će si raznijeti pola ruke bez razmišljanja okida i šalje dlakavu napast iz roda paučnjaka u pakao (dobar hitac, no stvarno šašava scena)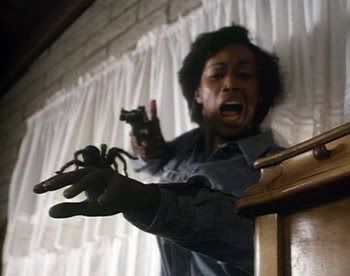 *dosta paukova nije doživjelo kraj snimanja, jer su se 'žrtvovali' za film (tad još nisu bile jake udruge za zaštitu životinja)