petak, 08.05.2009.
Killer Klowns From Outer Space (1988)

Klauni Ubojice iz Dubokog Svemira (1988)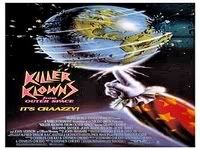 Produkcija: Chiodo Brothers Productions
Redatelj: Stephen Chiodo
Scenarij: Chiodo Bros.
Šminka: Dwight Roberts
Vizualni specijalni efekti: Fantasy II (nadglednik - Gene Warren Jr.)
Nadglednici spec. efekata: Jim Kagel i Mark Sullivan
Muzika: John Massari


Uloge:
Grant Cramer (Mike Tobacco).........................................Suzanne Snyder (Debbie Stone)
John Allen Nelson (Dave Hanson)...................................John Vernon (Curtis Mooney)
Michael Siegel (Rich Terenzi)..........................................Peter Licassi (Paul Terenzi)
Charles Chiodo ('Klownzilla' the King Klown)..................Steve Rockhold (Klaun br. 1)


Film je izašao u kina 27. svibnja, 1988 godine
Trajanje: 88 minuta
Budžet: oko 2 mlijuna $
Foršpan filma...
Killer Klowns from Outer Space Video Trailer (1988) - by The Dickies
Nagrade:
1990 godina - nominacija za nagradu Saturn u kategoriji najboljih kostima (Darcie F. Olson) i muzike (John Massari)



Jedan od naboljih soundtracka svih vremena


SADRŽAJ:
"- Kad vanzemaljci koji izgledaju kao groteskni klaunovi odluče posjetiti jedan maleni američki gradić i od njegovih stanovnika načiniti ukusne kukuljne slatkiše malo je onih koji će invaziju uopće primjetiti, a kamoli izjave svjedoka mladića Mike Tobaccoa i njegove djevojke Debbie Stone uzeti zaozbiljno.
No, ako Mike i Debbie, uz pomoć mladog policajca Davea Hansona ne uspiju uvijeriti autoritete u ozbiljnost situacije, nakon njihovog gradića možda je na redu i invazija na cijelu planetu Zemlju...."






RECENZIJA:
- Evo jednog filma zbog kojeg žalim za 80-tima, koje mi se čine najboljim razdobljem horor žanra. KKFOS ili "Killer Klowns From Outer Space" sa svojim naslovom i šašavim filmskim plakatom na prvi pogled ne izgleda kao neki jako dobar ili osobit film, no to je nasreću samo naizgled tako, jer ovo je po mojoj ocjeni jedan od najboljih filmova iz 80-tih.
Sam film je posveta znanstveno fantastičnim filmovima 50-tih godina prošlog stoljeća, što se vidi iz njegove vrlo jednostavne radnje i nekompleksnog scenarija. Kreativna snaga i energija KKFOS-a su braća Chiodo (Edward, Charles i Stephen) koji su ne samo idejni tvorci cijelog filma(klauni, scenografija i radnja) nego i konstruktori FX maski samih zlih klauna, pa neće čuditi kad kažem da su na maske potrošili vrlo malo novaca, dok je najveći dio kolača od 2 milje zelembaća otišlo na produkciju.
Chiodo braću neki bolji poznavatelji svijeta specijalnih efekata najviše poznaju po radu na filmu "Critters" (1986), gdje su osmislili izgled loptastih napasti. Mene osobno izrada grotesknih maski kaluna najviše podsjeća na sličan pristup izrade koji smo vidjeli kod izgleda vukodlaka u vampirskom klasiku Toma Holanda "Frigh Night" (1985), a koje nisu djelo ruku dotičnog trojca.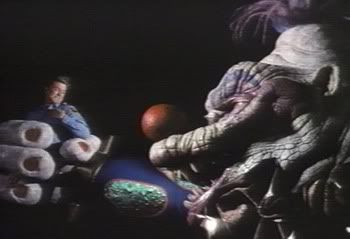 Klownzilla napada


Iako braća nisu u rangu Sama Riamija, Wesa Cravena ili sličnih veliko kalibarskih imena, ipak spadaju u onu grupu redatelja koji mogu niskobudžetni horor film pretvoriti u odličan B sci-fi hororac, koji je s vremeno prerastao u klasik.
Kako sam već rekao film ima najjednostavniju radnju specifičnu starim crno bijeli SF filmovima gdje je sva pozornost i naglašenost usredotočena na invaziji vanzemljaca, dok je čak i sama gluma toliko nevažna za sam protok radnje. Ista stvar se događa i u ovom filmu. Tako glumu glavnih glumaca vrlo brzo zaboravljamo, dok jedino što uspijevamo pamtiti jeste odlična epizodna gluma veterana Johna Vernona kao čangrizavog i konzervativnog drota Curtisa Mooneya, koja kao da je rađena po njegovoj mjeri i koja je bez obzira što je je čisti klišej ovakvih filmova jedna od najboljih detalja KKFOS-a.
Moram spomenuti i odličan soundtrack filma za koji su zaslužni skladatelj John Massari i punk rock grupa "The Dickies". Specijalni efekti su odlični i bezprijekorno odrađeni, te se iznenađujuće dobro međusobno nadopunjuju što gledatelju daje onaj divni osjećaj da se lijepo opusti i uživa u samom filmu.
Zbog čega je ovaj film tako dobar možemo sažeti u samo dvije stvari:
- pojava dijabolične i iznimno zle veće grupe vanzemaljskih klauna, od kojih svatko na svoj način ima osobnost (boja kose, veličina, način ophođenaj prema žrtvama, crte lica), te njihova zanimljiva mitologija koju u svakodnevnom životu shvaćamo zdravo za gotovo, a koja je u filmu lijepo prikazana na malo drugačiji i pozitivno uvrnut način (njihov svemirski brod....kako su ljudi uopće došli na ideju klauna?)
- specifičan humor kojeg neki možda neće prihvatiti, no vjerujem da će svatko od vas naći barem jednu scenu koja će mu odgovarati




Curtis Mooney: "- Killer clowns, from outer space. Holy shit!" (najbolja izjava u filmu)


Da se razumijemo Klauni Ubojice nikada neće biti znastveno fantastično remek djelo poput recimo "Invasion of Body Snatchers" (1978),
"Predatora" (1987) ili "The Thing" (1982), no zaslužuju da ih se svrstava u najbolje SF filmove 80-tih, pa ću se čak usuditi reći i u najbolje snimljene sci-fi ikad snimljene, unatoč pomalo trash elementima koji su svojstveni recimo jednoj TROMA-i i tome što su neki elementi same radnje filma apsurdni poput pištolja na kokice ili psa trgača napravljog od balona.
Isto tako humor neće biti tako ugodniji i suptilniji kao recimo u Peter Jacksonovu prvjencu "Bad Taste" (1987), koji je imao sličnu radnju (vanzemaljci žele ljude korisiti kao glavni sastojak hrane u intergalatičkom lanacu brze hrane), no vjerujem da ćete se svi uspijeti zabaviti u ovom iznimnom campy filmu, koji je i kao Burtonov "Mars Attacks!" (1996) odlična posveta filmovima koje su naši roditelji gledali kao mali.
Tko ga nije gledao ne zna što je propustio....a onaj tko ga je gledao, e pa uvijek se lijepo podsjetiti na vrijeme kad CGI nije igrao tako glavnu ulogu u filmu, nego su ideje i maštovitost cijele filmske ekipe, na čelu sa redateljem uspijele zabaviti gledatelja i bez pretjerivanja sa kompjuterskim specijalnim efektima.
Iskreno se nadam kad tad da će izaći nastavak...


THE SCENA:
- kad klaun upotrijebi Curtisa Mooneya kao lutka (jeziva scena)
- kad klaun pokuša namamiti djevojčicu da bi je pokušao maljom odalamiti po glavi (jako jeziva scena)




Najbolje scene iz filma
John Vernon Legenda
Udarac naivčine