ponedjeljak, 04.05.2009.
Freddy vs. Jason (2003)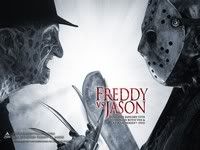 Produkcija: New Line Cinema / Cecchi Gori Group Tiger Cinematografica / Avery Pix / Sean S. Cunningham Films / WTC Productions / Yannix Technology Corporation
Redatelj: Ronny Yu
Scenarij: Damian Shannon i Mark Swift
Tvorci likova: Freddy Krueger - Wes Craven; Jason Voorhees - Victor Miller
Šminka: WCT Productions
Specijalni efekti: Cinesite i Digital Dimension


Uloge:
Robert Englund (Freddy Krueger)...............................Ken Kirzinger (Jason Voorhees)
Monica Keena (Lori Campbell)....................................Jason Ritter (Will Rollins)
Kelly Rowland (Kia Waterson)....................................Chris Marquette (Charlie Linderman)
Brendan Fletcher (Mark Davis)....................................Katharine Isabelle (Gibb)


Film je izašao u kina 15. kolovoza, 2003 godine
Trajanje: 97 minuta
Budžet: oko 25 mlijuna $
Zarada: 82 163 320 $ (SAD) i 113 mlijuna $ (Svjetska zarada bez SAD)
Zarada u prvom vikendu SAD: 36 428 100 $
Foršpan filma...
Službena stranica filma
Nagrade:
2004 godina - osvojio BMI Film Music Award (Graeme Revell) i Chainsaw Award za najbolji FX efekt i šminku (Bill Terezakis), a zaradio nominacije:
Saturn Award (najbolji horor film), Cinescape Genre Face of the Future Award (Jason Ritter), Chainsaw Award za najboljeg glumca (Robert Englund), Taurus Award za najbolju kaskadersku scenu sa vatrom (Douglas Chapman i Glenn Ennis), Teen Choice Award (u kategoriji trilera i filma kojeg vaši roditelji ne bi željeli da ga vidite)






SADRŽAJ:
"- Građani Springwooda i stanovnici Ulice brijestova gotovo su sasvim zaboravili Freddyja Kruegera. Suočen s mogućnošću potpunog zaborava i nemogućnošću povratka u stvarni svijet, Freddy odluči usksnuti Jasona Voorheesa i poigravši se njegovim sjećanjima na njegovu majku Pamelu, uspije ga nagovoriti na odlazak u Springwood, gdje vrlo brzo nalazi na svoje nove žrtve.
Kako broj Jasonovih žrtava raste tako Freddy nanovo dobija svoje moći, no kako se Voorhees nikako ne namjerava zaustaviti u svom krvavom pohodu Krueger odluči stati svemu tome na kraj i riješiti se koljača sa jezera Crystal Lakea.
Obračun između Freddya i Jasona je na pomolu, a tko god pobijedi u dvoboju dobiva - stanovnike Springwooda na pladnju..."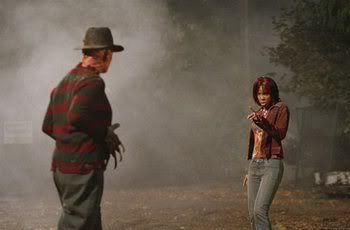 Jedna od žešćih scena u filmu


RECENZIJA:
- Jedno od najboljih stvari iz djetinstva kojih se sjećam su usporedbe - tko je jači Zagor ili Blek, Kong Kong ili Gojira/Godzilla i slični epski okršaji. Svaki medij kako filmski tako stripovni ima svoje vrle favorite. No, horor žanr kad je kod toga riječ u filmskom svijetu nema premca.
Toliko mnogo odličnih likova i čudovišta nam je taj žanr predočio da danima možemo preko raznoraznih foruma razglabati tko je jači. Takvu opsesiju su najbolje prvi iskoristili ljudi iz producentske kuće New Line Cinema, koji su spojili dvije velike ikone filmova strave i užasa - Jasona Voorheesa čiji je serijal "Petak 13-ti" brojio čak 10 nastavaka do tada i Freddya Kruegera koji se sa svojim serijalom "A Nightmare on Elm Street" ili skraćeno NOES zaustavio na skromnoj brojci od samo 7 filmova.
Priča o njihovom sučeljavanju započela je tamo 1993 godine kada je New Line Cinema otkupio prava na franšizu o Jasonu od producenta i redatelja Seana S. Cunninghama (inače redatelja originala), te u zadnjoj sekvenci devetog Petka "Jason Goes to Hell: The Final Friday" kada Freddyeva kandža uzima Jasonovu hokej masku u pijesku. Ta najbolja sekvenca filma (ujedno i najbolji njegov dio) je probudila neviđeno zanimanje fanova i jednog i drugog serijala, a priča o Versus sudaru je bila glavna tema mjesecima nakon premijere filma.
Ipak, trebalo je proći čak 10 godina do realizacije, a kad je film izašao u kina imao je odličnu prođu na kino blagajnama, no fanovi su ga ili voljeli ili mrzili. Moj dojam je slijedeći:


Što valja kod filma:
- plaćaš jedan film a u njemu dobiješ dvije velike ikone horor žanra
- borba Jasona i Freddya
- specijalni efekti i šminka, smrti žrtava odlično odrađene
- kamera i ugođaj
- Robert Englund je opet Freddy (sa svojim legendranim komentarima), dok Jasona jako dobro (najbolje uz Hoddera) glumi Ken Kirzinger
- Katharine Isabelle kao Gibb
- par scena koje su bezprijekorno napravljene: početak, kraj, borba na radilištu, Freddy izleće iz jezera, Jasonova mora sa Freddyem, Lorina Hypnocil mora, Jason na partiju radi pokolj






Što ne valja kod filma:
- scenarij je konfuzan i ne prati baš povijest oba serijala, slabo se pristupilo samoj priči i njenoj detaljnijoj razradi
- karakterizacija likova slabašna
- izbor mladih glumaca jako loš, a najviše izdvajam iritantnu Kelly Rowland
- efekti sa krvlju kod Jasona i Freddya previše izraženi pa dobijamo blagi trash efekt pretjerivanja
- neke scene su slabo snimljene: prenaporna i predugačka borba na molu između Jasona i Freddya, close up Freddya na početku njegovog monologa (vidi se da nosi leće)
- upotrebljavanje pokreta kečera iz WWF-a koje Freddy onako kršan koristi protiv snažnog Jasona
- ponegdje prenaglašena komika
- vječni nerješeni rezultat kod ovako jednako popularnih likova


Završna riječ:
- Unatoč nekim očiglednim stvarima koje su me smetale kod ovog dugo očekivanog horora mogu reći da sam uživao u njemu, Film ima glupavu radnju, no kod ovakve vrste filmova to baš i nije od presudnog značaja. Isto je i sa glumcima u sporednim ulogama. Važan je samo Obračun Jasona i Freddya.
Mišljenja sam da su fanovi i jednog i drugog lika dobili što su željeli. Iako, iskreno mislim da je ovo više Freddyev film nego Jasonov, jer očigledno je da Engludov lik vodi sve konopce (ipak je Freddy izvukao New Line Cinema iz bankrota).
No, Jason tu nije bio nimalo zakinut, jer kad mu redatelj to dopusti onda je pravi kradljivac scena (pokolj na partiju). Također FvJ se ne stidi krvavih prizora što će zadovoljiti gledatelje koji vole videti tu i tamo koju dobru filmsku smrt.
Možda bi ovaj versus hororac bio i mnogo bolji da redatelj Ronny Yu (Bride of Chucky, 1998) nije u jednom trenutku želio raditi NOES film a već u drugome "Petak 13-ti" što se jako dobro vidi u određenim scenama (a bogme mu ni scenarij nije baš puno pomagao). Yu se još treba naučiti baždariti nekim scenama koje ne izgledaju tako dobro kao ostale. Možda i najveći problem filma jeste taj što na kraju nema pobjednika niti je Jason pobijedio niti Freddy što iritira sve ljubitelje žanra, jer nitko ne voli nereješene rezultate (pitajte Rockya i Apolla što misle o tome).
Meni kao velikom fanu oba serijala film je dopadljiv i spada u onu skupinu filmova koji nisu istinska remek djela žanra, no svakako spada u onu pomalo posebnu grupicu filmića koji unatoč svojim nekim manama zaslužuju da ih se s vremena na vrijeme od gušta pogleda. Ostaje u zraku pitanje koje me i danas muči - što bi bilo da su se producenti odličili prepustiti režiju majstoru specijalnih efekata Robu Bottinu i da su Freddyu za protivnika stavili Asha iz serijala "Evil Dead" (oba lika jako brbljava sa odličnim onlinerima) ili Pinheada (najbolji izbor ako želite jako zanimljivu radnju), a Jasonu stavili njegovog realnog oponenta i mogli bi reći oca Michaela Mayersa (makljaža bez riječi, samo fijukanje mačete i kuhinjskog noža...uf to bi bilo odlično za gledati).
Ovo je pravi film za čistokrvnu pop corn zabavu koji će vas u svojih 97 minuta solidno zabaviti.






Zanimljivosti u vezi filma (TRIVIA):
- Kane Hoddera veterana horor filma i odličnog kaskadera nakon što je odglumio Jasona u četiri filma u serijalu "Petak 13-ti" u ovom filmu mijenja kanadski kaskader Ken Kirzinger, jer su redatelj i producenti željeli većeg glumca, dok im je Hodder bio prenizak nasuprot Englundu, koji glumi Freddya
- prvi film o Freddy Kruegeru koji nije sniman u SAD-u, a Ken Kirzinger je do sada najviši glumac koji je glumio Jasona (197cm)
- film je imao par alternativnih završetaka od kojih izdvajam samo dva koja su mi se stvarno svidjela:
a) borbu Freddya i Jasona u paklu kukama zaustavlja Pinhead iz serijala "Helraiser" i kaže im "- Now, what seems to be the problem?"
b) Freddy i Jason se bore u gladiatorskoj aren okruženi demonima i dušama iz pakla
- Betsy Palmer koja je glumila u prvom "Petku 13-tom" Jasonovu majku Pamelu odbila je reprizirati svoju ulogu zbog male plaće koja joj je nuđena, pa ju je zamijenila Paula Shaw
- Brad Renfro je trebao originalo glumiti Willa, ali su producenti smatrali da takva uloga ipak nije za njega
- snimanje filma je trajalo 53 dana, a budžet od 25 mlijuna $ je naveći koji je imao neki film iz serijala o jasonu, dok je prema redatelju korišteno 300 galona krvi
- Douglas Tait je glumio Jasona u nekim scenama koje su nadosnimavane, a najpoznatija je ona kad izlazi iz jezera sa Freddyevom glavom u ruci, taman prije odjavne špice
- prvi intervju koji je Ken Kirzinger napravio za film jest onaj u kojem nosi Jasonovo odijelo sa hokejaškom maskom, a čak je jednom otišao kod zubara u Jasonovoj robi i sa šminkom na sebi tako da su ljudi mislili da je pobjegli mentalni pacijent iz obližnje bolnice
- David S. Goyer je skraćivao predugi scenarij
- film sadrži mnogo referenci na oba serijala "NOES" i "Friday the 13th"
- Kyle Labine je jedini glumac koji je do sada glumio u filmovima o Jasonu, Freddyu i Michaelu Myersu (glumio u "Halloween: Resurrection", 2002)
- eksperimentalna droga Hypnocil je droga koju je koristila Nancy Thompson u "A Nightmare on Elm Street 3: Dream Warriors" (1987) i koja je predložila da ju Westin Hills daje svojim pacijentima




THE SCENA:
- Freddy vs Jason - FIGHT No.1
- Freddy vs. Jason - FIGHT No. 2


*večeras u 00.10 sati na HTV2