utorak, 21.04.2009.
The Living Dead at Manchester Morgue (1974)

Živa Smrt Iz Mrtvačnice Manchester (1974)




Produkcija: Flaminia Produzioni Cinematografiche / Star Films S.A.
Redatelj: Jorge Grau
Scenarij: Juan Cobos, Sandro Continenza, Marcello Coscia i Miguel Rubio
Alternativno ime filma (ima pod kojim je film još poznat u svijetu): "Let Sleeping Corpses Lie"

Uloge:
Cristina Galbó (Edna).....................Ray Lovelock (George)
Arthur Kennedy (Inspektor).............Vicente Vega (Dr. Duffield)
Fernando Hilbeck (Guthrie).............Jeannine Mestre (Katie)
Aldo Massasso (Kinsey).................Giorgio Trestini (Craig)

Film je izašao u kina 28. studenog, 1974 godine
Trajanje: USA - 93 minuta (unrated verzija), 85 minuta (R-rated verzija), Italija - 95 minuta
Foršpan filma..., Foršpan filma uz odličnu mjuzu iz 70-tih
Nagrade:
1974 godina - osvojio "CEC Award" u kategoriji najboljeg redatelja (Jorge Grau)
1975 godina - osvojio "CEC Medal" i "Medalla Sitges en Plata de Ley" u kategoriji najbolje glumice (Cristina Galbó) i specijalnih efekata (Luciano Byrd i Antonio Balandin)



Jedan od zombija se upravo hrani

SADRŽAJ:
"- Edna Simmons odlazi u posjet svojoj sestri Katie i putem ponudi prijevoz mladiću Georgeu kome je nehotice svojim mini morisom onesposobila motocikl na benziskoj crpki. Taman kad stignu na svoje odredište Katienin muž bude ubijen od strane nedavno oživjelog mrtvaca, a svo troje budu prvi osumnjičeni za ubojstvo od strane tvrdoglavog i konverzativnog policijskog inspekotora.
No, George uskoro saznaje strašnu istinu da lokalni poljoprivrednici koriste eksperimentalni stroj koji ima namjenu uništavanja nametnika i insekata pomoću zvučne radijacije, a koji uspiješno oživljava i leševe. Kako stroj ima domet od 5 milja broj živih mrtvaca sve rapidnije raste, a njihovih je žrtava sve više.
Hoće li dvoje mladih uspjeti urazumiti inspektora i samu policiju u pravo stanje stvari ili će Engleska biti vrlo brzo prepravljena leševima kojima je jedini cilj nauditi živim ljudima?"



zombi baca nagrobnu ploču

RECENZIJA:
"- Evo jednog slabo spominjanog no itekako podcijenjenog hororca iz mog omiljenog podžanra - zombi filma. Činjenica je da sam poznavao ovaj film jedino po dva odlična naslova pod kojima je poznat - "The Living Dead at Manchester Morgue" i "Let Sleeping Corpses Lie" (inače film ima čak 16 međunarodnih naslova pod kojima je poznat, a najgluplji od svih je zasigurno - "Don't Open the Window") i dugo sam ga imao na piku za gledanje.
Sad kad sam napokon i to napravio mogu samo reći - JEBOTE e ovo je zombi filmčina.

Lijepo je vidjeti kad gledate film da se odmah uspijete uživiti u radnju i same događaje koji se u njemu dešavaju, a još je i bolje kad su vam likovi tog istog filma realistični i dopadljivi. Odmah moram naglasiti da je redatelj Jorge Grau napravio odličan horor film i tako nam dao na raspolaganje jedan od 10 najboljih zombi filmova koje sam do sada vidio.
Imate dosta dobru priču, koja na lijepi način objašnjava nastanak zombija (radijacija), imate pristupačne i ugodne likove (Edna, George i Inspektor, pa čak i Dr. Duffield koji je ovdje samo epizodni lik, no zaslužio je i više od toga), te više nego solidno napisan scenarij.
Baš zbog dobro zamišljenog scenarija najbolji dio filma su zombiji, koji izgledaju fenomenalno. Nema kod njih nikakvih kerefeka ili zajebancije - pa tako imamo mnogo slatkih momenata kad skupno rade kako da se dočepaju živih (pomažu si, dižu zajedno nadgrobnu ploču i pokušavaju razvaliti vrata iza kojih su naši junaci, a jedan je čak bacio nadgrobnu ploču od kojih sto kila na svoju žrtvu.....) i za razliku od Romerovih zombija pokazuju znakove svijesti (mržnja, osveta, međusobno pomaganje i udruživanje protiv živih), nisu toliko spori i nenormalno su jaki. Ujedno osim crvenih leća na njihovim licima nema mnogo šminke, a opet tako jezovito izgledaju što ne samo da je zasluga glumaca koji glume dotične zombije (naravno uz pravilnu direkciju samog redatelja) nego i zvučnih efekata koji dočaravaju njihovu pojavu (jednodimenzijalno stvarno jezovito disanje). A da ne zaboravim spomenuti da ako im bucate u glavu ne pomaže,j jer oni i dalje idu prema vam da vam izvade crijeva i ostale organe (izgleda da to najviše vole)...



Dr. Duffield - jedan od boljih doktora iz horor filmova

I ovaj film kao i većina drugih zombi filmova ima mnogo poveznica sa Romerovim klasikom iz 68'. No, Grauov film ne samo da hvata i dijeli sadržajne detalje s "NOTLD" kao što su pamtljivi zombiji (vjerujte mi da su svi jako dobro zapaženi no ipak bih od sviju izdvojio zombija kojeg glumi Fernando Hilbeck koji je svojom pojavom bio ravan onoj Zombija s Groblja S. Williama Hinzmana), objašnjenje zašto su leševi oživjeli (ovdje radijacija agrokulturnog stroja) nego dijeli i politički tonalitet.
"The Living Dead at Manchester Morgue" u svome sadržaju jasno progovara protiv tradicionalnog konzervatizma kojeg utjelovljuje Inspektor (odlični Arthur Kennedy), a zdušno brani hipi pokret čiji je očigledni predstavnik George (ujedno po meni jedan od najboljih junaka koje je iznjedrio zombi podžanr...a isto tako jako blizak Benu Duanea Jonesa iz originalnog "NOTLD" ).
Isto tako film favorizira i zagovara političku ideologiju Zelenih koja se jasno vidi kad George uništava agrokulturni stroj, te neke radikalne ideje poput ustajanja protiv pokvarenog sistema i pogrešnih autoriteta (ljude poput Inspektora koji predstavljaju policiju).

Kako sam rekao ovaj film ima sve što bi pravi zombi film trebao imati - krvavih scena čerečenja ljudi (komada dva) četiri godine prije nego je to Romero napravio u DOTD-u, odlične zombije, par dobrih gore scena, dobre junake, jednog uber negativca od krvi i mesa, dobre zvučne efekte i muziku, lijepo razrađenu atmosferu, dobro balansiranu kameru i sigurnu montažu. Kad malo bolje razmislim ovaj film skoro pa da i nema minusa...osim što zombije možeš uništiti i omanjom bakljom, jer onda oni gore poput papira i što je audio nadosnimavan pa glumci zvuče previše Britanski sa cockney naglaskom.
Jorge Grau je napravio odličan posao na ovom hororcu talijansko-španjolske koprodukcije a čija je radnja začudo smještena u Veliku Britaniju. "The Living Dead at Manchester Morgue" (1974) je film koji morate pod hitno pogledati ako niste to do sada već obavili, jer je on jedno neponovljivo zombi iskustvo i jako dobar uvod u gledanje Romerove Zore.




THE SCENA:



Inspektor: "- You're all the same the lot of you, with your long hair and faggot clothes. Drugs, sex, every sort of filth!"
"- And you hate police. Don't you?"
George: "- You make it easy." (trenutak kasnije Inspektor odlazi a George ga pozdravi sa "Sieg Heil")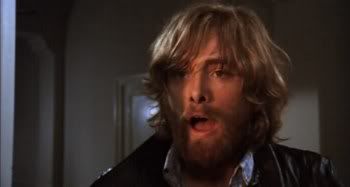 - George glavom i bradom igra ulogu u sve tri najbolje scene u filmu (od toga su dvije na samom kraju filma te sadrže spoilere)
"- I wish the dead could come back to life, you bastard, so then I could kill you again." : kaže Inspektor i želja mu se ostvari.