srijeda, 15.04.2009.
Children Shouldn't Play with Dead Things (1972)

Djeca se ne bi Trebala Igrati sa Mrtvim Stvarima (1972)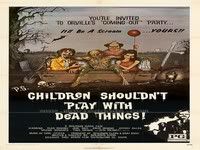 Anya i Alan

Produkcija: Geneni Film Distributors
Redatelj: Bob Clark
Scenarij: Bob Clark i Alan Ormsby
Šminka: Benita Friedman, Lee James O'Donnell, Alan Ormsby, Judy Whalen

Uloge:
Alan Ormsby (Alan)...................Valerie Mamches (Val)
Jeff Gillen (Jeff)........................Anya Ormsby (Anya)
Paul Cronin (Paul)....................Jane Daly (Terry)
Roy Engleman (Roy).................Robert Philip (Emerson)


Film je izašao u kina 1972 godine
Trajanje: 87 minuta
Budžet: oko 70 000 $
Foršpan filma...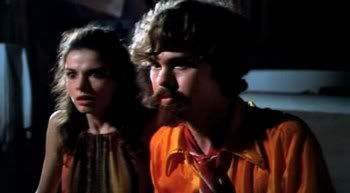 Orville Dunworth

SADRŽAJ:
"- Skupina mladih ljudi kojima je na čelu odbojni Alan odlaze na udaljeni otok na kojem se nalazi ogromno staro groblje. Na njemu misle izvršiti nekromantski ritual sa kojim bi trebali oživjeti lokalnog mrtvaca po imenu Orvillea Dunwortha, a sve iz neke morbidne šale.
No, ritual proradi i svi mrtvaci sa groblja ožive, te počnu napadati Alana i njegove pulene. Jedno je sigurno...mrtvaci ne praštaju kad ih se budi iz vječnog sna."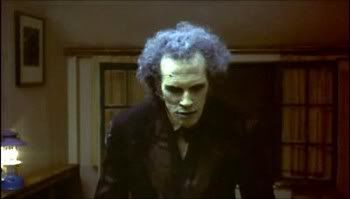 RECENZIJA:
- Nakon što sam već nekoliko puta pogledao fenomenalan proto slasher "Black Christmas" (1974) i jedan od najboljih dječijih (ali i Božićnih) filmova "A Christmas Story" (1983) redatelja Boba Clarka odlučio sam ovo jutro lijepo sjesti pred televizor i pogledati njegov prvi film "Children Shouldn't Play with Dead Things" (1972) ili skraćeno CSPWDT, kojeg mnogo ozbiljnih horor kritičara stavlja u sam vrh najboljih zombi filmova ikad snimljenih.
Nakon odgledanog moj dojam je sljedeći:

Što valja kod filma:
- ovo je stvarno kultni niskobudžetni zombi film i dobar primjer za horor entuzijaste koji žele snimiti svoj zombi film sa malo love
- odlična facijalna šminka zombija, no i sama njihova pojava je fenomenalna
- ugođaj i sama atmosfera okoline/groblja koja u sebi ima onaj jezoviti izgled ala prvi "Evil Dead" (1981)
- 64 minuta i 84 minuta
- montaža iznenađujuće dobra za ovakvu vrstu filma što je zasluga Garya Gocha
- Alan je najzanimljiviji lik u filmu (ujedno i najbolji glumac filma)


Što ne valja kod filma:
- mjuza u nekim djelovima postaje stvarno iritirajuća što zbog stalnog ponavljanja jedne te iste teme i to u djelovima u kojoj je ne bi trebalo biti, a i ponegdje je preglasna (inače skladatelj je Carl Zittrer kojem je utjecaj sigurno bio Gino Marinuzzi Jr.)
- slaba gluma (niti približno onoj glumi kakvu su pružili glumci u sličnim niskobudžetnim filmovima kao što su prvi "Evil Dead" ili "TCM" (1974)
- početak filma je usporen pa počinje čak biti i zamoran
- karakterizacija likova nikakva, a dijalozi među njima su neinventni i dosta slabi
- likovi imaju prekričavu odjeću pa iako to bile 70-te, to malo gledatelju odbojno upada vizualizaciju cijelog filma
- Alan je najiritirajući lik u filmu (a nažalost nije jedini)
- film je 7 minuta predug, a kojih se lako moglo u montaži prekratiti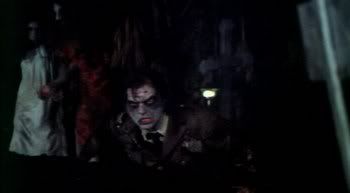 Završna riječ:
- Iako, na početku filma nisam bio impresioniran viđenim (najviše zbog glumačke postave i njihove slabe glume) malo po malo me je film uspio privući (jer sam znao da je ovo film o zombijima pa sam upravo i čekao njihovu pojavu).
Da je film imao bolju glumačku postavu dojam o filmu bi bio mnogo bolji, ovako upravo ta glumačka postava kvari cijelokupni dojam, jer kad je Alan Ormsby kao Alan ujedno i najbolji i najgori lik filma to ne može dobro završiti. Još je gore što u CSPWDT uopće nemate lika koji ti je drag ili da ti je stalo do njega...nope.
Ali film ima neku svoju privlačnost te ipak vuće gledatelja da ga dalje gleda, a onda ako gledatelj uspije doći do 64 minute filma....e onda ludilo počinje. Jer baš od te 64 minute po meni film i počinje, jer u toj osobitoj minuti počinju zombiji da izlaze iz svojih grobova (jedna od najboljih scena ikad viđenih u zombi podžanru).
Druga dobra stvar jeste što ovdje zombiji stvarno odlično izgledaju (mješavina Fulcijevih zombija i Raimijevih demonskih Deaditeasa iz naravno prvog dijela), a ne nedostaje i omanjih gore scena (čak se vidi i jedno hranjenje). Zbog njegovog kraja film može slobodno poslužiti kao prolog Lucio Fulcijevom "Zombi" (1980), a oni koji su gledali početak Fulcijevog filma znat će o čemu govorim (oni koj ne znaju pogledajte ga).

Cijelokupno gledajući CSPWDT je stvarno jedan od najboljih zombi filmova, no nikako se ne može mjeriti recimo sa Romerovim djelima, no Bobu Clarku se može progledati kroz prste, jer se čak i u njegovom prvjencu vidi da ima dara i da je talentiran redatelj unatoč onoj grupici minusa koje je od mene primio. Pogledajte kad budete odmorni i krijepki, jer ipak film zna na početku biti stvarno zamoran.


THE SCENA:
84 minuta filma - Alan baca Anyu zombijima da bi spasio svoju kukavnu hipi guzicu, a čak i bezosjećajni zombiji zastaju na trenutak iznenađeni njegovim kukavličukom te mu upućuju pogled u stilu "bijedniče"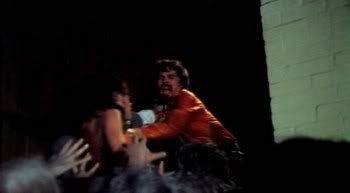 64 minuta filma - kreće zombi ludilo