nedjelja, 12.04.2009.
Timber Falls (2007)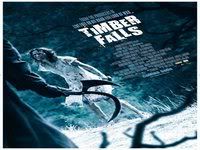 Produkcija: Rifkin-Eberts / Ascendant Pictures / A-Mark Entertainment / Film Tiger
Redatelj: Tony Giglio
Scenarij: Daniel Kay

Uloge:
Josh Randall (Mike)........................Brianna Brown (Sheryl)
Nick Searcy (Clyde).......................Beth Broderick (Ida)
Sascha Rosemann (Deacon)...........T.W. Leshner (Darryl)
Branden R. Morgan (Brody)............Ryan McGee (Lonnie)


Film je izašao u kina 27. lipnja, 2007 godine (Fantasy Filmfest)
Trajanje: 100 minuta (DVD izdanje)
Budžet: oko 2, 6 milijuna $
Zarada: 53 000$ (Ujedinjeno Kraljevstvo)
Foršpan filma...




Clyde: "- We're not violent people, Michael. It pains us to pain you."

SADRŽAJ:
"- Sheryl (Brianna Brown) i Mike (Josh Randall) su mladi par koji odluči kampirati u šumskim predjelima područja zvanog Timber Falls. Baš kad počnu uživati u ljepotama prirode otme ih obitelj ubojica, koji ih misle upotrijebiti za rasplod u kojem bi ovi dobili nove članove.
Za dvoje mladih borba za goli život upravo počinje..."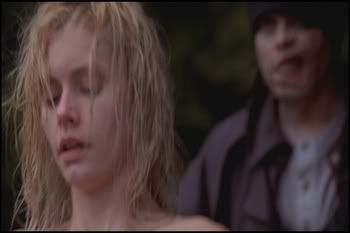 RECENZIJA:
- Evo jednog filma koji me je privukao upravo svojim dosta lijepim i zanimljivim posterom, pa sam ga odlučio pogledati i naravno recenzirati za sve vas koji ne mogu bez horor filmova. Odmah mogu reći da neću mnogo riječi trošiti na ovaj film nego ću odmah prijeći na njegove dobre i loše strane:

Što valja kod ovog filma:
- ovo je survival horror
- film i scenarij imaju par dobrih ideja
- ima par solidnih gore scena (sjekira u glavu, headshot iz blizine, ubojstvo tri mlada redneka, odsijecanje glave) i dobru šminku (lice Deacona)
- najbolji dio filma jeste njegova doista solidna fotografija koja dočarava šumoviti pejzaž Timber Fallsa
- neke scene (većinom na kraju filma) jednostavno odrađene bez puno petljanja


Što ne valja kod ovog filma:
- ovo je loš survival horror
- film i scenarij imaju par dobrih ideja koje su slabo realizirane
- gluma ispod norme za ovakvu vrstu filmova
- slab redatelj, osrednji scenarist koji je napisao loš scenarij
- film prepun scenarističkih (i redateljskih) grešaka:
u jednoj sceni raznijelo glavu tipu, a u sljedećoj mu je glava cijela, kiša pada kao luda ali Sheryl uspijeva upaliti zippo upaljač i obaviti svoju osvetu, jedan od glavnih likova bude dobro uboden u jetru i krvari kao svinja, ali uspijeva preživjeti taj trenutak...i sl.
- što je redatelj želio reći sa onakvim krajem (scena sa bebom) pitaj Dragog Boga



Deacon sa oružjem

Završna riječ:
- mislim da svi vi znate da survival horor ima uvijek isti sadržaj sa uvijek istom radnjom (par ili grupica ljudi završi na nekom šumovitom ili pustom predijelu gdje ih teroriziraju obične lude kao kupus ubojice ili još gore mutirani ljudi kanibali). Ono što je zanimljivo kod ovakve vrste filmova jest što oni moraju imati dosta dobrog redatelja, no i više nego dobar scenarij.
Ovaj film nema niti jedno od toga i to je njegov najgori problem, a što je najgore kao da je rađen za oznaku PG-13 a ne R.

Daniel Kay je dobro zamišljene ideje upakirao u očigledne klišeje koji umiksani zajedno na kraju dave sam film, a tome ne pomaže ni sam redatelj Tony Giglio koji bi želio snimiti proklasan hororac, no nikako da pronađe pravi pristup. Druga velika greška scenarija je što su likovi jednodimenzijalni i naivni da ispadnu mega glupi (Mike ponese pištolj ako zatreba u divljini, no kad to sazna Sheryl ga natjera da baci metke??? ili kad susretnu mlade seljačine sa kojima imaju jako neugodan susret, ipak to ne prijave lokalnom rendžeru?? ili kad ih ubojice natjeraju da Mike i Sheryl imaju seksualni odnos kako bi zatrudnjela i dobila bebu...umjesto da probaju smisliti neki pametni bijeg tijekom toga oni odbijaju voditi ljubav i pristaju na mučenje??!?). Jednostavno se ne mogu pomiriti sa tim glupim postupcima koji glavni junaci čine, a to me odbija da se zbližim sa njima i da do kraja navijam za njih.
Još gore od svega toga su glumci (najviše Brianna i Josh) koji mi izgledaju nezainteresirano, a jedini koji pokušavaju nešto odglumiti jesu glumci koji glume negativce. Žalosno, ali istinito.

Iako me je film razočarao kao cijelokupni proizvod ne mogu reći da je film uber loš. Jednostavnom riječju - on je ona vrsta prosječnog horor filma koji se može pogledati recimo sa djevojkom ili možda čak sa ekipom (iako nije onaj tipični film za ekipu tipa Jack Frost, 1996) i za kojim se više nikad nećete okrenuti.