nedjelja, 08.03.2009.
Blade: Trinity (2004)

Blade: Trojstvo (2004)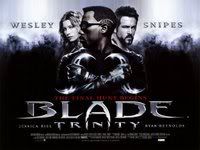 Produkcija: New Line Cinema / Shawn Danielle Productions Ltd./ Amen Ra Films / Marvel Enterprises / Imaginary Forces
Redatelj i scenarist: David S. Goyer
Kreatori Bladea: Marv Wolfman i Gene Colan


Uloge:
Wesley Snipes (Blade).............................Kris Kristofferson (Whistler)
Dominic Purcell (Drake)...........................Jessica Biel (Abigail Whistler)
Ryan Reynolds (Hannibal King)................Parker Posey (Danica Talos)
Paul Levesque (Jarko Grimwood)............James Remar (Ray Cumberland)


Film je izašao u kina 03. veljače, 2005 godine
Trajanje: 113 minuta / 122 minuta (američko unrated izdanje) / 105 minuta (njemačko cut izdanje)
Budžet: oko 65 milijuna $
Zarada: oko 63 milijuna $ (SAD, UK, Italija i Nizozemska)
Foršpan filma...
Nagrade:
2005 godina - nominacija za nagradu Saturn u konkurenciji najboljeg horor filma


Blade i Night Stalkers Abigail i H. King


SADRŽAJ:
"- Nakon što mu vampiri smjeste ubojstvo Blade, Dnevni Šetač najtraženiji je čovjek na listi FBI-a. Uz probleme sa federalnom policijom Bladeu predstoji najsudbonosnija borba do sada - sa Drakeom, prvim vampirom, kojeg su probudili njegove sluge na čelu sa zlobnom Danicom Talos. Kao pomagače Blade dobija Whistlerovu kćer Abigail i Hanibala Kinga - Noćne Vrebače, dvojac vješto obučen za uništavanje vampira. No, hoće li Bladeova simonost i odvažnost zajedno sa njegovim vještinama biti dovoljna za svladavanje prvog i najjačeg vampira?"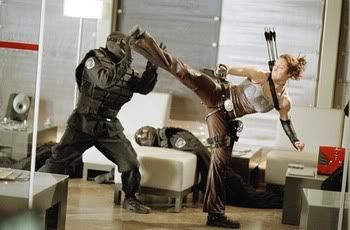 Abigail Whistler u "kick ass" akciji


RECENZIJA:
- Evo nam je na repertoar došao i treći dio iz trilogije o Bladeu sa kojom zaključujemo priču o neustrašivom ubojici vampira (za sada). Nažalost ovaj put nemamo za redatelja darovitog Guillerma del Tora (odbio režiranje zbog redateljskog stolca u filmu "Hellboy", 2004), nego scenarista Davida S. Goyera kojemu je ovaj film ujedno i redateljski debi.
Kako je ovaj nastavak prošao u mojim recenzijskim mislima pročitajte u slijedećim rečenicama:

Što valja kod filma:
- vraćanje korjenima i prikaz 'Vampirskog finalnog riješenja' (nakratko spomenuto još u prvom dijelu) je sigurno jedan od velikih pluseva samog filma
- pojava Noćnih Vrebača Abigail Whistler i Hanibala Kinga
- Kingov sarkazam mnogo nalik onom kojeg ima i Spiderman
- pojava novih oružja od strane Bladea i Night Stalkersa i njihova učinkovita upotreba
- soudtrack filma
- odlične reference na Marvelov strip serijal "Tombs of Dracula"
- koreografija borbi gdje se Blade i njegovi puleni bore protiv grupe običnih vampira i njihovih pomoćnika bilo zajedno bilo pojedinačno
- nije se previše petljalo sa CGI efektima
- neke scene su stvarno dobro odrađene (izdvajam - Bladeovu borbu na početku i kraju sa grupom vampira ili sam početak filma)


Što ne valja kod filma:
- film ima jednostavnu priču, a sam scenarij je letargičan i ponegdje zbrkan (ako se uspoređuje sa radnjom iz prošla dva filma), te Goyer kao da nema više inspiracije za serijal te reciklira neke najbolje stvari iz prošla dva dijela (borba mačevima na kraju filma, psi sa reaper ustima...)
- opet izvučen Drakula (da ne može niti jedan vampirski film bez njega?) što je znak da je Goyer stvarno bio u kreacijskog krizi
- Blade je dobio tri očajna negativca kojeg redom glume - Parker Posey kao Danica Talos, Paul Levesque kao Jarko Grimwood i Dominic Purcell kao Drake
- tuča sa glavnim negativcima je očajna, nezanimljiva, preblaga te nema nikakve dinamike i uzbuđenja / napetosti koja takva vrsta bitke zahtijeva
- kao glavni uber negativac Drakula (iliti kako ga zovu u filmu Drake) je previše mekan, previše manakensko nastrojen
- kraj filma je prebrz i nedorečen


Završna riječ:
- Kako vidimo iz priloženih dobrih i loših strana, ovaj treći dio nije niti tako približno dobar kao prva dva filma (pogotovo kao drugi dio). Pošto je Goyer ovdje prvi put u redateljskoj stolici mogu mu oprostiti što se previše navukao u filmu na borbe, CGI i spotovski način snimanja nekih scena (od kojih su neke jako dobre dok su neke stvarno nepotrebne) gdje non stop mjuza dere u pozadini.
Najveća dva minusa idu zbog kraja filma za kojeg sam siguran da stvarno nisu imali ideju kako da ga realiziraju (nisu htjeli ubiti serijal, no također svi su njime bili pomalo zasičeni, pa tako na DVD-u imamo tri verzije kraja, a od kojih niti jedan ne odiše kvalitetom), te očajnom izboru glavnih negativaca.
Parker Posey je od svojih muških kolega ipak talentirana glumice, te je morala svoju ulogu vampirice Talos mnogo bolje i ozbiljnije odglumiti a ne preglumljivati se do karikaturnog nivoa. Neću puno trošiti riječi na glumu Triple H-a kečera i prvaka WWE-a, jer sam mišljenja da onakva vampirska prezentacija može proći kod američkih 14-godišnjaka, koji briju na WWE-a (moglo se tu naći mnogo boljih glumaca...ali što ćeš kad izgleda da i Goyer brije na kečere).
Najveće razočarenje jeste upravo gl. negativac u liku Drakule kojeg glumi drveni Dominic Purcell. Gledao sam loših izvedbi Drakule, ali ovo je jedna od najgorih koje sam vidio - nikakve karakterizacije, nikakvog entuzijazma i bilo kakvih emocija ili iskaz zlobe. Drakula i kao već izlizan vampirski lik to nije zaslužio. Odlični aspekti filma su pojava dvoje mladih glumaca J. Biel (Abigail Whistler) i R. Reynoldsa (Hannibal King), koji su uveli novu svježinu u sam serijal (možda jednog dana vidimo i spin off).
Lik Abigail ne priča mnogo u filmu no zato je u borbi jako fleksibilna i ubojita (sa lukom i nožnim noževima), dok Hanibal King jest pričljiv i najzanimljiviji je od svih likova u filmu sa tim svojim humornim i sarkastičnim komentarima ala Spiderman (odlična scena kad se upravo riješio troje pasa i pokazao im srednji prst, a onda upadne u rupu u podu)...mogu samo reći da je u ovu ulogu Reynolds dao dašak svog Van Wildera iz istoimenog filma.
Ovo je solidan akcijski horor, kojeg će ponajviše cijeniti Blade fanovi, pa tek ostali. Moglo se mnogo toga bolje napraviti u ovom filmu, koji je uzgred i najlošiji od sva tri, no unatoč tome solidno je ostvarenje.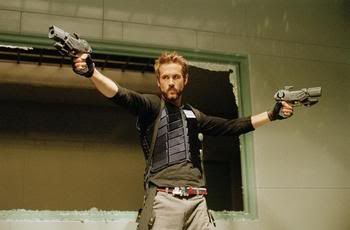 Hanibal King u solo akciji


Zanimljivosti u vezi filma (TRIVIA):
- na početku je Goyer želio staviti radnju mnogo godina nakon drugog djela, gdje bi vampiri porobili čovječanstvo, a Blade bi bio zadnja nada ljudima, no netko od producenata je mislio da je takva vrst radnje premračna pa je ta ideja naposlijetku odbačena
- za redatelja se željelo uzeti Olivera Hirschbiegela, no on je bio vezan obavezama uz drugi projekt - "Der Untergang", 2004
- Ryan Reynolds je za ulogu Hanibala Kinga nabacio 12, 5 kg mišićne mase
- kad Hanibal King kaže Bladeu za povratak Drakule pokaže mu i Marvelov strip "Tomb of Dracula" br. 55, serijalu u kojem je i stripvni Blade imao svoju prvu pojavu i to u broju 10, dok se sam stripovni Hanibal King prvi put pojavo u broju 25 i otad je narazdvojni sudrug Bladeu
- Colinu Farrellu je bila ponuđena uloga Hanibala Kinga, no on ju je odbio
- Rachel Van Helsing je još jedan lik iz serijala "Tomb of Dracula" koji je trebao biti uvršten u film, no kako je te iste godine izlazio "Van Helsing" odlučio je staviti lik Abigail, Whistlerove kćerke; također je ovo prvi film iz trilogije koji na početu ima Marvelov logo
- Jessica Biel je tako dobro istrenirala svoje streličarske sposobnosti da je sa skoro 20 m pogodila u malu nebranjenu zaštitu od pleksiglasa, koje je štitilo kameru i tako je uspijela uništiti 300 000 $ skupu opremu (redatelj je sam rekao da cilja u kameru...lol)
- dok se oporavlja na brodu od ozljede Hanibal King gleda "Incubus" (1965) sa Williamom Shatnerom, prvi film snimljen na Esperantu, no taj jezik se provlači kroz cijeli film, jer u jednom trenutku i Whistler priča an Esperantu
- ime domaćina showa Bentleya Tittlea je referenca na horor pisca Bentleya Littlea
- Drake je ubijen na isti način kao i Isusu Krist (SPOILER: strela kroz donji dio llijevog pluća)
- jedan od vampira koji ganjaju Abby nosi majcu "The Lost Boys" (1987)
- set koji je predočavao vampirska jazbina i dan danas se koristi u SF seriji "Stargate: Atlantis" (2004)
- na dodatcima DVD-a može se vidjeti izbrisani kraj koji je trebao najavljivati četvrti dio (grupa lovi hibride vamipra i vukodlaka u kazinu)
- USKRŠNJE JAJE: u specijalnim dodatcima DVD-a kad se pojave vampirska slova kliknite na pristup i imat ćete na vidjelu skriveni film
- na kraju odjavne špice možemo na brzinu vidjeti Bladea kako juri u nove bitke, a na samom kraju se može vidjeti riječ "WORD"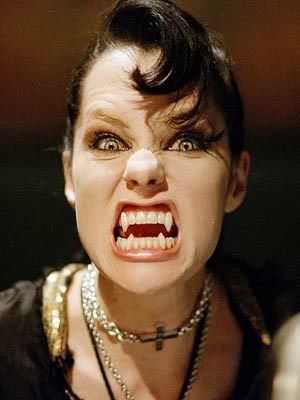 Danica Talos licem i bradom


THE SCENA:
- Ryan Reynolds vs. dvije džukele i jedan mali džukac