nedjelja, 15.03.2009.
Invasion of the Body Snatchers (1956)

Invazija Tjelokradica (1956)




Produkcija: Walter Wanger Productions
Redatelj: Don Siegel
Scenarij: Daniel Mainwaring i Richard Collins (nekreditiran)
Film rađen prema noveli Jacka Finneya (koja je izlazila u magazinu "Colliers", 1954 godine)


Uloga:
Kevin McCarthy (Dr. Miles J. Bennell)..................Dana Wynter (Becky Driscoll)
Larry Gates (Dr. Dan 'Danny' Kauffman)..............King Donovan (Jack Belicec)
Carolyn Jones (Theodora 'Teddy' Belicec)...........Jean Willes (Nurse Sally Withers)
Tom Fadden (ujak Ira Lentz)................................Kenneth Patterson (Stanley Driscoll)


Film je izašao u kina 05. veljače, 1956 godine
Trajanje: 80 minuta
Budžet: oko 417 000 $
Foršpan filma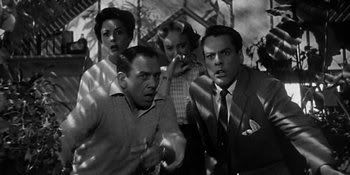 Miles i ekipa gledaju 'biljke'


SADRŽAJ:
"- Dr Miles Bennell se vraća u svoj maleni kalifornijski gradić Santa Miru da bi u njemu nastavio svoju liječničku praksu. Vrlo brzo u njegovom gradiću se počnu događati čudne stvari sa ljudima koje poznaje, jer izgleda da su neki od njih postali emocijonalno hladni i bezosjećajni. Stvarnost je još strašnija kad spozna strašnu istinu - u tijeku je invazija vanzemaljskih bića, koji svojim duplikatnim tijelima rade zamjene sa ljudima iz Santa Mire. No, ta potiha invazija je tek početak, jer njihova je namjera preuzeti cijelu planetu Zemlju i sve njegove stanovnike zamijeniti sa duplikatima. Sada je na Milesu i njegovoj djevojci Becky Driscoll da pokušaju upozoriti vlasti o invaziji...no hoće li im uštogoljeni i nepovjerljivi vladini službenici vjerovati na riječ i suludom im scenariju?"



Boljka koja radi kopije


RECENZIJA:
- Nakon što sam se napokon dočepao DVD-a ovog klasika znanstvene fantastike rekao sam si da ću ga istog dana recenzirati. E, pa da ispunim svoje obećanje evo recenzije....

Svi znamo da su SF filmovi svoje zlatno razdoblje imali u 50-tim godinama prošlog stoljeća, no iako ih je hrpa snimljena samo nekolicna spada u istinska remek djela. Tako je i sa "Invazijom Tjelokradica" iz 1956 godine.
Nakon što smo mogli vidjeti razno razne vanzemaljske invazije gdje su došljaci iz svemira direktno i bez imalo milosti uništavali ljude i gradove (najbolji primjer takvog filma je "Rat Svijetova" iz 53') u ovom filmu viđamo sasvim drugačiji, tihi no isto tako opasan atak na ljudsku civilizaciju. Ovo je jedan od rijetkih filmova koji pokazuje tiho i bez puno buke preuzimanje planeta Zemlje od strane vanzemaljaca (sličan smo pokušaj već vidjeli u "The Thing From Another World" iz 51').
Činjenica je da i za današnje norme film izgleda odlično, osviježavajuće i mnogo bolje nego SF filmovi sa ogromnim budžetom, a kao najbolji primjer bih istakao baš "Invaziju" iz 2007 godine, gdje je glavnu ulogu igrala Nicole Kidman, a koji je rimjek ovog filma (ili ako vam je draže nova adaptacija novele Jacka Finneya).
Iako skromnog budžeta (pa za i ono doba) film ne prikazuje tu skromnost, pa tako nimalo ne zaostaje za ostalim filmovima iz drugih žanrova tog doba, a koji su se dičili mnogo većim novćanim ulaganjima u produkciju.

Primjetio sam da je dosta kritičara, ali i običnih gledatelja koji baš i ne prate znanstvenu fantastiku ovaj film proglasilo za najparanoidniji film ikad snimljen što je epitet sa kojim se u potpunosti slažem.
Za tu etiketu najviše je zaslužna sama radnja filma (obične ljude zamjenjuju njihove bezosječajne kopije, koje su produkt biljnog vanzemaljskog organizma), ali i sigurna režija Dona Siegela koji vrlo vješto komibinira detalje noir filma (igra sjenki, slabog osvijetljenja te izražavanje crno bijele tehnike) sa raznolikim kadrovima koji naglašuju paranoju i jezu, te na kraju strah.
Siegelov film je pravi produkt 50-tih godina prošlog stoljeća, koji u američkoj povijesti znamo i kao era američke paranoje od komunizma (ali i atomskog doba). Tako ovaj film gledaju kritičarske oči diljem svijeta - kao elegoriju na komunizam ("- They're here already! You're next!....), ali isto tako se može gledati i kao alegorija na McCarthyjev lov na vještice.
Iako, traje samo 80 minuta film ne pati od boljke da ne prikaže svu svoju lepršavost i zanimljivost. Velika zasluga ide i samim glumcima Kevinu McCarthyju (bio izbor nakon Giga Younga, Dicka Powella i Josepha Cottena) i Dani Wynter (bila izbor tek nakon što su uloge odbile Anne Bancroft, Donna Reed, Kim Hunter i Vera Miles), koji su svoje uloge odglumili kao veterani, iako su bili na početku svojih bogatih karijera.
Njih dvoje daju nam zaslugom svoje uvjerljive glume jedan od najboljih filmskih parova što su ih znanstvena fantastika i horor vidjeli.
Unatoč tome što je studio uredio film da sadrži strukturu prologa i epiloga koji bi trebao dati veseliji ton nego što su to redatelj Siegel i scenarist Daniel Mainwaring prvotno zamislili (film nije trebao imati ni prolog ni epilog, a trebao je završiti Milesovim paraničnim trčanjem po autocesti), on ima par stvarno jezivih scena - scena sa bebom ("- Is the baby asleep yet, Sally?") do prikaza još nepotpune kopije Becky Driscoll što filmu daje još jednu notu koja ga čini klasikom za sva vremena.
Ovo je inteligentan i odličan znanstveno fantastični film, koji ne samo da daje pogled na stanje povijesti američkog socialnog društva, nego gledatelja zabavlja svojom radnjom i vrlo ugodnim likovima. Ljudi ovo je obavezantno štivo...i onaj tko nije gledao ovaj film to bi trebao što prije učiniti, jer ovakvi se filmovi ne smiju propustiti ako volite SF.



iles otkriva kopiju u podrumu kuće


Zanimljivost u vezi filma (TRIVIA):
- Sam Peckinpah je imao malu ulogu u filmu (meter reader), no veća zanimljivost govori da je on ponajviše zaslužan za scenarij što nije točno, jer je Daniel Mainwaring stvarni scenarist filma priprijetio Scenarističkim Udruženjem Amerike (Writers Guild of America), pa je prgavi redatelj odustao od prčkanja po scenariju
- scena u tunelu gdje Milesa ganjaju stanovnici Santa Mire je snimljena u pećini Bronson u Griffith Parku, poznatoj kao Bat Cave
- samo 15 000 $ je potrošeno na specijalne efekte
- rangiran kao #9 na listi Američkog Filmskog Instituta od njih 10 u žanru "Sci-Fi" u lipnju, 2008 godine
- i redatelj Siegel i scenarist Mainwaring su bili zadovoljni krajem (depresivni "You are next!!!") no na tipično američki način studiju je odgovarao vedriji kraj pa je snimljen onakakav početak u bolnici koji bi davao optimističniji osječaj na kraju
- producnet Wagner je također zamišljao da napravi prolog koji bi nas upoznao malo bolje sa Milesom (naraciju je trebao čitati Orson Welles, te također predstaviti filmu u foršpanu no ta je ideja ostala samo ideja, a isto tako je prošlo i sa tvorcem Star Treka Rayom Bradburyjem)
- prolog se mislilo započeti čuvenim govorom Winstona Churchilla no i od toga se an kraju odustalo



THE SCENA:
"- They're here already! You're next! You're next, You're next...!" : očajnički krik Dr. Milesa J. Bennellija na kraju filma je nezaboravna scena.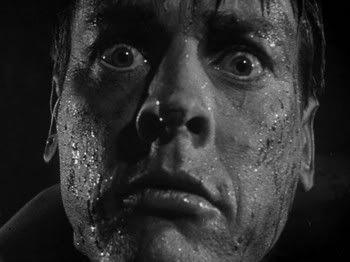 Lice govori sve