utorak, 31.03.2009.
Innocent Blood (1992)

Nevina Krv (1992)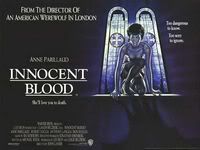 Produkcija: Warner Bros. Pictures
Redatelj: John Landis
Scenarij: Michael Wolk

Glume:
Anne Parillaud (Marie).......................Anthony LaPaglia (Joe Gennaro)
Robert Loggia (Sallie Macelli)............Chazz Palminteri (Tony)
Luis Guzmán (Morales).....................Angela Bassett (državna odvjetnica Sinclair)
David Proval (Lenny).........................Don Rickles (Emmanuel 'Manny' Bergman)


Film je izašao u kina 25. rujna, 1992 godine
Trajanje: 112 minuta
Zarada: 4 973 000 $
Foršpan filma



Marie i Ajkula Macelli

SADRŽAJ:
"- Marie je prelijepa mlada žena sa mračnom tajnom. Naime ona je moderna vrsta vampira sa posebnim ukusom i apetitom, jer su njena hrana samo okorjeli kriminalci. Kad se jedne večeri odluči za 'talijansku kuhinju' (kako se ona sam zna izraziti) za metu odabere okrutnog mafijaškog šefa Salvatorea "Sala Ajkulu" Macellija.
Problem nastane kad se stari Sal pokaže pretvrd orah za vampiricu, koja jedva uspijeva pobijeći sa njegovog posijeda. Odmah potom i Sal postane vampir što u njemu probudi još veću žudnju za moći, jer je sad jedan od nemrtvih...a to mu daje nadljudske sposobnosti i snagu.
Marie se igrom slučaja sprijatelji s policajcem Joem Gennarom, koji također lovi starog mafijaša već par godina. Sad njih dvoje moraju zaustaviti pošast, jer Sal Ajkula počinje pretvarati svoje mafijaške kompiće u spodobe mraka...a ako policajac i lijepa vampirica ne uspiju na vrijeme spriječiti to širenje Pittsburgh će uskoro imati na grbači skupinu moćnih i okrutnih vampira mafijaša...."



Razroke leće malo kvare dojam


RECENZIJA:
- Nakon što je sada već daleke 1981 godine snimio jedan od najboljih filmova o vukodlacima "An American Werewolf in London" John Landis se nakon 11 godina vraća horor žanru, samo što ovaj put nije riječ o vukodlacima nego o vampirima.
Iako, je prvenstveno žanrovski vezan uz komediju ("Animal House" (1978), "The Blues Brothers" (1980),
"Trading Places" (1983)...) Landis je ujedno i jedan od starih meštara koji odlično kontaju filmove strave i užasa (kao recimo Dante ili Spilberg) i znaju što gledatelji vole kod tog žanra.

Imao sam sreće pogledati ovaj film netom čim je izašao na VHS-u tamo negdje 94' ili 95'. Mogu reći da i nakon 15 godina dojmovi o ovom filmu ostaju isti.
Prvo što sam primjetio u autorskom djelu kod Landisa jeste to što on nije želio izmišljati nešto novo u vampirskom podžanru (iako neki minorni detalji iz filma donose neke nove svježe stvari, koji su neki drugi filmovi i serije lijepo iskoristili) nego je želio nabaviti zabavan horor film koji ne prentedira na ništa suptilnije nego na čistu pop corn zabavu, a to je ono što većina američke publike obožava (što znači film nema nekih pre krvavih scena).
Još jedna dobra stvar kod Johna jeste to što zna dobro kombinirati horor i komediju (vidi Masters of Horror serijal epizodu - Deer Woman), a to malo današnjih redatelja uopće može.
Također je uspio okupiti respektabilnu glumačku ekipu, gdje uz poznata glumačka imena nenametljivo daje cameo uloge ljudima koji su mnogo doprinjeli našem omiljenom žanru - Tomu Savinijiu, Dariju Argentu, Samu Raimiju, Forrestu J. Ackermanu (urednik časopisa "Famous Monsters of Filmland"), te svom kućnom prijatelju Franku Ozu (koji se pojavljivao u svim važnijim Landisovim filmovima, a malo ljudi zna da je on upravo Yodi posudio glas, a bogme i Kermitu, te Miss Piggy).


Frank Oz i Loggia vampir

Oni koju su mu nakon gledanja dali etiketu mafijaškog filma sa vampirima nisu lagali, jer je ovaj film upravo to, pa mu to i daje onu čudnu sepcifičnost koja je dosta dobro ispala (također i zahvaljujući solidnom kronologijskom scenariju a to znači da iako radnja nema neku osvježenu priču ona ipak slijedi dobro zacrtane smjernice koje se sigurno kreću od točke A do točke B bez imalo kakvog praznog hoda što je česta negativnost kod ovakvih filmova).
Neosporna zvijezda filma je legendrani karakterni (i jedan od mojih omiljenih glumaca) glumac Robert Loggija koji glumi glavnog negativca mafijaša Sallija Macellija zvanog Ajkula, koji se totalno uživio u tu ulogu tako da ga je milina gledati dok mu iz ustiju svaka riječ sadrži fuck sa gdje kojom primjesom inga.
Zanimljivo je spomenuti da se tu pojavljuju i sporedni glumaci iz Sopranosa Tony Sirico i David Proval (Sigfried iz "Four Rooms", 1995), te također imamo prilike vidjeti i jednog Kima Coatesa (Chet iz "The Last Boy Scout", 1991 tj. tip kojem Bruce Willis kaže: "- I'm gonna need a light. You touch me again, I'll kill ya.") ali i veterana Dona Ricklesa (Crapgame iz "Kelly's Heroes", 1970). Da ne zaboravim spomenuti da su tu epizodne uloge odglumili Angela Bassett, Chazz Palminteri i odličan tumač sporednih i epizodnih uloga Luis Guzmán (legenda!!).

Još jedna pozitivnost filma je odabir Anne Parillaud kao vampirice Marie, koja je opet pokazala jako dobar raspon glume (no ne u onoj mjeri kao što je to napravila u filmu "Nikita", 1990), te iznimnu dozu erotičnosti (koja tako fali u nekim drugim novijim vampirskim filmovima) i to ne samo u onim scenama gdje hoda kao od majke rođena.
Film ima odlične specijalne efekte (za ono vrijeme), a jedina mana kod inih je u potpuno pogrešnom dizajnu floroscentnih očiju/leća gdje svaki krupniji plan prikazuje razrokost i neprirodnu statičnost (iako cijenim Landisovu ideju da raznobojnom paletom boja leća prikaže raspoloženje vampira), te zvučni element glasanja vampira (obična rika velikih mačaka...pih), te njihovog govora (obična promjena tonaliteta glasa....uf).
Omanji minus filmu bih dao i zbog La Paglijine ukočene glume (mogao je on to mnogo bolje odraditi), te onog predugog monologa na kraju filma koji izrecitira Loggija dok gori (svaka čast kaskaderu na toj sceni).
Ovo je sigurno jedan od onih vampirskih filmova koji će neki mrziti, a neki voljeti (ja spadam u ovu skupinu) no iako nije na onom nivou kao recimo Landisov "Američki Vukodlak u Londonu" ipak je u gornjem vrhu najboljih vampirskih filmova ikad snimljenih (definitivno bolji nego vampirac snimljen iste godine koji se odaziva na ime "Buffy the Vampire Slayer". Gledati ako se želite zabaviti i pustiti mozak na pašu 112 minuta. E, onda je ovo pravi film za vas.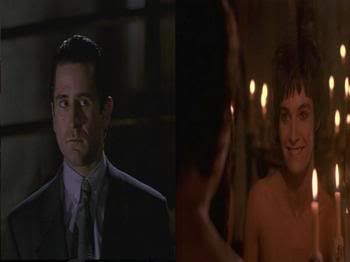 Joe I Marie

Zanimljivosti u vezi filma (TRIVIA):
- iako je cijeli film tematski vezan za vampire, ta riječ nikad nije spomenuta u filmu
- filmovi koji se u nekim scenama mogu vidjeti na televiziji - "Phantom of the Rue Morgue" (1954), "Dracula" (1958) i "Strangers on a Train" (1951)
- kameo pojave legendarnih filmskih faca su sljedeće - Dario Argento, Frank Oz, Sam Raimi, Michael Ritchie; montažer "Famous Monsters of Filmland" Forrest J Ackerman i Tom Savini
- na odjavnoj špici piše:
Priča, sva imena, likovi i događaji prikazani u ovoj produkciji su fiktivni. Svaka slučajnost sa stvarnim osobama, vampirima, mjestima, zgradama i produktima je namjerna ili će biti zaključena
- ponegdje će te kao naslov ovog filma pronaći i "A French Vampire in America" što aludira na Landisovog "An American Werewolf in London" (1981), no sva krivnja ide na distributore, jer Landis nije ništa znao o takvoj reklamaciji svoga filma
- ovo je (po mom osobnom sudu) vampirski film u kojem je riječ fuck najviše puta izrečena


THE SCENA:
- raspadanje Emmanuela 'Mannyja' Bergmana nakon što ga kao vampira obasja sunčeva svjetlost....odlična scena i efekti (velika posveta filmovima 50-tih i svim kraljicama vriska), a nemojte ne primjetiti plavokosu bolničarku u YouTube isječku jer je glumi ntko drugi nego slatka Linnea Quigley (koji vrisak i smješna scena u jednom kadru)