četvrtak, 12.03.2009.
Shivers (1975)

Drhtavica (1975)




Produkcija: Canadian Film Development Corporation / Cinépix / DAL Productions
Redatelj i scenarist: David Cronenberg
Producent: Ivan Reitman

Glume:
Paul Hampton (Roger St Luc)
Joe Silver (Rollo Linsky)
Lynn Lowry (Forsythe)
Barbara Steele (Betts)
Allan Kolman (Nicholas Tudor)
Susan Petrie (Janine Tudor)

Film je pušten u kina 10. listopada, 1975 godine
Trajanje: 87 minuta
Budžet: oko 179 000 CAN$
Foršpan filma...
Nagrade:
1975 godina - osvojio "Medalla Sitges en Oro de Ley" u kategoriji najboljeg redatelja (David Cronenberg)


Početak epidemije

SADRŽAJ:
"- Dr. Emil Hobbes eksperimentira sa jednom vrstom parazita kako bi oni jednom u bliskoj budućnosti služili u operaciji trasplatacije organa kao nadomjestak bolesnim organima. No, kako njegovi privatni eksperimenti polaze ukrivo ubrzo se u zgradi gdje živi počnu događati vrlo čudnovate stvari sa stanarima.
Kućni liječnik zgrade Starliner Towers Roger St. Luc i njegov medicinski poznanik Rollo Linsky otkrivaju Hobbsove nezakonite eksperimente, no kasno, jer su neki stanari zaraženi dotičnim parazitom. St. Luc, njegova djevojka i bolničarka, te Linsky pokušavaju spriječiti epidemiju velikih razmjera. Ali hoće li oni uspijeti u svom naumu? Hoće li cijeli svijet podpasti pod parazitskim djelovanjem koje od normalnog čovjeka čini seksualnu zvijer?"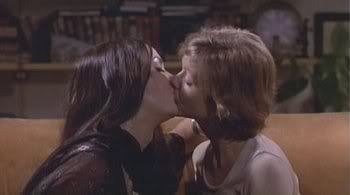 Film ima i ovakvih scena...

RECENZIJA:
- Većina vas koji pratite horor žanr poznajete opus kanadskog redatelja Davida Cronenberga - "Fly" (1986), "The Dead Zone" (1983), "Videodrome" (1983) i slične poznatije uradtke. No, današnja recenzija obuhvaća Cronenbergov prvjenac (prije toga je snimio samo dva art filma i proveo skoro 10 godina na TV-u).
Cronenberg je jedan od malobrojne nekolicne redatelja koje iznimno cijenim (Carpenter, Raimi, Jackson, Craven...) i za koje znam da će dati sve od sebe
da gledatelju prezentiraju što bolji i zanimljiviji film.

Što se tiče Shiversa, pa moram reći da je najvjerojatnije prvi film koji se ozbiljnije bavi parazitima (ako me pamćenje nije prevarilo). Štoviše ako se ne varam ovo je začetnik filmova o parazitima kao što je recimo "The Hidden" (1987) ili "Night of the Creeps" (1986) , a na ovog potonjeg je izraženo i upečatljivo utjecao.
Iako, ideja o parazitima nije nova (SF književnost je već imala Robert A. Heinleinov roman "The Puppet Masters" iz 51' ili "Needle" Hala Clementa, koji je objavljen 50'-te) novi je pristup samoj temi. Za ljubitelje horor i SF-a bih film opisao kao mješavina "Invasion of the Body Snatchers" (1956) i "Night of the living Dead" (1968), gdje seksulanost igra veliku ulogu u filmu.
Sam film odmah kreće žestoko i vrlo uznemirujuće sa scenom doktora i maloljetnice, gdje doktor vrši operacijski zahvat na nesretnici. Poslije te scene neprestano smo zapljusnuti u pravim intervalima nekim neugodnim scenama, bilo da su samo prikaz grafičkog nasilja (parazit topi lice, scena u kadi, napad na babu...) bilo da ima prikaz zabranjene seksualne ekspilcitnosti (pedofilija, incest...), koja je naglašena kroz cijeli film (kako znamo kod Cronenberga je to kasnije postalo zaštitni znak)..

Na film možemo gledati sa par gledišta - kao prikaz socialne apokalipse i represije modernog društva, kao socijalni komentar na tadašnje društvo i njegovu seksualnost (strah od homoseksuanosti, seksualni tabui poput swing kulture), ali ga možemo gledati i kao veliko upozorenje prije pojave AIDS-a (film se pojavio 6 godina prije pojave opake bolesti). Sva ta gledišta gledatelj vrlo brzo posvoji zahvaljujući baš toj seksualnoj metafori i njeznim određenim scenama gdje seksualnost igra glavnu ulogu.
"Shivers" nije savršen film, jer ima svoje male minuse - osim Barbare Steele i Joea Silvera, glumačka je postava ispod prosjeka no to ne znači da je gluma izrazito loša...ne....jednostavno su kao likovi slabašni i nemaju karizmu, jer gledatelj baš i nije zabrinut za njihove živote kad im budu ugroženi. Također, zadnja trećina filma je malo usporena (dok su one prve dvije odlične) i malo se tu film gubi. Ali, to su ipak mali minusi, jer već i tada je Cronenberg znao svoj posao, pa iako se tek učio i kalio (to je i sam izjavio u jednom razgovoru). I ovim filmom je pokazao gledateljima da se dobro razumije u medicinu i znanost (odlična scena gdje Linsky i Roger razgovaraju o parazitu a u obližnjem akvariju laboratorija pliva jedna druga vrsta parazita).
Cronenbergov film sigurno upada u najbolje hororce iz 70-tih, a uz sve to film ima svega pomalo - golotinje (full frontal, 'no silicone' dojke...), gore scena i jednu kultnu (scena u kadi). Ako želite vidjeti što je utjecalo na filmove poput "Slither" (2006) i "Night of the Creeps" (1986) onda vjerujem da zasigurno nećete propustiti pogledati ovaj film....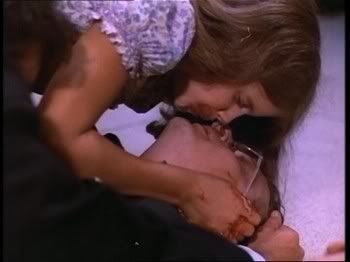 THE SCENA:
- Barbara Steele se kupa u kadi, kad iz vodovoda polako izgmiže parazit...ostalo znate (mogu samo reći krvav naćin ulaza)...ovo je također scena koja je inspiriala Jamesa Gunna da joj napravi odličnu posvetu u svom "Slitheru"

ali ni ovo nije loše....