petak, 27.02.2009.
The Ghost and the Darkness (1996)

Duh i Tama (1996)




Produkcija: Constellation Entertainment / Douglas/Reuther Productions / Paramount Pictures
Redatelj: Stephen Hopkins
Scenarij: William Goldman

Glume:
Michael Douglas (Charles Remington)...........Val Kilmer (pukovnik John Henry Patterson)
Tom Wilkinson (Robert Beaumont)................John Kani (Samuel)
Bernard Hill (Dr. David Hawthorne)................Brian McCardie (Angus Starling)


Film je izašao u kina 11. listopada, 1996 godine
Trajanje: 109 minuta
Budžet: oko 55 mlijuna $
Zarada: 75 milijuna $ (38 553 000 SAD i 36 400 000 Svjetska zarada)
Foršpan filma
Nagrade:
1997 godina - osvojio nagradu Oskar za najbolje efekte i zvučnu montažu (Bruce Stambler) te imao nominaciju za nagradu ASC Award u konkurenciji iznimnog kamermanskog dostignuća (Vilmos Zsigmond) i nagradu Zlatna Malina u kategoriji najgoreg sporednog glumca (Val Kilmer)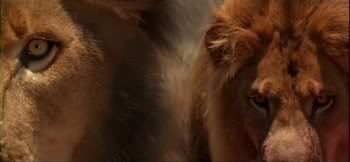 Duh i Tama

SADRŽAJ:
"- Film se bazira na istinitoj priči o dvama lavovima ljudožderima zvanim Duh i Tama koji su terorizirali područje kraj Tsavo rijeke u Keniji, gdje je trebala proći željeznička pruga Uganda-Mombasa. Teror je započeo 1898, a broj žrtava se protegao na čak 135 u periodu od 9 mjeseci.
Sad je na inženjeru Johnu Henryu Pattersonu i iskusnom lovcu Charlesu Remingtonu da pronađu neuhvatljive Ljudoždere sa Tsava, jer dok ne budu uhvaćeni i ubijeni lavovi ne misle stati na svom krvavom putu..."




RECENZIJA:
- Činjenica ovog filma jeste ta da nije imao neku dobru prođu u kinima i da ga neki poznatiji filmski kritičari nisu mazili. No, za mene samog ovo je dosta solidan ili da se bolje izrazim jedan od boljih (na mojoj tablici najboljih stoji negdje na sredini) tzv. animal attack filmova. Što je najbolje kod ovog filma jeste što se bazira na istinitim događajima.

Pošto je film sniman u Africi kamera i fotografija je ono što se prvo primjeti u njemu, jer to je zasigurno jedan od boljih aspekata samog filma. Druga stvar je ta da Duh i Tama imaju dobru glumačku postavu na čijem su čelu Val Kilmer i Michael Douglas, te u epizodnoj ulozi imamo Toma Wilkinsona.
Mislim da Val Kilmer nije zaslužio da ga se nominira za Zlatnu Malinu u kategoriji najgoreg sporednog glumca (hej, zar on nije glavni lik u priči?) jer gluma mu nije nešto spektakularno, no nije ni u rangu njegove najgore, ali slične uloge Montgomeryja u očajnom "The Island of Dr. Moreau" (1996), koji je gle slučaja snimljen iste godine (nominiran za Zlatnu Malinu i za tu ulogu također). Ovo je po meni prosječna i po ničemu posebna Kilmerova uloga.
Što se tiče M. Douglasa vjerujem da je on tu uletio zbog toga što je njegova producentska kuća Douglas/Reuther Productions jedan od glavnih producenata filma, pa je bilo zgodno da se i on pojavi zbog bolje prođe u kinima (čitaj bolja zarada).
Njegov lik lovca Charlesa Remingtona je samo repriziranje njegove uloge pustolova Jacka T. Coltona iz "Romancing the Stone" (1984) tj. u ovom filmu vidimo što bi Colton radio nakon "The Jewel of the Nile" (1985).
Lik je predvidljiv no simpatičan i dopadljiv, no također kao u slučaju Vala Kilmera ovo nije Douglasova jedna od boljih glumačkih ostvarenja. Izdvojio bih ipak da se najboljim glumcem u filmu iskazao John Kani kao Samuel.

Scenarij je plitak i bezbojan, no plus mu je što kronološki prati radnju. Ipak, William Goldman se mogao i bolje potruditi dočarati mističnost dva lava, ali i samog afričkog okružja. Jerry Goldsmith nam daje solidnu partituru koja prati radnju filma.
Stephen Hopkins (odlični "Predator 2", 1990) je solidan redatelj koji je svoj nabolji film snimio baš sa maloprije spomenutim Predatorom i mislim da je to sve od njegovog redateljskog dara što će nam pokazati. U ovom filmu fali mu dosta direkcije da lavove učini mističnijima, ne umanjuje svojim redateljskim umijećem manjkavosti scenarija (niti se ne trudi), no ipak može nam podariti solidan film (izdvajam scenu lavova koji se kreću kroz visoku travu vrebajući ljude, baš kao morski psi u moru) u kojem gledatelj može uživati, ali ništa više od toga.
Ako volite filmove o napadima zvijeri na ljude kao što ih volim ja onda ćete uživati (iako sam mišljenja da će film imati dvojaki učinak na svakog gledatelja) u viđenom, jer unatoč tome što film onaj osjećaj da nešto fali, da je nekako nedorečen ipak je jedan od boljih u svojoj branši. Zasigurno je mnogo bolji od slabašnog "Prey" (2007) gdje isto imamo lavove u igri.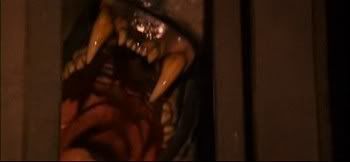 Zanimljivosti u vezi filma (TRIVIA):
- puška koju Val Kilmer koristi u filmu je povijesno točna ("Lee Speed" sporter, najvjerojatnije .303 kalibar)
- stvarni John Henry Patterson je napisao knjigu o tim događajima pod imenom "The Man-Eaters of Tsavo"
- samo jedna scena sadrži robotičku lutku lava dok su svim ostalima korištena dva dresirana lava, koji su se pojavili i u komediji "George of the Jungle" (1997)
- stvarni John Henry Patterson je imao kože i lubanje Duha i Tame (on ih je i ubio), koje je 1924 godine prodao muzeju Field u Chicagu za 5 000$
- lik lovca Charles Remington je ubačeni fiktivni lik koji nije imao nikakve veze sa stvarnim događajima, a iako se film drži povijesne točnost neki ključni događaji su ipak izmjenjeni zbog konstrukcije bolje i napete radnje
- Remington je također baziran na stvarnoj osobi Anglo-Indijca Charles Ryalla


*Večaras na HTV1-u u 20.15 sati (valjda bi tako trebalo biti)