ponedjeljak, 23.02.2009.
Romasanta: The Werewolf Hunt (2004)

Romasanta: Lov na Vukodlaka (2004)




Produkcija: Filmax / Future Films / Fantastic Factory (Filmax) / Castelao Producciones
Redatelj: Paco Plaza
Scenarij: Elena Serra i Alberto Marini
Prema priči - Alfredo Conde
Efekte transformacije radili: grupa DDT Efectos Especiales


Glume:
Julian Sands (Manuel Romasanta).............Elsa Pataky (Bárbara)
John Sharian (Antonio).............................Gary Piquer (okružni tužitelj Luciano de la Bastida)
David Gant (profesor Philips).....................Maru Valdivielso (María)


Film je izašao u kina 14. svibnja, 2004 godine
Trajanje: 90 minuta
Zarada: 428 300 €
Foršpan filma
Nagrade:
2004 godina - nominacija za nagradu Golden Biznaga (Paco Plaza) na Španjolskom filmskom festivalu, Malaga i treće mjesto žirija na Fant-Asia Filmskom Festivalu u konkurenciji najboljeg međunarodnog filma
2005 godina - nominacije: za nagradu Goya (najbolja kamera - Javier G. Salmones i najbolji specijalni efekti - Juan Ramón Molina, David Martí, Montse Ribé, José María Aragonés), za nagradu CEC (najbolja kamera - Javier G. Salmones), za filmsku nagradu Barcelone (najbolja montaža - David Gallart i najbolji novi redatelj - Paco Plaza)




SADRŽAJ:
"- Priča ovog filma počinje 1851 godine u španjolskoj provinciji Galiciji, gdje se počnu događati okrutna serijska ubojistva. Ljudi su zaplašeni, jer način na koji je svaka osoba ubijena upućuje na vuka ili još gore vukodlaka. U istragu se uključuje i profesor Philips čiji je zadatak da pronađe ubojicu.
Film se temelji na istinitom događaju o serijskom ubojici Manuelu Blanci Romasanti znanom i kao "Vukodlak iz Allariza" (eng.Werewolf of Allariz) koji je ubio 13 osoba, a nakon što bih opljačkao od njihovog sala bi radio sapun."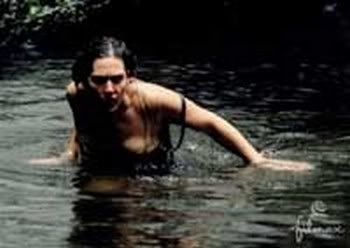 RECENZIJA:
- Evo jednog malog filma kojeg su svi okarakterizirali kao film o vukodlaku (zbog takve etikete sam ga i ja uzeo prvi put) no on to nije i je. Iako, film ima tu i tamo fantazijskih elemenata (slično na način "The Company of Wolves" (1984) ili "Cat People", 1982) ili da se bolje izrazim miješanje racionalnog i realnog sa nadnaravnim.
To mješanje fantazije i stvarnosti lijepo djeluje u filmu pa mogu podvući sličnosti sa "Brotherhood of the Wolf" (2001) (ako pogledate omot ovog filma vidjet ćete lik sa istim kožnim mantilom kao što su ga de Fronsac i Mani nosili u svojem filmu) no ne po samoj radnji nego po tome što se ovdje radilo o čudnim okolnostima koje imaju velike veze sa serijskim ubojstvima.
Kod Romasante (šteta što o ovom slučaju nema ništa na engleskom, a moj španjolski je samo ono što sam naučio iz Tex Willera) se ipak radi o tzv. kliničkoj likantropiji (rijetki psihijatrijski sindrom koji obuhvaća zabludu da je pogođena osoba u mogućnosti transformirati se u divlju zvijer) koji nije bio nepoznati ljudima u prošlim stoljećima (još jedan poznat slučaj je njemačkog seljaka Petera Stubbea iz 1589 godine). Ok. Kad smo malo objasnili o samom slučaju (zanimljiva je to tema, a ja sam mogu o tome napisati stranice i stranice...) vratimo se na film.

Prvo što se u ovom filmu primjećuje jeste odlična fotografija, a potom i montaža (ovo se najbolje vidi kod transformacije). Druga stvar kod ovog filma jeste što mnogo bolje priča svoju priču nego "Brotherhood of the Wolf" (2001) (ovo ne znači da je "Vučje Bratstvo" loš film ili je u njemu priča loša) jer se ipak ne pokušava dublje uvući u onaj fantazijski (čitaj vukodlak) period.
Režija je sigurna i precizna (Paco Plaza je jedan od redatelja [REC] (2007) i drago mi je vidjeti da se je oprijedijelio za horor žanr), no najveće pohvale bih ipak izrazio odličnim specijalnim efektima (DDT Efectos Especiales) i odličnoj glumačkoj postavi na čijem je čelu moj omiljeni glumac Julian Sands (imao je on i lošijih glumačkih ostvarenja...da ne ispadne da ga favoriziram), te iznenađujuće otkriće Elsa Pataky.
Da ne zaboravim jedan od producenata ovog filma je ultrapoznati Brian Yuzna. Još jedna dobra stvar kod filma je ta što on ne završava kad Romasanta bude uhvaćen, nego imamo vidjeti i proces njegovog suđenja (opet podvlačim sličnosti sa jednim starim francuskim slučajem iz koliko se sjećam 17 ili 18 stoljeća, gdje se opet radilo o kliničkoj likantropiji).
Uglavnom ovo je odličan film koji ne spada u vukodlak podžanr (pa ako tražite vukodlake ovdje ih nećete naći...no ipak ćete vidjeti transformaciju iz vuka u Juliana Sandsa) i koji je u sporijem ritmu, no zbog čega je karakterizacija likova u visokom stupnju što dovodi do toga da imamo par impresivnih scena. Pogledate ovaj film, jer sam siguran da vas neće razočarati....


Bárbara vs. Romasanta

THE SCENA:
Antonio: "- On nije čovjek. On je vuk koji postaje čovjek da bi mogao zavoditi i ubijati svoje žrtve." Fenomenalna transformacija vuka u čovjeka


*Večeras u 23. 45 sati na HTV2