srijeda, 07.01.2009.
The Bad Seed (1956)

Loše Sjeme (1956)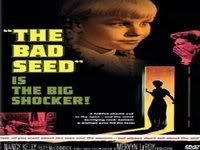 Produkcija: Warner Bros. Pictures
Redatelj: Mervyn LeRoy
Film je snimljen prema noveli Williama Marcha
Scenarij: John Lee Mahin

Uloge:
Nancy Kelly (Christine Penmark).............Patty McCormack (Rhoda Penmark)
Henry Jones (Leroy Jessup)....................Eileen Heckart (Hortense Daigle)
Evelyn Varden (Monica Breedlove)..........Gage Clarke (Reginald 'Reggie' Tasker)

Film je izašo u kina 12. rujna, 1956 godine
Trajanje: 129 minuta
Budžet: oko 1 milijun $
Zarada (renta): 4,1 milijun $ (SAD)
Foršpan filma
Nagrade:
1957 godina - zaslužio nominacije Oskar u sljedećim kategorijama: najbolja glavna glumica (Nancy Kelly), najbolja sporedna glumica (Eileen Heckart i Patty McCormack), najbolja kamera (Harold Rosson); osvojio Zlatni Globus za najbolju sporednu glumicu (Eileen Heckart), te u istoj kategoriji iste nagrade zaslužio jednu nominaciju (Patty McCormack )


Lijep DvD menu

SADRŽAJ:
"- Obitelj Penmark je naizgleda zdrava i sretna prosječna američka obitelj koja živi u 50-tim godinama 20-tog stoljeća. Kad otac, inače vojno lice, ode zbog posla na neko vrijeme od svog doma. Majci Christine ostaje više vremena da se druži sa svojom kćerkom Rhondom i ukućanima. No, kad uskoro krenu zabrinjavajući problemi kad oko malene i sltke plavokose curice Rhonde ljudi počnu umirati u čudnim okolnostima, uglavnom kad imaju nešto što ona želi. Uz sve to Christine dobije informaciju da je usvojena i da bi mogla biti dijete ozloglašene crne udovice Bessie Denker, koja je sve svoje žrtve trovala i nekažnjeno se izvlačila iz svojih zločina.
Christine sve više psihički propada zbog toga što samu sebe okrivljuje da je možda ona kriva što Rhonda iskazuje sociopatsko ponašanje. Može li tako slatko dijete biti krivo za smrt dvije osobe? Da li je stvarno za to krivo loše sjeme ili nešto drugo u pitanju?"



odlična Eileen Heckart kao Hortense Daigle (lijevo)

RECENZIJA:
"- Nakon što sam pogledao mnogo filmova koji su izašli ove godine (za izbor najboljih i najgorih) jučer sam odlučio baciti se na filmove crno bijele tehnike, pa sam opet pogledao "Them!" (1954) i "Rashômon" (1950), te sam se za kraj napokon želio pogledati i kako kažu kultni "The Bad Seed" iz 56-te godine.
Moram reći da sam naletio na jedan fenomenalan film i to baš u svim segmentima i njegovim detaljima. Odlična kamera, jebeno dobri glumci, karakterizacija koju bi neki današnji filmovi (bilo horor bilo drame) samo poželjeti mogli.
Dakako nadam se da vam ne smetaju crno bijeli filmovi. Što se tiče karakterizacije likova ona je jedna od najboljih koje sam na filmu mogao vidjeti i to od najvažnije pa sve do one epizodne. Na početku sam kao favorita imao odličnu Evelyn Varden, koja uvijek ima nešto za reći i to kaže ljubazno bez dlake na jeziku, no nikako na onaj irtantni način. No, kako film odmiče i više upoznavaš likove sve su ti i drugi likovi bolji - Eileen Heckart, nesretna majka Hortense čijeg je sina Rhonda utopila u jezeru i koja svoju tugu utapa u alkoholu (ova glumica nije bila za ono konzervativno doba već za današnje), Nancy Kelly, Rhondina majka (jedna od najboljih filmski majki) sa kojom se gledatelj istinski poistovjećuje u njenoj dilem što sa djetetom sociopatom, te naravno slatka ali smrtonosno ubitačna Patty McCormack kao Rhoda...mogu samo reći čudo od djeteta.

Još jedna važna stvar je da se film bavi jako zanimljivom, ali po meni u to doba dosta kontroveznom temom - antisocialnim poremećajem osobnosti. U to doba to je još bio nepoznat pojam, dok danas - pa pogledajte sve ove pokolje po školama, to sve govori.
Fasinantno je kako ovako dobra priča može dati dobar psihološki profil djeteta ubojice (većina serijskih ubojica počinje upravo kao mala Rhonda) i to četiri godine prije još jednog odličnog psihološkog profila...onog Normana Batesa u "Psihu". Rhonda i Norman imaju mnogo toga zajedničkog, no po mene je Rhonda mnogo bolji negativac zbog svoje odlične manipulacije nad odraslima i zbog toga što je dijete sa paklenim planovima.
Moram reći da sam se iznenadio u trajanju filma koje je stvarno dugo za ono doba čak 129 minuta (sjetimo se da su toliko mogli trajati samo povijesni epovi i istinski blockbusteri), ali koje jako brzo prođe jer se toliko toga događa u njemu.

Jedini minus filma bi bio kraj, no ja mu zasigurno to ne mogu uzeti za zlo, gledajući da su to jako konzervativne i paranoične 50-te (pogotovo u Americi). Kraj filma (pokušat ću ne pokvariti gledanje) ima skoro pa sretan zavšetak, no da se je baš radilo po knjizi to ne bi bio slučaj, nego bi sve onda bilo depresivno i zlo bi na kraju pobijedilo.
Problem kraja bi bio taj da se morao ispoštovati tzv. Haysov Kod (preteča ozloglašenog MPAA), čije jedno pravilo govori "- Kriminal se ne smije prezentirati na način da privlači simpatiju prema zločinu protivno redu i zakonu." što bi u našem riječnu bilo "ne dozvoliti da se zločin isplati".
Neki će možda primjetiti da film u nekim scenama ima kazališni ugođaj i da se tako i glumci ponašaju, no to ne treba čuditi jer je većina glumaca glumila u kazališnoj predstavi koja je rađena prema noveli Williama Marcha. Za mene je film jezovit (psiha djeteta serijskog ubojice) pa iako nema krvi (hej, film nije "Hostel"), nema niti jednog ubojstva (dobro na kraju ima jedno, ali teško bi se to moglo nazvati ubojstvom...više je nesreća), te spada u 10 najboljih filmova snimljenih u 50-tima (neću niti spominjati da spada u najbolje filmove koje sam ikad gledao). Možda su neki gledali "The Good Son" (1993) ili "Village of Damned" (1960 i 1995) e, pa ljudi ovo vam je križanac ta dva filma samo bolji.
Ako vam ne smeta crno bijela tehnika preporučam vam da film pogledate što prije, ako to naravno niste već učinili.

THE SCENA:
- uf ovo je teško...pa rekao bih kad mala Rhoda uzme šibice u ruke
tko bi rekao da se iza ovih dječijih očiju krije ubojica