nedjelja, 28.12.2008.
Conan the Barbarian (1982)

Conan Barbarin (1982)




Produkcija: Dino De Laurentiis Company / Universal Pictures
Redatelj: John Milius
Muzika: Basil Poledouris
Scenarij: John Milius i Oliver Stone
Film je rađen prema likovima Roberta E. Howarda

Uloge:
Arnold Schwarzenegger (Conan Cimmerian)...................James Earl Jones (Thulsa Doom)
Sandahl Bergman (Valeria)................................................Gerry Lopez (Subotai)
Mako (Čarobnjak / Narator)................................................Max von Sydow (Kralj Osric)
Ben Davidson (Rexor).......................................................Sven-Ole Thorsen (Thorgrim)
William Smith (Conanov otac)...........................................Nadiuska (Conanova majka)


Film je izašao u kina 14. svibnja, 1982 godine
Trajanje: 129 minuta / 131 minuta (produžena verzija)
Budžet: oko 20 milijuna $
Zarada: 38 511 612 $ (SAD); 9 603 140 $ (prvi vikend u samo jednom kinu); 29 286 000 $ (svjetska zarada); 21 730 000 $ (video iznamljivanje)
Preporuka sličnog filma: "Lord of the Rings trilogy" (2001 - 03), "Fire and Ice" (1983), The 13th Warrior (1999)
Nagrade:
1983 godina - osvojio: nagradu Saturn za najbolju glumicu i Zlatni Globus u kategoriji nove zvijezde godine (oba otišla S. Bergman), te imao nominaciju za nagradu Saturn u kategoriji najbolje muzike (B. Poledouris), šminke (José Antonio Sánchez), kostima (John Bloomfield) i najboljeg fantastičnog filma; također zaradio nominaciju Zlatna Malina u konkurenciji najgoreg glumca (A. Schwarzenegger)
2001 godina - dvije nominacije Video Premiere Award (najbolji audio DVD komentar i originalna DVD dokumentarna retrospektiva)
Foršpan filma


na okupu s lijeva na desno: Valeria, Conan Simerijanac i Subotai

SADRŽAJ:
"- Kad pripadnici okrutnog Zmijskog Kulta kojem je na čelu drevni čarobnjak Thulsa Doom ubiju ljude iz jednog Cimmerianskog sela, sve preživjele dječake prodaju u roblje Vanirskim banditima. Među malobrojnim dječacima je i Conan, čije je roditelje ubio baš Thulsa Doom.
Nakon što je godinama vlastitom snagom vrtio "Kotač Bola" mladi se Conan i dalje nada svojoj osveti mrskom čarobnjaku. Kad bude prodan jednom Vanirskom plaćeniku, Conan je primoran da se bori kao gladijator.
Poslije mnogo krvavih borbi Conanove pobjede nije se moglo nabrojati, te je poslan da se obučava za istinskog ratnika. A kad jedne kišne noći uspije pobijeći, Conanu ostaje samo jedna misao u glavi...Osveta!!!"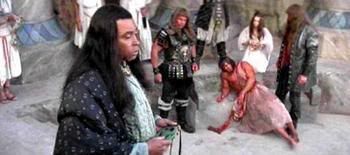 Thulsa Doom i ekipa malo se igraju sa Conanom

RECENZIJA:
I dan danas za mene je "Conan Barbar" No.1 fantasy film svih vremena, pa i unatoč remek djelu "Lord of the Rings", koji je jedina konkurencija i jedini film uopće koji može (uz Conana naravno) predstavljati pravi film fantazije ovakve vrste.
Da bih tu tvoju tvrdnju objasnio prošlo bi mnogo teksta, a to ipak mislim ostaviti za jedan naredni post, gdje će sve biti lijepo objašnjeno. Sada ćemo samo recenzirati film.

Prvo što je dobro napravljeno za film jeste to što su producenti angažirali Arnolda Schwarzeneggera, koji je pljunuti Conan (gledajući strip predloške...prvenstveno Johna Busceme i Ernia Chana) i koji ga je odlično predstavio (uz Terminatora i Predatora, Arnije je tu najbolje dao kao glumac).
Druga odlična stvar je ta što redatelj i scenaristi nisu poslušali savjete meni omraženog producenta Dina De Laurentiisa (vidi nastavak Conana, i znat ćete i zašto mi je omražen) nego su se povodili svojim idejama.
Ipak, Laurentiis zaslužuje i jednu pohvalu zato jer je uzeo Johna Miliusa za redatelja. Milius je jedan od najboljih redatelja današnjice (odlični "Dillinger" (1973), "The Wind and the Lion" (1975) i "Big Wednesday" (1978)), iako je u zadnjih 15-tak godina malo potonuo (kao recimo odlični John McTiernan).
Ono što mu ide u prilog jeste to što zna prikazati glumce u odličnom svijetlu, pa bili neki od njih tek u svojim prvim ulogama (Bergman i Lopez), ali isto tako zna i vladati filmom, što se najbolje vidi u ovom filmu gdje element fantazije dobija konotacije realnog i prapovijesnog. Pomaže mu tu i odličan izbor glumca koji će glumiti gl. negativca (uvijek odlični karakterni glumac James Earl Jones, kojeg nažalost većina zna više kao tipa koji je posudio glas Darth Vaderu), te ostale manje uloge glumaca koji su svojim cameo pojavama dali obol (ovdje prvenstveno mislim na odličnog Maxa von Sydowa u efektnoj ulozi ostarijelog kralja Osrica).


Conan i kad je sputan zna kako sa beštijama treba postupati (legendarna scena)

Kostimografija je odlična, a kulise i scenografija još bolje i uvjerljive napravljeni. Šteta što specijalni efekti nisu bolje napravljeni, no ni oni ne spadaju u minus filma (uf što bi bilo da su ovom filmu današnji CGI efekt...ajme sa kojim bi se onda beštijama Conan mogao boriti), jer je to ipak početak 80-tih, a bogme negdje se nažalost moralo štedjeti.
Ugođaj u filmu zabavan, ali mu fali ponegdje mračniji ton.
Kao najveći minus filma (ako to postoji u ovom filmu?) bih stavio scenarij. Ne zbog toga što je loše napisan dapače, on obiluje odličnim dijalozima ("- There comes a time, thief, when the jewels cease to sparkle...." , "- Fire and wind come from the sky, from the gods of the sky..." ili "- Now they will know why they are afraid of the dark. Now they learn why they fear the night.") i naracijom ("- Between the time when the oceans drank Atlantis..."), no problem je u tome što su skupusali i izmješali (neke i izmjenili) dosta elemenata (važnih iz Conanovog života) iz par originalno napisanih priča o Conanu, pa recimo za mene velikog ljubitelja crnokosog Simerijanca to malo smeta, jer sve to što su umijesili u jedan film nije zaslužilo biti tek tako izmiksano. Ali, pošto je sam Milius govorio o čak tri filma (mladi Conan, Conan sa 35 godina i Conan kao kralj Aquilonije) to bi onda i dobro izgledalo (šteta što nije ustrajao u svojim zahtijevima kao Peter Jackson za LotR), no ovako naš mogul Dino de Laurentiis je sve ukakio i produkt toga je očajni drugi dio...
Za kraj sam ostavio glazbu, koja je po mom sudu najbolja svih vremena (uz jednako odličan soundtrack "Blade Runnera"), a djelo je legendarnog kompozitora američko-grčkog podrijetla Basila Poledourisa, čije se partiture mogu samo sa uživancijom slušati...
Što reći nego uživajte u istinskom filmu mača i magije...


Zadnje što Conanovi neprijatelji vide u životu...

Zanimljivosti u vezi filma (TRIVIA):
- Iako su Conan i Valeria veći dio filma zajedno, Conan joj kaže samo 4 riječi tijekom cijelog filma - "You're not a guard" i "No"; također Conan progovori tek nakon 20 minute filma
- Arnold i Sandahl su radili sami svoje kaskaderske scene jer producenti nisu mogli naći prikladne dublere
- Kiyoshi Yamasaki koji glumi majstora mačevanja u filmu je bio učitelj mačevanja glumcima na setu
- Schwarzenegger je morao smanjiti bildanje, jer nije sa tadašnjim mišićima pravilno vitlati mačem, a u sceni na kraju kad je trebao baciti baklju nije uspio dobaciti je na balkon, ali se scena nije mogla ponoviti jer se kulisa već bila zapalila
- kaskaderka Corrie Jansen, djevojka koju Thulsa Doom nagovara da skoči sa litice, je rekoderka u slobodnom skoku što se tiče žena (55.4m)
- oklopi Thulse Dooma i njegovih generala su rađeni prema Teutonskom vitezovima iz filma "Aleksandr Nevskiy" (1938) i pogledu toga ova dva filma imaju mnogo sličnosti
- scena nakon što se Conan oporavi od fatalnih ozljeda sa drveta na kojem je bio prikovan i gdje vitla mačem inspirirana je filmom "One-Eyed Jacks" (1961), gdje Marlon Brando proživljava slično iskustvo kao Conan, samo ovaj vitla pištoljima
- Sterling Hayden je prvotno trebao glumiti kralja Osrica, no zbog bolesti je morao odustati, a Sandahl Bergman je u jednoj sceni mačevanja ostala bez vrha jednog prsta
- scenarij Olivera Stonea je zamišljao film u post apokaliptičnom svijetu poput Mad Maxa, no zbog visokog proračuna na sreću se odustalo od toga; za glazbu je producent Dino De Laurentiis zamišljao neku pop bljuzgu, ali se na kraju na nagovor ostalih (valja Johna Milliusa) odlučio na orkestar i zbor
- kad čarobnjak (Mako) boji raznim sibolima (ima i budističkih) i runama Conanovo tijelo prije obreda, neki od simbola su crvene boje (ostali su crne boje) što je u stvari jedan simbol znan kao "Indalo" čest u Španjolskoj Almeriji, gdje je film sniman
- film je trebao biti većinom snimljen u tadašnjoj Jugoslavijia, ali su se drugovi iz partije pobunili, pa je film sniman u Španjolskoj


THE SCENA:
- cijeli film je jedna velika THE SCENA, ali kad bi mi pištoljem prijetili rekao bih početak filma
Početak sa naracijom...

*na prvom programu HTV-a u 23:10h danas