srijeda, 24.12.2008.
Silent Night, Deadly Night (1984)

Tiha Noć, Smrtonsna Noć (1984)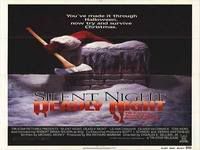 Produkcija: TriStar Pictures / Slayride
Redatelj: Charles E. Sellier Jr.
Scenarij: Michael Hickey i Paul Caimi (priča)

Glume:
Robert Brian Wilson............(Billy Chapman sa 21 godina)
Danny Wagner....................(Billy Chapman sa 8 godina)
Lilyan Chauvin.....................(časna Majka)
Gilmer McCormick..............(sestra Margaret)
Linnea Quigley....................(Denise)

Film je izašao u kina 09. studenog, 1984 godine
Trajanje: 79 minuta / 85 minuta (uncut verzija)
Budžet: oko 750 000 $
Zarada: 2 491 460 $ (1 432 800 $ zarada prvog vikenda u 398 kina)
Film je znan i kao: "Slayride"
Foršpan filma



Mother Superior: "- They thought they could do it without being caught. But when we do something naughty, we are always caught. Then, we are punished. Punishment is absolute, punishment is good."


SADRŽAJ:
"- Nakon što večer uoči Božića 1971 godine osmogodišnjem dječaku Billyju pred očima razbojnik obučen u Djeda Mraza ubije roditelje, on završi u sirotištu "Svete Marije", gdje je podvrgnut strogom odgoju časnih sestara.
13 godina kasnije Billy je zaposlen u trgovini "Ira's Toy Store" i sve prolazi u odličnom raspoloženju, no kad se približi Badnjak glavni poslovođa oblači nervoznog Billya u odjelo Djed Mraza, a strahovi iz prošlosti se počnu opet buditi. Kad slučajno spriječi silovanje djevojke u koju je pomalo zaljubljen Billy psihički puca i u odjelu Djeda Mraza počne ubijati sve koji su bili 'zločesti'..."


You see Santa Claus tonight you better run boy, you better run for ya life! You scared, ain't ya? You should be! Christmas Eve is the scariest damn night of the year!


RECENZIJA:
- Kada je ovaj film izašao u kina 84' prouzročio je veliku buru negodovanja kod znatnog djela publike (većinom ženski pokreti i razni konzervativno uštogljeni moralisti, koji se brinu za moral američkih građana), a sve zbog toga jer film prikazuje poremećenog ubojicu koji nosi odjelo Djeda Mraza i ubija sve što se kreće.
Također poznati filmski kritičari Roger Ebert i Gene Siskel su popljuvali film totalno, a najviše se pamti njihovo nabrajanje imena ljudi sa špice uz ogorčeno "sramota, sramota, sramota".

Kao prvo moram reći da je za mene osobno Gene Siskel (hrvatska verzija je naš 'genijalni' Dražen Iličić) potpuno blentav i bljutav kritičar, dok je Roger Ebert za dvije stepenice bolje kritičarski nastrojen (čovjek barem ima neku spoznaju o filmskoj umjetnosti i zna objasniti zašto su loši a zašto nisu....po njegovu sudu naravno).
Kao drugo ovo nije bio prvi film koji govori o ubojici u odjelu Djeda Mraza, jer prije ovog filma bili su snimljeni - "To All a Good Night" (1980) i "You Better Watch Out" (1980), koji su mnogo mnogo slabiji od ovog filma, no začudo nitko se nije bunio što je Djed Mraz ubojica (možda i zbog toga što su filmovi imali lošu reklamu i slabo zanimanje publike).
Ako želimo zaći i dublje prva pojava ubojice Djeda Mraza pojavljuje se daleke 1972 godine u jednoj od epizoda "Priče iz Kripte" (ime epizode je bilo - "All Through The House")...opet se nitko nije bunio. Razno razni moralisti i ljubitelji čednosti (ljudi koje uzgred moja malenkost ne podnosi, jer se uvijek dokaže da upravo ti ljudi ili su centar mračnih seksualnih i inih opačina ili su jednostavno psihički nestabilni ljudi koji žive u nekom svom svijetu), te naša dva genijalca Ebert i Siskel uoće nisu pogodili bit filma, koji je sasvim drugačiji od jednostavnog prikazivanja grafičkog nasilja (čitaj: redanje ubojstava po receptu Petak 13-ti).


Santa Claus will punish you!

O filmu:
- Tvrda je činjenica da je ovo primjer kasnijeg pseudo slashera ili kako bih ja rekao - film koji ima neke odlike slasher podžanra, no više vuče netipičnom serijal killer filmu.
Film je to u stvari o tzv. * "spree" ubojici po imenu Billy koji je i protagonist, ali ujedno i antigonist, čiji se život sastoji od spleta nesretnih okolnosti koji utječu na njegovu psihu, te ga naposljetku pretvaraju u ubilačku mašinu. Sve to na kraju vodi prema tužnom kraju.
Kažem tužnom, jer gledatelj ovdje ima velike simpatije prema Billyju, pa iako je on vidljivi ubojica, ne možemo se oteti dojmu da na neki način shvaćamo njegovo psihičko stanje (ubojstvo roditelja + pranje mozga i strog odgoj časnih sestara) i zbog toga ga žalimo.
Scenarij je za to doba (a bogme bi se moglo reći i za današnje horor standarde) iznadprosječan, većinom prati standardnu formulu slasher filmova (sa par odličnih detalja...poput scene sa 2 policajca i svećenikom obućenog u Djeda Mraza), no isto tako polako gradi radnju, te nam dozvoljava uvid u psihologiju ubojice tj. gl. (anti)junaka, pa tako imamo iznimnu karakterizaciju dva glavna lika - Billya i časne Majke (eng. Mother Superior).
Glumci su svoj dio odlično odradili (opet izdvajam Roberta Briana Wilsona kao Billya i usudio bih se reći još bolju Lilyan Chauvin kao hladnu i oštru časnu Majku), scene ubojstava postižu pravi efekt (moj favorit jesu kill djevojke Denise i šerifa pri kraju filma), te su dozirana u pravim vremenskim intervalima, što nikako ne škodi toku radnje (čitaj: nije prekrcano redaljkom kilova bez ikakvog reda).
Ukratko ovaj film je uz "Black Christmas" (1974) pokojnog Boba Clarka i "Gremline" (1984) legendarnog Joe Dantea najbolji Božićni horor film. A zašto ne to sve ne pogledati i ujednom malom maratonu ako ste skloni tim egzibicijama...
"Silent Night, Deadly Night" (1984) je odličan film kojeg morate pogledati (za razliku od očajnih nastavaka, gdje jedino vrijedi pogledati drugi dio zbog možda najgore glume ikada u nekom filmu).

THE SCENA:
- nabijanje slatke Linneae Quigley (djevojka Denise) na jelenje rogove




*spree killer - je ubojica koji u vrlo kratkom vremenskom roku od nekoliko sati ubije dvoje ili više ljudi