petak, 12.12.2008.
The Fly (1986)

Muha (1986)

Produkcija: Brooksfilms
Redatelj: David Cronenberg
Prema kratkoj priči "The Fly" (1957): George Langelaan
Scenarij: Charles Edward Pogue i David Cronenberg


Uloge:
Jeff Goldblum (Seth Brundle)............................Geena Davis (Veronica Quaife)
John Getz (Stathis Borans)..............................Joy Boushel (Tawny)
Leslie Carlson (Dr. Brent Cheevers)................George Chuvalo (Marky)

Film je izašao u kina 15. kolovoza, 1986 godine
Trajanje: 95 minuta
Budžet: oko 15 milijuna $
Zarada: 60 630 000 $ (40 456 500 $ SAD + 20 173 500 $ Svijet)
Nagrade:
1987 godina - osvojio: nagradu Oskar za najbolju šminku (Chris Walas / Stephan Dupuis); nagradu Saturn za najbolji horor film, najboljeg glumca (J. Goldblum) i najbolju šminku (C. Walas); nagradu "CSC Award" za najbolju kameru (Mark Irwin); specijalnu nagradu žirija na festivalu "Avoriaz Fantastic Film Festival"
zaradio nominacije: nagrada Saturn u konkurenciji - najbolja glumica (G. Davis), najbolji redatelj (D. Cronenberg) i najbolja muzika (Howard Shore); nagrada Hugo za najbolju dramsku prezentaciju; nagrada "International Fantasy Film Award" za najbolji film na festivalu Fantasporto
1988 godina - zaradio nominaciju: nagrada BAFTA u konkurenciji najboljih specijalnih efekata (Chris Walas, Jon Berg, Louis Craig, Hoyt Yeatman) i majstora šminke (C. Walas / S. Dupuis)
2006 godina - dobio nominaciju nagrade Saturn za najbolje DVD izdanje filmskog klasika
Foršpan filma


Seth u jednom od prvih stadija pretvaranja u Brundle muhu

SADRŽAJ:
"- Seth Brundle je genijalni ekscentrični mladi znanstvenik čija otkrića na polju prijenosa materije pomoću strojeva tzv. telepoda može teoriju teleportacije učiniti itekako stvarnim.
Kako bi bio siguran da će ga to otkriće učiniti svjetski poznatom osobom udružuje snage sa perspektivnom mladom i zgodnom novinarkom u usponu Veronicom Quaife, koja treba napisati veliki članak o Sathu i njegovom otkriću za svoj časopis Particle, a sa kojom ubrzo doživljava burnu romansu.
Nakon što uspije teleportirati živog babuna iz jednog stroja u drugi povučen svojim uspijehom odluči se na transpotaciju ljudskog bića, a kao prvi subjekt u eksperimentu odluči sam sebe transportirati. Tijekom transmisije u jedan od telepoda uđe obična kućna muha, te tako izmjeni genetički kod mladog znanstvenika. Kad Brundle izađe teleportiran iz drugog telepoda...izlazi kao promjenjen čovjek, jer njegovo se tijelo polako počinje mjenjati u mutaciju zvanu "Brundlemuha" - stvorenje koje je pola čovjek pola muha."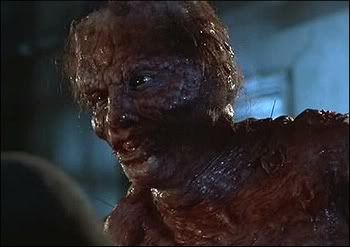 Sjajni specijalni efekti i neprepoznatljivi Jeff Goldblum

RECENZIJA:
- Moram priznati da ovaj film nisam gledao već dvije godine i baš mi je drago što će ga RTL Televizija večeras prikazati na svom programu (točnije s petka na subotu u 00.30 sati).
Neću otkrivati toplu vodu ako kažem da je ovo jedan od 5 najboljih SF filmova iz 80-tih, a još važnije je to što je sam film imao dosta utjecaja na moje filmofilske sklonosti. Jedino mi je žao što ga nisam gledao u kinu (ako se dobro sjećam nije niti igrao u Šibenskom kinu, ali je zato sigurno igrao u Zagrebačkim kinima).

Koliko vidim dosta ljudi komentira kako je ovaj film mnogo bolji od istoimenog originala iz 53' godine, u kojem je Vincent Price imao glavnu ulogu. Ja sam ne bih radio nikakve usporedbe, jer vremenski period je prevelik, a tako i način razmišljanja publike iz 50-tih godina prošlog stoljeća i današnje generacije gledatelja. Oba filma su na svoj način odlični predstavnici znanstvene fantastike (a Cronenbergov film je čak odličan predstavnik i horor žanra).
Redatelj David Cronenberg je jedan od onih filmaša kojem nije važno kojeg glumca ima na raspolaganju, već kako će predočiti gledatelju samu radnju, te tako načiniti uzbudljivu i zanimljivu priču.
To se najbolje vidi u načinu kako je prepravio originalni Pogueov scenarij, te mu produbio temeljni dio, ali tako da ostane sama kost ideje (pokus, znanstvenik i njegov preobražaj). Također, filmu je dao jaku dramaturšku strukturu (odnos Veronice i Setha, prikaz tzv. psihološke klaustrofobije, Sethovo nestajanje čovječnosti iako čovjek u grotesknoj Brundle muhi nikad nije u potpunosti zamro).

Osim što je film kopleksan po strukturi priče, što daje jaku kritiku brzom tehnološkom (čitaj znanstvenom) razvitku kojeg u nekim djelovima u potpunosti i ne razumijemo (eksperimenti) film je najbolji u svom glumačkom djelu. Geena Davis u filmu ima jednu od svojih najboljih glumačkih ostvarenja (ravna onoj u filmu "Thelma & Louise" (1991) ili meni dražem "The Long Kiss Goodbye", 2000 ), no najveća zvijezda filma je Jeff Goldblum, kojem je ovo uloga karijere (najviše zaslužan za to je definitivno Cronenberg, kraj kojeg svi glumci izgledaju odlično, a neki čak 50% bolje prezentiraju svoj glumački talent nego u drugim svojim filmovima).
Meni osobno Goldblum je jako dobar glumac, koji je svoja najbolja glumačka dostignuća ostvario upravo u 80-tima (većinom u pametnim i psihološkim horor filmovima), no njegova gluma u filmu je iznenađujuće svježa i dirljiva (ovdje je trebala pasti nominacija za Oskara u kategoriji najboljeg glumca). Ne bih mnogo pogriješio kad bih rekao da je to bilo i najbolje glumačko ostvarenje iz 80-tih...naravno, što se tiče horor, sf ili fantasy žanra (hajde barem je dobio nagradu Saturn).
David Cronenberg je napravio pametan znanstveno fantastični film sa izraženim elemntima horora i psihološke drame, odličnim scenama prožetim humorom (..the Brundle Museum of Natural History...), tužnim dionicama ("- I'll hurt you if you stay."; "- For the last four weeks, I've been afraid to see you. Now I 'am afraid not to...";), te jako neugodnim prizorima (hranjenje Brundle muhe, Sethovo psihičko-fizičko propadanje, kraj filma). Ovo je definitivno najbolji film o "ludom znanstveniku i eksperimentu koji je pošao ukrivo". Stoga kako Geena Davids u filmu kaže: "- Be afraid. Be very, afraid." i uživajte u večerašnjem filmu.
U slast.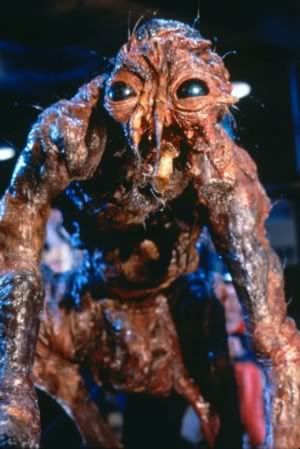 Brundle muha - finalni izgled

Zanimljivosti u vezi filma (TRIVIA):
- redatelj David Cronenberg se pojavljuje u maloj cameo ulozi ginekologa (doktor koji porodi djete-ličinku)
- oko 5 sati šimnaknja i uređivanja svaki dan je trebalo majstorima šminke da J. Goldbluma srede za film
- bljuvotine "Brundlemuhe" su u stvari miks: jaja, med i mlijeko
- oblik dva telepoda je napravljen prema cilindru starog motocikla Ducati, kojeg je u graži imao redatelj D. Cronenberg
- Robert Bierman je trebao biti prvotni redatelj filma (odustao zbog smrti u obitelji); drugi izbor je pao na Tima Burtona, a uloga Setha Brundlea je ponuđena Michaelu Keatonu, ali ju je on odbio
- dizajneri The Chris Walas, Inc.-a su danima proučavali mnoge bolesti kako bi što bolje dočarali razne stadije mutacije "Brundlemuhe", a sam redatelj se sjetio da bi to trebalo biti mutacija koja bi sadržavala i efektnu deformaciju i asimetričnost, a ne klasičnu veliku muhu
- Charles Edward Pogue je osmislio scenarij prema filmu "The Fly" (1958), no kad je Cronenberg izabran za redatelja svoje prihvačanje je uvijetovao time da može izmjeniti scenarij ako mu se nešto ne sviđa. Tako je izmjenio imena likova, većinu dijaloga, no koncept "Brundlemuhe" i transformacije nije dirao
- ovo je prvi kino film koji je imao premijeru na televizijskoj mreži Fox
- Mel Brooks nije želio da se zna da je on producent filma, kako gledatelji ne bi mislili da je film neka komedija
- kad Seth kaže: "- Drink deep, or taste not, the plasma spring." , to je referenca na citat djela "An Essay on Criticism" Alexandera Popea
- Cronenberg je prvo odbio redateljsku stolicu, no kako je prvotno trebao snimiti "Total Recall" (1990), no zbog raznoraznih pripetija i nesuglasica sa prgavim producentom Dinom De Laurentiisom ipak se vratio u redateljsku stolicu "The Fly"
- iako scenaristički dobro osmišljena scena (na žalost) nije nikada snimljena - kad se "Brundlemuha" hrani na kontenjeru i u jednom trenutku bljuvotinom zaspe beskučnicu po licu, i dok se tako hrani u jednom trenutku njegova ljudskost na trenutak shvati što je učinio
- neke scene su snimljene no nikad nisu umontirane u sam film:
scena kad Brundle zajedno odjednom teleportira babuna i mačku, te u sljedećem trenutku na njega nasrne mješani mutant obja sisavca, a znanstvenik ga umlati metalnom cijevi;
scena kad brundle izađe van zgrade, a iz njega sa strane izađe jedan od muhinih dlakavih udova;
te alternativna scena gdje Veronica sanja svoje nerođeno dijete
- rečenica "I'm saying I'm an insect who dreamt he was a man and loved it, but now that dream is over and the insect is awake," je referenca na priču "Preobrazba" Franza Kafke, koju je napisao 1912 godine
- producenti Brooks i Stuart Cornfeld,te studio Fox su žarko željeli Cronenberga za redatelja pa su mu odmah ponudili 1 mlijun $, dok je sam David bio tražio 750 000 $; uz pristanak je također tražio da sa njim rade ljudi koji su radili na prijašnjim njegovim filmovima - montažer Ronald Sanders, dizajner produkcije Carol Spier, redatelj fotografije Mark Irwin i kompozitor Howard Shore
- "The Fly" je dobio operu koju režira Cronenberg, David Henry Hwang piše riječi dok je za muziku kao kompozitor zaslužan Howard Shore (produkcija je započela negdje polovicom ove 2008 godine)
- film je na #33 na listi "Bravo's 100 Scariest Movie Moments"


THE SCENA:
- želite li vidjeti kako se mutant kućne muhe i čovjeka hrani?
bacite oko - ovdje (na 2min : 50sec)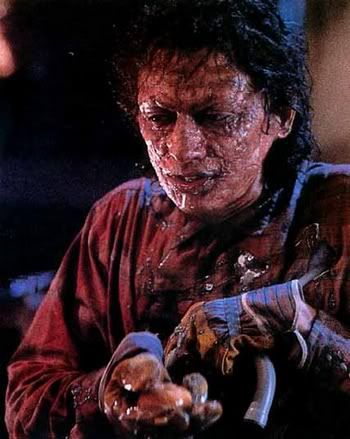 Nakon ove scene hranjenje nećeviše nikad biti isto nikome...