subota, 06.12.2008.
Slither (2006)

Slither (2006)

Produkcija: Gold Circle Films / Strike Entertainment / Brightlight Pictures
Redatelj i scenarist: James Gunn

Glume:
Nathan Fillion (Bill Pardy)......................Elizabeth Banks (Starla Grant)
Gregg Henry (Jack MacReady)............Tania Saulnier (Kylie Strutemyer)
Michael Rooker (Grant Grant)...............Don Thompson (Wally)

Film je izašao u kina 31. ožujka, 2006 godine
Trajanje: 95 minuta
Budžet: oko 15,5 milijuna $
Zarada: 7 775 000 $ (SAD) / 2,2 milijuna Ł (V. Britanija) / 49 000 € (Nizozemska)
DVD zarada: 11,1 mlijuna $ (prodaja)
Nagrade:
2006 godina - osvojio "Chainsaw Award" za najveći broj mrtvih u filmu (Highest Body Count)
2007 godina - osvojio nagradu Saturn za najbolju šminku (Todd Masters i Dan Rebert), te zaradio nominaciju iste nagrade za najbolji horor film
Utjecaji: "Night of the Creeps" (1986), "Return of the Aliens: The Deadly Spawn" (1983) "John Carpenter's The Thing" (1982) i "Shivers" (1975)
Foršpan filma


gradonačelnik MacReady (odlični Gregg Henry) u problemima, a evo i jedne od naj izjava:



[to Margaret] "- Praise *Jesus*? That's fucking pushing it! This shit's about as far from God as shit can get! Either of you ever seen anything like that? You even heard of anything like that? Huh? Me neither... and I watch Animal Planet all the fucking time!"



SADRŽAJ:
"- "- Kad blizu gradića Wheelsya padne mali meteor, jedan od stanovnika po imenu Grant odlazi vidjeti mjesto pada. Kad stigne napada ga crvoliko parazitsko stvorenje i vrlo brzo mu ovlada umom i tijelom. Ne prolazi mnogo vremena kad Grantovo tijelo počne mutirati u nešto zastrašujuće i jako opasno po ostale stanovnike malog mjesta. A kad zarazi jednu od svojih mještanki, koja mu posluži za rasplod drugih mnogobrojnih parazita, koji odmah napadaju sva živa bića u okolici, cijelo čovječanstvo se nalazi u opasnosti. Samo nekolicna nepreobraženih - šerif Bill Pardy, Grantova mlada i lijepa supruga Starla, te gradonačelnik Henry i djevojka Kylie stoje na putu paklenog plana Grant mutanta, koji želi da se njegov soj namnoži po cijeloj planeti i tako proždere sva živa bića.
Hoće li šerif i njegova malobrojna ekipa biti dovoljni da se srede "zombificirane" mesa željne mještane Wheelsya i njihovog ogromnog vođu Granta-mutanta ili će njihov očajnički pokušaj ostati samo pokušaj."


šerif Bill Pardy i njegovi zamjenici pred "mucho grande problemo, caramba"

RECENZIJA:
- Nakon malo dužeg perioda uspio sam ovaj film napokon nabaviti na DVD mediju i sa guštom sam ga opet nanovo pogledao (do sada je bio samo na DviX-u formatu).
Odmah moram naglasiti da je ovaj film bio na mojoj listi najboljih hororaca 2006 godine i da on sam spada u najbolje filmove strave i užasa ovog desetljeća.

Prva osoba kojoj idu sve pohvale jeste James Gunn (napisao genijalni scenarij za remake "Dawn of the Dead", 2004) koji je napravio dva posla u ovom filmu - kao redatelj i kao scenarist. Značajka svega toga je da smo mi horor fanovi dobili jedan jako dobar SF/horor film u kojem je radnja prepuna klišeja, ali na onaj pozitivan način. Svi ti klišeji i većina radnje prizašli su iz sadržaja B-filmova poput "Return of the Aliens: The Deadly Spawn" (1983) i "Shivers" (1975) što samom filmu nije smetalo da bude zanimljiv i nadasve dopadljivo zabavan.
Dakako James Gunn jeste mlad redatelj, ali je zasigurno osoba koja stvarno razumije horor kao žanr i zna koje su značajke publici zanimljive.

Osim što je dosta stvari pokupio iz drugih malih, ali jako zanimljivih i dobrih filmova (radnja, neke scene...) ujedno je napravio tri velike posvete dvama filmovima - "Night of the Creeps" (1986) (parazitski organizam) i "John Carpenter's The Thing" (1982) (Grant-mutant je pljunuta preslika Blair-monstera iz Carpenterovg remek-djela, a nemojmo zaboraviti kako gradonačelnik MacReady ima jako slično prezime kao Kurt Russellov junak McReady), te jednoj legendarnoj producentskoj kući - Tromi (u jednoj sceni imamo na TV-u scenu iz Trominog najboljeg filma "The Toxic Avenger" (1984), a u cameo ulozi se pojavljuje i sam Lloyd Kaufman). Ovako dobro napravljene posvete ne vide se baš često u filmovima.
Što se tiče zanimljive i dobre glumačke postave izdvajam Michaela Rookera (uvijek dobrog i pouzdanog, ali nažalost dosta podcijenjenog karakternog glumca), koji je svoj dio odradio za čistu peticu, te Gregga Henryja u komičnoj ulozi nervoznog gradonačelnika, koji je i ujedno najjači adut samog filma, a kojem ujedno idu i najbolji onlineri filma (uglavnom kradljivac scena...barem što se tiče ovog filma).
Unatoč tome što karakterizacija likova nije dublje istražena i što film nema neku dublju misao ili poruku, sve u Gunnovom djelu štima od početka do kraja, pa iako su standardni klišeji (koje sam već gore spomenuo) stalno prisutni kroz protok radnje film ne gubi onu svježinu nego gledatelju daje maksimum zabave, sa dobro doziranim humorom, u koju je usađena pravilna raspodjela i specijalnih efekata (kako CGI tako i FX šminke) i krvavijih scena, pa tako svatko nađe ponešto za sebe.
Ovo je pravi mali SF/horororac stare škole, koja doziva zlatno doba 80-tih te mislim kako će u njemu uživati i ljubitelji znanstvene fantastike, ali isto tako i 'hard core' hororljubci. Definitvno film koji trebate što prije pogledati.


THE SCENA:
- kratko i jasno - smrt redneka (kad Grant-mutant jednom od svojih pipaka prepolovi tipa napola)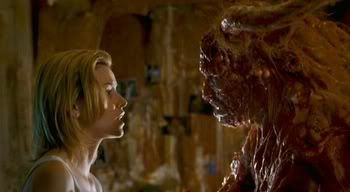 Starla u razgovoru sa svojim mutiranim mužem Grantom

Pamtljiva izjava u filmu (QUOTES):
Jack MacReady: [misleći na Granta] "- On je prokleti Marsovac?"
Bill Pardy: "- Marsovci su sa Marsa, Jack."
Jack MacReady: "- Ili je to glavna riječ što znači 'vanzemaljski jebač'."
Bill Pardy: "- Ne, nije."
Jack MacReady: "- Čekaj sad kurcoglavi!"
Starla Grant: "- Prekinite!"