nedjelja, 30.11.2008.
My Name is Bruce (2007)

Moje ime je Bruce (2007)

Produkcija: Dark Horse Entertainment / Image Entertainment
Redatelj: Bruce Campbell
Scenarij: Mark Verheiden

Glume:
Bruce Campbell (Bruce Campbell).............Adam Boyd (Tiny)
Mike Estes (Fan br. 2).................................Janelle Farber (Kasey)
Ted Raimi (Wing)........................................Ellen Sandweiss (Cheryl)


Film je izašao u 13. travnja, 2007 godine (festivali) / 31. listopad, 2008 godine (ograničeno)
Trajanje: 86 minuta
Budžet: oko 1 500 000 $
Zarada: 16 432 $ (1 kino) i 105 521 $ (ukupna zarada u ograničenom kino prikazivanju)
Foršpan filma


SADRŽAJ:
"- Kultna filmska B zvijezda Bruce Campbell greškom je zamijenjen za lik Asha kojeg je glumio u trilogiji "Zla Smrt" i nakon što ga otmu stanovnici jednog malog američkog gradića po imenu Gold Lick u Oregon primoran je da se bori protiv kineskog demona rata Guan Dina."


Bruce Campbell kao Bruce Campbell u ne baš tipično herojskom izdanju

RECENZIJA:
"- Dugo je vremena prošlo od kada smo prvi put čuli za ovaj film, a još duže vremena je trebalo proći da bi ga uspijeli pogledati. I napokon mogu reći da nam se strpljenje isplatilo.
Za mene samoga ovaj film je uz "Jack Brook's Monster Slayer" bio najočekivaniji film ove godine (s mišlju i nadom da izađu oba ove godine).

O Bruceu Campbellu nećemo mnogo pričati, jer vjerujem da horor fanovi znaju sve o ovom kultnom horor glumcu.
Ali ću spomenuti njegove karakteristike kao redatelja - činjenica je da je tek sa "Man with the Screaming Brain" (2005) imao svoje prvo pravo redateljsko krštenje (prije toga redateljski dio odradio na par epizoda "Xene" i "VIP"), te posao koji je napravio u tom filmu bio dosta solidan (računajmo da je film imao slab budžet a da je produkciju radio meni omraženi Sci Fi Pictures).
Gledajući film koji danas recenziramo Bruce je kao redatelj otišao na viši nivo, te je uz put kao redatelj još više sazrio. Očigledno je da je suradnja sa Samom Raimijom bila jako isplativa i da je Bruce ipak naučio mnogo toga dok su njih dvoje radili na "Evil Dead" trilogiji, jer "My Name is Bruce" ima dosta solidnu režiju za ovakvu vrstu filma (opet slab budžet). Film ima u nekim trenutcima onaj Raimijev look.
Ipak, ne mogu se odati dojmu da Bruce može i više i bolje, jer neke scene nisu snimljene baš najbolje (glumci isforsirani i neuvjerljivi u scenama na početku, dok kako film ide prema kraju sve lijepo upada na svoje mjesto).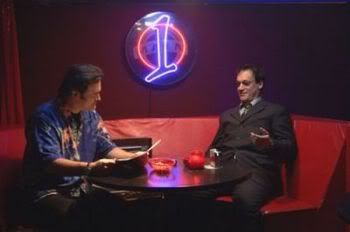 Bruce sa svojim agentom (Ted Raimi) koji mu kara bivšu ženu Cheryl

Sporedni glumci su solidni, no najveći plus ovom filmu jeste to što je Bruce uspio prikupiti par glumaca iz "Evil Dead" serijala i to - Ted Raimi (Samov brat, koji ovdje glumi čak 4 uloge - monstera, starog kineza Winga, pitura i Bruceovog agenta), Timothy Patrick Quill (kovač sa brčinama iz "Army of Darkness" (1992)) prodavač oružja i gej rednek #1, Dan Hicks (Jake iz "Evil Dead 2", a s Bruceom je glumio i u "Policajcu Manijaku" (1988), te "Intruder" (1989)) gej rednek #2, Ellen Sandweiss (Cheryl iz prvog "Evil Dead" filma) koja u filmu glumi Bruceovu bivšu ženu.
Film je prepun aluzija na Bruceove prijašnje filmove od "Evil Deada" (1981) do "Man with the Screaming Brain" (2005) pa tako imamo sprdnju na neke filmove (Snimio sam film u Bugarskoj, spreman sam na sve...), ali isto tako pametne reference na Bruceove najbolje filmove (Bubba Ho-tep, 2002).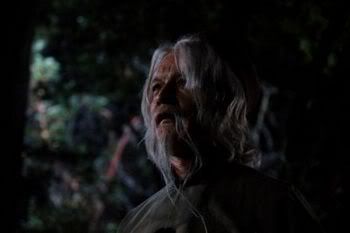 opet Ted Raimi u još jednoj svojoj glumačkoj interpretaciji starog kineza Winga

Scenarij ima svoji dobrih ali i loših strana, no one loše su zanemarive zbog pametno upotrebljenih replika i onlinera koji će se zasigurno dugo pamtiti (meni najbolja je ona kad je Bruce tek došao u mjestašce pa baci usporedbu na "Deliverance" (1972)).
Bruce Campbell je definitivno zvijezda filma, pa iako mu to nije među najboljim ulogama definitvno je među onima koje će se dugo pamtiti. Njegova gluma je ležerna i samouvjerena, a cijeli film odiše samoironijom i humornim scenama, te se sam Bruce ne libi sprdati sa svojim likovima koji su ga proslavili i od njega učinili ono što danas jeste - zvijezdu horor filma. Film skoro pa i nema minusa, osim par početnih scena, te da je gl. negativac tj. demon Guan Din malo bolje osmišljen sa boljom maskom (a ne bi falili da je malo bolje ubačen u samu priču, pa ovako djeluje samo kao neki sporedni lik koji je eto tako 'morao biti negativac zbog priče').
Film ne preporučam samo fanovima "Evil Dead" serijala i Asha i lika i djela Brucea Campbella, nego svim ljubiteljima crnog humora i horor komedija, jer vjerujem da ćete se dosta dobro zabaviti i uživati u svih 86 minuta, koliko traje dotični. Odlična zajebancija od filma za pogledati u nekoj od narednih hladnih zimskih večeri... Preporučam.

Također preporučam recenzije ovog filma:
recenzija Žutog titla
recenzija HorrorHR-a