nedjelja, 23.11.2008.
Splinter (2008)

Trn (2008)

Produkcija: Indion Entertainment Group
Redatelj: Toby Wilkins
Scenarij: Kai Barry, Ian Shorr, Toby Wilkins

Glume:
Shea Whigham (Dennis Farell)...............Paulo Costanzo (Seth Belzer)
Jill Wagner (Polly Watt)...........................Charles Baker (Blake Sherman Jr.)
Rachel Kerbs (Lacey Belisle)..................Laurel Whitsett (šerif Terri Frankel)


Film je izašao u kina 31. listopada, 2008 godine (limitirano)
Trajanje: 82 minute
Službena stranica filma + foršpan
YouTube foršpan filma
Nagrade:
2008 godina - osvojio 6 nagrada na ScreamFestu i to za najbolju motažu (David Michael Maurer), najbolju partituru (Elia Cmiral), najbolje specijalne efekte (Quantum Creation Effects), najbolju šminku (Ozzy Alvarez), najbolju režiju i najbolji film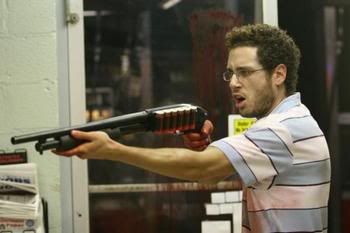 Hoće li vatreno oružje biti dovoljno protiv parazitskog organizma?

SADRŽAJ:
"- Mladi par Seth Belzer i Polly Watt odlaze u prirodu na romantični piknik, kad ih na putu zaskoči zatvorenik bjegunac Dennis Farell i njegova djevojka narkomanka Lacey Belisleon.
Pošto bježe od policije Seth i Polly postaju taoci bjeguncima, a njihovim automobilom se žele odvesti u Meksiko, no kako je goriva malo za takav put odlaze do obližnje pumpne stanice napuniti ga do vrha.
Kad stignu tamo ubrzo se suočavaju sa najgorom noćnom morom - smrtonosnim parazitskim organizmom, koji se hrani krvlju i koristi leševe ljudi kao domaćine. Sad četvero ljudi se mora boriti za svoj život, a kako izgleda bez pomoći izvana, jer se nalaze na izoliranom i osamljenom području, a parazit je sve gladniji i nasilniji..."


RECENZIJA:
- Kako sam prvi put čuo za ovaj film na HorrorHR stranici i kad sam čuo da je film nalik filmu "John Carpenter's The Thing" bio sam jako jako zainteresiran za njega. Potom vidjevši i foršpan rekoh si da ovo moram što prije pogledati. I pogledah ga napokon. Dojmovi? Pa, idemo redom:

Što valja kod filma:
- odlično zamišljena priča
- monster kojeg ne vidimo, ali vidimo njegovih ruku djelo; način na koji napada i preuzima ljude (pogotovo glasanje); fizonomija samog parazita u ljudskom tijelu pogotovo fascinira
- CGI efekata i nema, jer se film oslanja na šminku i silikon
- film su radili ljubitelji filmova strave užasa
- unatoč malom budžetu film ima svoju dubinu, a efekti i radnja ne pate
- Shea Whigham je glumačko ime koje se izdavaja u ovom filmu
- dobra fotografija
- prva pojava čudovišta tj. leša i njegovo kretanje u napad (doslovno lomi kosti svom domaćinu dok srlja)


Prva žrtva "Splinter" parazita

Što ne valja kod filma:
- scenaristička realizacija odlično zamišljene priče je dosta labava i slaba; također su mi išla na živce neka scenaristička rješenja kojih je u drugoj polovici filma 2-3 izraženo i tiče se same radnje (toplina na koju lovi monster, amputacija ruke)
- likovi su slabo karakterizirani i nemaju dubinu, a ne pomaže im ni to što su klišejizirani u svojim izgovorima
- redatelj ponekad ne zna glumcima ukazati na njihovu slabi glumački aganžaman tj. ne zna ih uputiti da neke scene bolje odglume sa više žara i emocija
- osim Whighama ostali se glumci nisu iskazali u svojoj glumačkoj prezentaciji likova koje glume (na moju veliku žalost)
- ponekad jako brza montaža kvari dojam napetosti, ali i akcije kad čudovište tj. leš s parazitom napada, pa se ne uspijevamo kao gledatelj uživit u film do kraja


Završna misao:
- Nakon pogledanog moram reći da sam pomalo razočaran viđenim. Ne zato što je film slab, dapače spada u sam vrh najboljih horor filmova ove godine. No, ipak fali mu dosta toga da bih ga svrstao recimo u 5 naj ove godine.
Tobyu Wilkinsu je ovo bio prvi pravi film (iako je imao već par manjih kratkometražnih filmova koje je režirao) i unatoč gornjim minusima napravio je solidan posao (hej ne može uvijek prvi film biti remek djelo). Wilkins je istinski fan horor filma što se vidi po nekim malim detaljima (leševi i scena sa rukom podsjećaju me na prvi "Evil Dead" film u trilogiji), koje obični gledatelj ne može u prvi mah primjetiti, no ljubitelji filmova strave i užasa mogu.
Uz sve to većina ekipe na netu ovaj film uspoređuje sa Carpenterovim "Stvorom", ali ja mislim da je ta usporedba neosnovana, jer parazit po svojim mogućnostima više nalikuje prazitnom biću iz filma "Phantoms" (1998), a koji je rađen prema istoimenom romanu Deana R. Koontza iz 1983 godine.

Za one koji više vole književnost od filma čudoviše u ovom filmu podsjeća na monstera iz kratke priče "Slime" od Josepha Paynea Brennana. Podsjeća i na crnog simbiota Venoma iz Spidermana, a tko zna jel mu šta u rodu i katransto biće Armus sa planete Vagra II (ST: Next Generation S01E22) koje je ubilo poručnicu Tashu Yar (ime epizode: "Skin of Evil").
Uglavnom se nadam da shvaćate kako beštija stvarno izgleda, dok nije u domaćinu/lešu.


Dennis (Shea Whingham) ima ozbiljne probleme sa parazitom u sebi...

Šteta za film, jer je mogao biti mnogo bolji uz pametnija scenaristička rješenja i bolji odabir glumaca (ovdje ne mislim na Sheau Whighama) ili je barem redatelj mogao biti malo tvrđi u razgovoru sa glumcima, gdje bi na kraju izvukao iz njih onaj maksimum (to se ipak traži kad film ima 4 glumca skoro 50 minuta filma u skućenom prostoru; tu onda trebaju i emocije i dobra razrada scenarija, ali i najvažniji dio - dramaturški napeta fabula). Da je film snimljen recimo krajem 80-tih danas bi bio svojevrsni klasik.
Sve u svemu i kako sam rekao unatoč manama ovo film koji bi trebali pogledati, jer ima svega pomalo i pruža dosta toga što se cijeni kod horor filma - opaki i skoro nepobijedivi negativac, krvavih par scena, napetost, beizlazne situacije i kraj koji otvara mogućnost nastavka.

p.s. - eto sam dogurao i do 200-tog posta na ovom blogu