ponedjeljak, 17.11.2008.
Otis (2008)

Otis (2008)

Produkcija: Flame Ventures / Raw Feed
Redatelj: Tony Krantz
Scenarij: Erik Jendresen / Thomas Schnauz

Glavna uloga:
Bostin Christopher (Otis Broth)................Ashley Johnson (Riley Lawson)
Daniel Stern (Will Lawson).......................Illeana Douglas (Kate Lawson)
Kevin Pollak (Elmo Broth)........................Jere Burns (agent Hotchkiss)
Jared Kusnitz (Reed Lawson).................Tarah Paige (Kim)


Film je izašao na DVD-u 10. lipnja, 2008 godine
Trajanje: 100 minuta
Službena stranica + Foršpan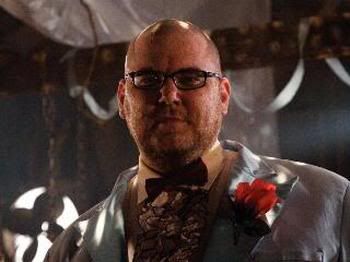 Otis - vaš pizza boy i dežurni serijski ubojica

SADRŽAJ:
"- U predgrađu jednog američkog grada svako malo počnu se pojavljivati ispilana tijela mladih tinejđerica, koje su žrtve nepoznatog poremećenog serijskog ubojice. Ubojstva istražuje čudni pripadnik FBI-a - specijalni agent Hotchkiss, no unatoč svim naporima za otkrivanje psihopata identitet ubojice i dalje ostaje nepoznat.
Kad isti taj serijski ubojica po imenu Otis, kojeg FBI lovi, kidnapira Riley Lawson, njena obitelj čini sve da ju vrati živu. Tako će jedna sretna okolnost dovesti do toga da će obitelj Lawson saznati gdje živi otmičar njihove kćeri, a onda će Otis osjetiti na svojoj koži što znači rijeć - osveta....ili možda pak neće?"



RECENZIJA:
- U zadnje vrijeme činjenica je da su neki jako dobri horor filmovi slabo primjećeni, a sa druge strane neki ultra loši filmovi dobijaju kino projekciju (sam Bog zna kako je to moguće) ili barem odličnu DVD reklamu.
Nakon što sam započeo prije par postova sa odličnim "The Cottage" nastavit ću sa još jednim isto tako sjajnim filmom, koji je imao slabu reklamu, no jako dobro kotira kod gledatelja.

"Otis" je triler crna komedija sa povremeno naglašenim horor / mračnim elementima. To je mali film koji je okupio dobru glumačku ekipu u kojoj se ističu veterani - Kevin Pollak (iznenađujuće dobar kao Otisov brat Elmo), Illeana Douglas (kao majka Kate) i Daniel Stern (kao otac Will) su standardno dobri.
No, najviše osvježava pojava Jere Burnsa (Kirk u "Dear John" seriji) kao agenta Hotchkiss, koji krade svaku scenu kad se u filmu pojavi. Lijepo je vidjeti i Tracy Scoggins (Demonic Toys, 1992) u jako dobroj cameo pojavi, gdje je u par minuta upijela sa svojim likom satirički progovoriti u upozoravajućem tonu na ponašanje današnjih medija. Ashley Johnson kao Riley obećavajuća je mlada nova nada Hollywooda.


Hoće li Riley uspijeti Otisu?

Ipak, unatoč gore spomenutim glumcima, najbolje se ipak iskazao Bostin Christopher kao serijski ubojica Otis, koji s jedne strane ubija djevojke po svome kvartu, a s druge raznosi pice kao lokalni dostavljać pica.
Iako, ima malo glumačkog staža ovom ulogom je pokazao da bi ogao ostvariti zavidnu karijeru u bliskoj budućnosti.
Njegova gluma je odmjerena, svježa i proračunata, te je sa pravim glumačkim metodama odglumio jezivog, no ipak pomalo nesretnog filmskog lika. Uz Jokera Heatha Ledgera iz ovogodišnjeg mega hita "The Dark Knight" Christopherov Otis je najbolji psihopat viđen ove godine na kino platnu ili nekom DVD mediju.
Sam film nije kako bi to neki u prvi mah pomislili neki torture porn ala "Hostel" (2005) ili ultra loši"Captivity" (2007).
"Otis" dijeli neke sličnosti u radnji sa ovim potonje gore spomenutim filmom, no to je ipak sve, jer gore i krvavih scena u ovom filmu nema (no ima zato jako efktna scena mučenja na način Mr. Blondia u "Reservoir Dogs" (1992)).

Scenarij je dosta solidan, iako tu i tamo ima malo opadanja u smislu prenaglašenog i forsiranog humora pri samom kraju filma, ali ipak takvih minusa je možda 2 ili 3 u cijelom filmu. Karakterno je jedino slabo napravljen Reed Lawson (brat od Riley), kojeg tumači mladi glumac Jared Kusnitz, u smislu da je kao filmski lik preiritantan, no ipak na nekoj podnošljivoj razini. Moram spomenuti i da je zadnja trećina filma slabija od prve dvije trećine.
Uz odličan soundtrack što prati glazba s kraja 70-tih i početka 80-tih (izdvajam "Venus" - "Shocking Blue", "Don't Fear the Reaper" - "Blue Öyster Cult" i "Cum on Feel the Noize" - Quiet Riot), film ima par odličnih gegova, onlinera Jere Burnsa, te odličan uvod u psihologiju jednog serijskog ubojice. Ovo je mali niskobudžetni film, no ovo je i ujedno jedan od najboljih (horor) filmova ove godine. Definitivno ga vrijedi pogledati što prije...jer vjerujem da se nećete razočarati viđenim.

THE SCENA:
- iako je scena mučenja odlično odrađena sa čak jednim jako dobrim onlinerom Daniel Sterna - "I electrocuted his asshole!!!", ja ipak biram onu gdje reporterka pita Jeru Burnsa:

"- Koja je razlika između vas i serijskog ubojice?"

a Jere će na to hladnokrvno: "- Ja koristim kondom!"