utorak, 11.11.2008.
Biti glumac u horor žanru - dio drugi



Neki su glumci od malena imali čast da glume u nekom horor filmu, prije svega mislim tu na Drew Barrymore ("Altered States" (1980) je bio njen prvi film u karijeri, a potom su slijedili ("Cat's Eye" (1985), "Firestarter" (1984) ), Leonada DiCapria (Critters 3, 1991 ) i Brooke Shields (Alice Sweet Alice, 1976), a neki su zahvaljujući svojim odličnim interpretacijama odmah prešli u filmove velikih budžeta, glumci poput – Margot Kidder, koja je nakon odličnih uloga u ''Sisters'' (1973) i ''Black Christmas'' (1974) dobila ulogu Lois Lane u ''Supermanu'' (1978) ili Ving Rhames, koji je bio dobar u ''Jacob's Ladder'' (1990) i fenomenalan u ''The People Under the Stairs'' (1991) dobio ulogu u "Pulp Fiction" (1994), a ostalo je povijest.
Neki glumci su se morali probijati u ne tako sjajnim i bajnim filmovima, koji su većinom bili tako trivijalni i očajno snimljeni da je to prava strava u onom negativnom smislu.
Prvo što mi pada na pamet jeste film ''The Texass Chainsaw Massacre: The Next Generation'' (1994), koji se najviše pamti po glumcima koji su u njemu glumili – Matthewu McConaugheyu i Rene Zellweger, a koji također drmaju A listom najnaplaćenijih glumaca današnjice već neko vrijeme.
Kad smo kod ''TCM-a'' reći ću da se njegov treći dio po imenu "Leatherface: Texas Chainsaw Massacre III" iz 1990 pamti samo po ulozi Vigga Mortensena (koji je ipak prvu ulogu imao u hororu ''Prison'', 1988).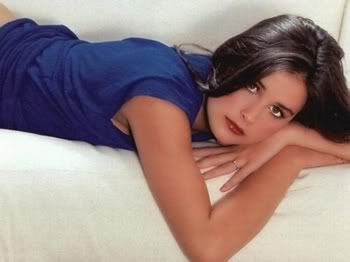 Slatka Demi prije plastičnih operacija

Slatka Jennifer Aniston je prvi put viđena u nesretnom filmiću po imenu "Leprechaun" (1993), dok je najpoželjniji neženja na planetu George 'ER' Clooney (tko smišlja ovakve titule??) prvu manju ulogu od 2 scene imao u ''Return to Horror High'' (1987), no svi ga mi pamtimo po njegovoj prvoj pravoj ulozi u zajebantskom trash filmu ''Retun the Killer Tomatoes'' (1988).
Od ostalih glumaca što mi padaju napamet su i – odlična karakterna glumica Jenifer Jason Leigh (''Eyes of a Stranger", 1981), koja je horor ljubcima poznatija po ulogama u filmovima "Flesh+Blood" (1985) i ''The Hitcher" (1986).
Jim Carrey je još jedno ime sa A liste koje je glumilo u vampirskom zaboravu ''Once Bitten'' (1985), a Hugh Grant je svoje početne korake u glumi izučio u filmu ''The Lair of the White Worm" (1988) .
Samuel L. Jackson se prvi put nakratko pojavio u filmu o sukubu pod nazivom ''Def by Temptation'' (1990), a nemojmo zaboraviti ni Johna Travoltu koji je svoj zanat izučio prvo u ''The Devil's Rain'' (1975) , da bi se pojavio u kultnoj ''Carrie'' (1976).
Za kraj sam ostavio i desert – slatka Naomi Watts je imala tu (ne)priliku da gl ulogu glumi u četvrtom dijelu ''Children of the Corn'' (1996), Hillary Swank je skoro neprimjetna u filmskoj verziji ''Buffy: The Vampire Slayer'' (1992) filmu u kojem je prvu ulogu imao i Ben Affleck. Jason Priestly svima znan kao ispravni Brandon Walsh iz serije ''Beverly Hills 90210'' se također prvi put pojavio svojim licem u slabom (a trebao je biti dobar) hororcu ''Watchers'' (1988).
Kao točku na i spomenuo bih prvu ulogu Demi Moore u sjebanom filmu strave užasa ''Parasite 3D'' (1982), ne treba spominjati da je njeno slatko lice jedino čega se sjećam u filmu (a imao sam ga čast gledati u kinu).

Jesam li možda koga zaboravio? (pa, nadam se da nisam)

Kako vidimo dosta je poznatih lica i imena zahvaljujući horor žanru pronašlo put do slave i priznanja (izraćunajte samo koliko su spomenuti glumci osvojili Oskara, a koliko su tek puta bili nominirani). Neki su se tom žanru i vraćali, neki nikad više, neki su baš u njemu ostvarili svoje najbolje uloge, neki su samo po tim ulogama i poznati. No, svi će priznati da im je taj žanr ipak na neki način pripomogao u karijeri.
Činjenica ostaje da filmovi strave užasa (dobro većina njih) mogu glumcu dopustiti da se izrazi na kvalitetan način gdje bi do izražaja došle i one glumačke kvalitete i raznobojni kotras glumačkog izričaja koje dovode do boljih aranžmana i na kraju do nagrada.

odgovor na prvi sliku u ovom postu je - mladac je George Clooney, koji je kasnije glumio u tom filmu