nedjelja, 09.11.2008.
Biti glumac u horor žanru - dio prvi

Gledajući sveobuhvatno sve moguće žanrove (osim porna naravno) ako želite uspjeti u Hollywoodu i jednom zasjesti na A listu (gdje je minimalna plaća između 18-20 milja dolara po filmu) prvi film koji odglumite morao bi biti horor. Iako, to nije neko pravilo u filmskom svijetu mnogo je glumaca baš zahvaljujući svojoj prvoj ili svojoj prvoj pravoj ulozi u horor filmu postalo kasnije mega zvijezda. Činjenica je da dosta prosječnih gledatelja horor kao žanr smatra drugorazrednom zabavom i uglavnom ga ne smatraju zanimljivim gledajući druge žanrove poput recimo akcije ili komedije, no za glumca takva vrsta filma može biti jako dobra odskočna daska prema unosnijim i zanimljivijim ulogama (pod uvjetom da taj dotični film rade kvalitetni ljudi).
Neki glumci su se ustalili u horor žanru iako su mogli mnogo toga reći i u ostalim žanrovima, pa čak i osvojiti po kojeg Oskara. Legende poput Vincenta Pricea, Christophera Leeja, Petera Cushinga, Roberta Englunda.


Poker asova (u smijeru kazaljke sata): J. Depp, O. Reed, W. Shatner i K. Bacon

Kako znamo horor žanr svojoj popularnosti može zahvaliti većinom mladom naraštaju gledatelja čija dob je u prosjeku između 12 i 32 godine, a takvi su gledatelji ipak jako zahtjevni (a bogme čine i najveći udio ljudi koji kupuju kino ulaznice), no isto tako pamte važne stvari, pa tako i glumce.
Pa, tako imamo Kevina Bacona koji je unatoč tome što je svoju prvu ulogu imao u ''Animal House'' (1978) Johna Landisa, postao poznat tek svojom ulogom u ''Friday the 13th'' (1980), gdje ga je većina znala kao – ''hej, pa to je onaj momak što je dobio strelu u grkljan, dok je na krevetu pušio travu''. Poslije toga je izrastao u odličnog karakternog glumca.
Claude Rains kojeg starija publika zna po ulozi policajca kapetana Renaulta u klasiku "Casablanca" (1942), svoju je prvu pojavu (glasom) imao u još jednom klasiku ' našeg' žanra - "The Invisible Man" (1933). Pitanje je bi li ikad uspio dobiti ulogu kapetana da nije bio zapažen kao Nevidljivi Čovjek.
Steve McQueen legenda nad legendama je svoju prvu ulogu odradio u SF klasiku ''The Blob'' (1958), gdje se borio protiv želatinskog napasnika iz svemira. Malo ljudi zna (osim iskusnih filmofila i ljubitelja trivije) da je prva uloga Clinta 'Prljavog Harryja' Eastwooda bila u trećem nastavku o Čudovištu iz Crne Lagune po imenu ''Revenge of the Creature'' (1955), gdje je glumio laboratorijskog pomoćnika i to ne više od 30 sekundi.
Najčudniji početak karijere po meni je imao William Shatner, koji prije nego je postao nenadjebivi James T. Kirk, godinu dana ranije glumio u hororu ''Incubus'' (1965), koji je cijeli snimljen na esperantu. Nemojmo zaboraviti i Roya Scheidera, čiji je prvi film bio hororac lijepog imena - "The Curse of the Living Corpse" (1964) , no za nas će uvijek ostati policijski šef Martin Brody, uništavač Velikih Bijelih Psina. A ako netko spomene Sigourney Weaver svi se sjetimo franšize Alien, gdje je prvi film iz dotičnog serijala bio i njeni prvi pravi film (i odmah prvo pa muško).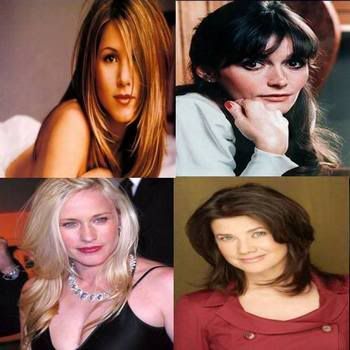 Poker ženskih asova (smjer kazaljke sata): J. Aniston, M. Kidder, D. Zuniga i P. Arquette

Iako, se dosta glumaca znalo samo izboriti za prvu ulogu u svom prvom filmu, većina najvažnijih glumaca i redatelja današnjice može zahvaliti dvjema filmskim producentskim kućama – Hammer i Troma, te najvećem producentu niskobudžetnih B-filmova, većinom SF tematike, Rogeru Cormanu.
Znamo da je producentska kuća Hammer izgradila bogate karijere Christophera Leeja i Petera Cushinga, no također je potpomogla karijeri Olivera Reeda.
Reed, koji je uzgred mojoj malenkosti jedan od najdražih glumaca, je svoju prvu ulogu imao u ''The Curse of Werewolf'' (1961).
Glumačku veličinu Jacka Nicholsona svijet možda nikad ne bi upoznao, da ga Corman nije uzeo pod svoje okrilje (''The Little Shop of Horrors'' se pamti kao prvi film gdje su započeli suradnju). Isto, tko zna što bi bilo sa redateljskim karijerama Jamesa Camerona, Joe Dantea i ostalih danas velikih imena (Scorsese, Coppola, Bogdanovich, Demme) da ih Roger nije malko pogurao u svojim projektima.
Ono što su nekad bili Hammer i Corman to su danas produkcijska kuća Troma i njen vlasnik Lloyd Kaufman, iz čije ergele najpoznatije ime izašlo ono Billya Bob Thortona ("Chopper Chicks in Zombietown" , 1991).

Od svih podžanrova u horor miljeu najviše odličnih glumaca su iznjedrili baš slasher filmovi.
Kako smo već gore spomenuli Kevina Bacona, red je da spomenemo još neke. Ne trebam puno govoriti da je od slasher podžanra najviše profitirala kraljica tog dijela filmova strave i užasa – Jamie Lee Curtis (prva uloga joj je bila u Noći Vještica), i o njoj je sve rečeno, pa ću to ostaviti kad budem radio profil njene karijere. Fenomenalni ''The Burning'' (1981) je promovirao Jasona Alexandera (George Costanza iz ''Seinfielda'') i oskarovku Holly Hunter, slašerčić ''Cutting Class'' (1988) je pamtljiv jedino po prvoj pojavi Brada Pitta, Daphne Zuniga karijeru duguje slasherima ( "The Dorm That Dripped Blood", 1982 i "The Initiation", 1984), a megaveličina Tom Hanks je svoju prvu pojavi imao u ''He Knows You Are Alone'' (1980), Crispin Glover (George McFly iz serijala "Povratak u Budućnost") je primijećen kao glumac tek kad je nastupio u petom nastavku ''Petka 13-tog'', treći dio ''Nightmare on Elm Street'' je bio prvijenac u glumačkom zvanju slatke Patricije Arquette, neću otkrivati toplu vodu ako spomenem koliko je značila uloga Neve Campbell u ''Vrisku''za njenu daljnju karijeru (iako je prije toga prvu pravu ulogu imala isto u hororu "The Craft" (1996)), komičari Jack Black i Dana Carvey su također imali svoje prve uloge u ovoj vrsti filmova (''I Still Know What You Did Last Summer'' (1998) i ''Halloween II'', 1981).
Sa strane muških glumaca od slasher podžanra je najviše koristi imao Johnny Depp, koji se za prvi ''Nightmare on Elm Street'' (legendarna scena sa krvlju i krevetom) sasvim slučajno prijavio da bi nakon 25 godina od te uloge bio najbolji glumac svoje generacije, sa najboljom plaćom nekog glumca za jedan film ikad (56 milijuna $ za 4 dio ''Pirata Sa Kariba''), a da ne govorimo koliko je nominacija za nagradu Oskar imao.


B. B. Thorton je još jedan u plejadi glumaca koji su započeli karijeru u hororu

NASTAVLJA SE...