četvrtak, 06.11.2008.
Dead Space: Downfall (2008)

Beživotni Svemir: Propast (2008)

Produkcija: Anchor Bay Entertainment / Sony Pictures
Redatelj: Chuck Patton
Scenarij: Justin Gray i Jimmy Palmiotti

Film je imao DVD premijeru 28. listopada, 2008 godine
Trajanje: 74 minute
Foršpan filma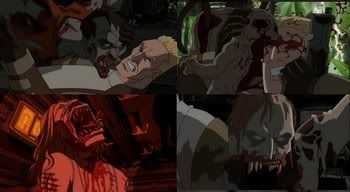 Neke od beštija koje se pojavljuju...

SADRŽAJ:
"- Kada je u dubokom svemiru usred rudarske operacije otkriven misteriozni artifakt, rad nepoznatih bića, poslan je rudarski svemirski brod da ga preveze nazad na Zemlju.
Ubrzo se otkriva strašna istina da je neobični artifakt bio zatvor za zlu vanzemaljsku vrstu, koja se hrani mesom i krvlju. Nakon što vrlo brzo opaki i smrtonosno učinkoviti vanzemaljci naprave na svemirskom brodu pravi pokolj, a dosta leševa rudara pretvore u skoro nezaustavljiva čudovišta maloj grupici preživjelih valja naći plan kako što prije pobijeći sa prokletog broda prije nego i sami postanu hrana monstrumima..."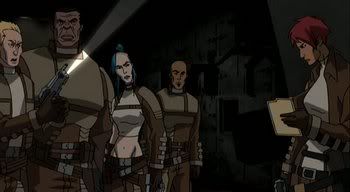 Ekipa preživjelih traži izlaz iz opake situacije

RECENZIJA:
Nakon dugo vremena se pojavio animirani film koji nije primjeren mlađima od 12 godina (barem tako kažu pravila heheh), a koji je prequel survival horor akcione video igrice iz trećeg lica po imenu "Dead Space" (za igrače od + 17), a koja je izašla 20-tog prošlog mjeseca.
Kako obožavam ovakvu vrstu video igara tj. horor žanra (pucačine i survival, a može i koja dobra avantura) radovala me je vijest da ćemo moći vidjeti i animirani film koji bi malo ufurao buduće igrače u čar same video igre.
Naravno, odmah sam nabavio film i evo kakvi su dojmovi:

Što valja kod filma:
- grafičko nasilje je na nivou i ima ga u dobrim količinama, a kao desert imamo normalni razgovor sa psovkama
- film definitivno nije za djecu koja vole Pčelicu Maju
- imamo par stvarno predivnih scena - pokolj u sauni (ubojstvo žene), borba u botaničkom dijelu broda (jako krvavo), te kad ogromnom crncu jedan od monstera svom kandžom razvali vilicu i odreže mu šaku (donja slika), pankericu vlastiti član tima prereže laserskom pilom napola (također donja slika)...
- u nekim scenama je ugođaj dobar i ima elemente pravog horora (monster u ventilaciji, pogled monstera)
- "Twinkle Twinkle Little Star" koja se pojavljuje na kraju filma je sama po sebi sablasna pjesma, te sam kraj filma gdje video igra počinje (slika na kraju)




Što ne valja kod filma:
- radnja je očajno realizirana (iako je ima, jako je konfuzna i bezkrvna) i cijeli film daje dojam da je rađen nabrzinu u namjeri da bude samo reklama za video igru i ništa više (nažalost...šmrc)
- neću reći ništa nova ako kažem da je scenarij slab i nikakav (što ste mogli i pomisliti na izrečenu gornju rečenicu zar ne?) i da je prepun rupa, banalnih dijaloga, a karakterizacije likova niti nema (najveći minus filma)
- animacija iako solidno odrađena (izgled monstera je ipak najbolji dio) ima mnogo mana, pa tako imamo animaciju koja je mješavina kopjuterske, ala "Masters of the Universe" (jednostavan crtež u malo poboljšanoj verziji) i kvazi manga štiha sa američkim pristupom (vjerujte mi loša kombinacija)
- filmu fali prave horor muzike da naglasi napetost nekih situacija
- režija je neisgurna i odrađena da se samo odradi (iako par scena je stvarno dobro izgleda što zbog koljaže što zbog kuta kamere)
- "Alien" (1979) kopija u dosta segmenata tijekom filma (intro filma, ugođaj, izgled broda, korporacija sumnjivog cilja, nepoznati vanzemaljski objekt na naizgled napuštenoj planeti...) i to izraženo tako da iritira

Završna riječ:
Iako je ovo pravi animirani film za odrasle (ne nije pornić!!!) ili za one koji se tako osjećaju, iskreno film me je razočarao i dobar je samo za jedanput pogledati onako malo da se odmaknete od filmova.
Kad se monsteri pojave film je dobar, a kad ih nema sve je nekako monotono. Ono dobro u filmu jeste što film posuđuje neke klasične elemente od kultnih filmova:
John Carpenter's "The Thing" (1982) - izgled čudovišta
"Alien" (1979) - snažni ženski lik (jedino pozitivno što se tiče kopiranaj ovog filma)

Sam film nije tip filma kao što je mnogo bolji "Wicked City" (1987), a koji ima dosta sličnosti u pogledu monstera koji se baziraju na monstera iz Carpenterovg filma. Možda najviše što me smeta jeste to što su realizatori filma napravili animirani film u manga stilu ali sa zapadnjačkim prenaglašenim elementima.
Preporučam samo ljudima koji će odigrati dotičnu video igricu, kao uvod u pravi horor koji vas u njoj očekuje, i tvrdokornim ljubiteljima horor žanra, koji mogu prežvakati i loš scenarij i lošu radnju....


Strelica prikazuje vaš dolazak tj. početak video igre