subota, 11.10.2008.
The Cottage (2008)

Ljetnikovac (2008)

Produkcija: Pathé / Steel Mill Pictures / UK Film Council
Redatelj i scenarist: Paul Andrew Williams

Glume:
Andy Serkis (David).............................Reece Shearsmith (Peter)
Jennifer Ellison (Tracey)......................Steven O'Donnell (Andrew)
Doug Bradley (Seljak s psom).............Dave Legeno (The Farmer)


Film je izašao u kina u Velikoj Britaniji 14. ožujka, 2008 godine
Trajanje: 92 minute
Buđet: oko 2,5 milijuna Ł
Zarada: 600 000 Ł
Site filma...
Site soundtracka
Foršpan filma


Cameo pojava Douga Bradleya (Pinhead iz "Hellraiser" serijala) je samo šlag na torti i dobar uvod u drugi dio filma (iako koliko sam vidio neki kritičari ne gledaju taj cameo baš blagonaklono)

SADRŽAJ:
"- Dva brata sitni kriminalac David i smotani Peter kidnapiraju mladu djevojku Tracey, koja je kći lokalnog mafijaša, zbog otkupnine od 100 000 funti. Ubrzo otimca postane fijasko, a Tracy uspije pobijeći i za taoca uzeti Petera. No, zaglave na jednom naizgled napuštenom seoskom imanju. David se daje u potragu za bratom, a kad ih sustigne spoznaje da osim njih troje postoji još netko...poremećeni deformirani farmer, koji je vlasnik mjesta, ali ujedno i serijski ubojica. A kako su David, Peter i Tracy na njegovom posjedu tako su oni njegove nove mete... Hoće li se uspijeti izvući iz nevolje u koju su se sami uvalili?"

RECENZIJA:
- Vjerujem da ste upoznati s činjenicom da najbolje horor komedije u zadnjih 3-4 godine dolaze upravo iz Ujedinjenog Kraljevstva. To su dokazali filmovi poput "Dog Soldiers" (2002) Neila Marshala, no najviše zahvalnosti možemo izreći dvojcu Simon Pegg - Edgar Wright zbog njihovih maestralno izvedenih horor komedija - "Shaun of the Dead" (2004) i "Hot Fuzz" (2007).
Pred vama je još jedan izadanak jako dobre britanske horor komedije.


Peter, Tracy i David će uskoro susresti Farmera...

O glumcima:
Ono što prvo zapada u ovom filmu u oči jeste to što jednu od glavnih uloga ima Andy Serkis, kojeg malo ljudi zna kao glumca. Nekima ovo ime neće možda ništa predstavljati, ali ako kažem da je on bio osoba koja je posudila Gollumu glas u trilogiji "Lord of the Rings" (2001 - 03) i ne samo to on je bio model za Gollumove kretnje (također je radio kretnje King Konga u istimenom filmu iz 2005 godine Peter Jacksona, a ujedno je imao malu ulogu Lumpyja brodskog kuhara) onda će vam taj glumac biti donekle poznat.
Ono što sam želio reći jeste da sam tek sada bio svijedok, gledajući ovaj film, koliko je Andy jako dobar glumac, koji zaslužuje mnogo veće uloge, ako ne u američkim onda barem u britanskim A filmovima.
Njegov glumački stil je staložen, miran i proračunat, te se gledatelj jako brzo poistovjeti sa njegovim likom. Slična je stvar i sa Reeceom Shearsmithom, glumcem koji je do ovog filma bio poznatije lice britanskih serija i epizodist ili statist-glumac u nekim britanskim filmovima.
Reece je svoj dio odradio onako kako najbolje zna i to mu se vjerujem jako isplatilo za buduće glumačke aganžmane, jer dosta dugo vremena je prošlo u horor žanru gdje smo imali tako vjerodostojnog i stvarno smiješnog filmskog lika koji u svakoj svojoj humornoj sceni izvodi bravure koje gledatelju izmamljuje osmjeh. Za kraj bih spomenuo i slatku Jennifer Ellison, koja je i možda najslabija karika u glumačkom kadru, no to se u filmu može i zanemariti najviše zbog uloge koje i nije mogla bolje biti odglumljena.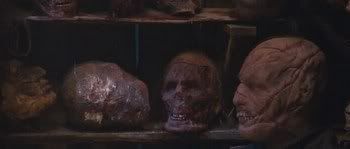 Pitanje za 100 kn: Možete li na ovoj slici pogoditi gdje je Farmer tj. gl. ubojica filma?

O samom filmu:
The Cottage ili kako sam ja to (ne)spretno preveo "Ljetnikovac" započinje kao krimi komedija (prvi dio filma) ala "Fargo" (1996) i to iz onog malo vedrijeg kuta, a završava (drugi dio filma) kao čistokrvni izdanak slasher filma ala "Behind the Mask: The Rise of Leslie Vernon" (2006).
Štoviše film je sadržajno bogatiji humorom od filma "Severance" (2006) i mnogo bolji predstavnik slasher žanra nego je to "Hatchet" (2007), dok jedina zamjerka filmu s moje strane može biti ta da scenarij filma ima dva-tri mala propusta u vezi Tracy (njena brbljavost i njena rana koja je ozbiljna, a ona se šeće kao da se porezala).
Ako bismo zašli u dublju analizu onda bih se usudio reći kako je gl. negativac britanska verzija Victora Crowleya (gl. negativac filma "Hatchet") čija je nesretna sudbina jako slična onoj The Farmera (deformacija, nesretni slučaj zbog kojeg ima deformaciju lica...). Isto tako The Farmer ima mnogo sličnosti sa Letherfaceom (skida ubijenima kožu sa lica da bi je sam nosio, deformacija lica) i kanibalima iz oba "Worng Turn" filma (ovo je važno za film pa neću otkrivati detalje, ali tko je gledao ove filmove znat će što mislim).
Uglavnom, ovaj film je odlična crna horor komedija sa svim potrebitim elementima (humor, gore, gluma, efekti, ugođaj, soundtrack) što je čine definitivno jednim od najboljih horor filmova ove godine. Iako, nije toliko razglašen kao većina drugih i mnogo slabijih horora ovaj film zavrijeđuje vašu punu pažnju... Horor ljubci navalite, jer nećete zažaliti. Slasher žanr i dalje živi.

p.s. - sačekajte kraj odjavne špice, jer tada slijedi još jedna kratka, ali efikasna scena...

THE SCENA:
- Peterov strah od noćnih leptira (ludilo scena, jer se Peter nađe u sobi punoj njih)
- kad se Peter i Tracy nađu u dvorištu i imaju stvarno krvavi okršaj sa Farmerom (mogu reći samo to da možete vidjeti skoro istu scenu sa lopatom kao u "Day of the Dead" (1985))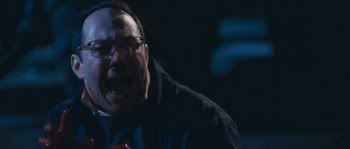 Peter nam govori koji strah, a i bol proživljava u borbi sa Farmerom

- Farmer uzima trofej na način kako to Predator radi