utorak, 07.10.2008.
Feast II: Sloppy Seconds (2008)

Feast 2: Nemarne Sekunde (2008)

Produkcija: Neo Art & Logic
Redatelj: John Gulager

Glume:
Jenny Wade (Honey Pie).............................Clu Gulager (Bartender)
Diane Goldner (Biker Queen)......................Martin Klebba (Thunder)
Carl Anthony Payne II (Slasher)...................Tom Gulager (Greg)

Film izlazi direkt na DVD 07. listopada, 2008 godine
Trajanje: 95 minuta
Buđet: 2 000 000 $
Foršpan filma...

SADRŽAJ:
"- Čudovišta oštrih mnogobrojnih zubiju su se vratila i ovaj put su nenormalno gladna, ali i napaljena. Nakon što izvrše masakr nad stanovnicima jednog malog gradića, ostane im mala grupica koja odoljeva njihovim mnogobrojnim nasrtajima. Nesložna i moralno upitna grupa preživijelih ima samo jedno na pameti - preživjeti..., ali hoće li im nagon za preživljavanjem biti dovoljan u krvoproliću koje ih očekuje?"


ljepša polovica junaka ovog hororčića

RECENZIJA:
- Nakon što smo prije dvije godine imali prlike vidjeti prvi dio i to pod imenom "Feast" ove godine nam je stigao i nastavak. Kako je mnogo horor ljubitelja bilo ugodno izenađeno viđenim u prvjencu svi su željno očekivali (moram reći da sam i ja bio među tom skupinom jer je prvi dio bio jako dobar horor film) i nastavak. A sada kad je došao red je na meni da vam kažem je li opravdao očekivanja...

Neću okolišati nego ću reći da uopće nije opravdao moja očekivanja, a sam film svrstavam u kategoriju najvećih razočarenja 2008 godine (kao recimo "The Happening").

Što valja kod filma:
- specijalni efekti su dobro odrađeni i film ima dosta krupnih planova čudovišta; također gore scena ne fali, a krv teče u potocima
- film ima par scena u kojima se može uživati, ali i nasmijati (izdvajam - prdac obdukcija scena, ševa mačke i par izjava Barmena kojeg glumi legenda Clu Gulager)
- osim što vidimo silovanje mačke od strane napaljenog čudovišta imamo dobro zamišljenu i šokantnu scenu sa jednim djetetom i čudovištima (neću odavati detalje da ne pokvarim gledanje)


Mini Me vs. Monsteri na bazi Zekoslava Mrkve

Što ne valja kod filma:
stvarno ne znam gdje da počnem, ali evo osnovnih negativnosti:
- scenarij je bedasto i aljkavo napisan, a sama priča je totalno nerealna, pa tako cijeli film izgleda kao konfuzno razbacana skupina filmskih scena koje bi trebale biti film
- likovi nezanimljivi i bljutavi (pogotovo Honey Pie i Bartender), a gluma očajno loša i ispod ranga nekog ŽNJ filma
- montaža je jadna, a trešnja kamere neprihvatljiva za mlado ljudsko oko (u nekim scenama je to tako brzo da oči počnu boljeti od brzo serviranih scena, a uz to se ništa ne od brzine ne uspijeva vidjeti)
- također neke scene filma nemaju veze sa zdravim razumom i toliko su sulude da vam se dođe smijati (scena sna, vidi dole...), a kada ih se gleda imate dojam da ste na lošem 'tripu' dok gledate neki nerazumljivi eksperimentalni film Andya Warhola iz 1973 godine
- kako je scenarij bedast radnje koje rade neki likovi u filmu su isto tako glupe i bedaste (npr. scena kad Honey Pie žarko želi naći zaklon u trgovini, a kad to nakon velike muke uspije opet želi pobijeći van (?!??) i to kroz neprobojno staklo, a ne kroz lako krhki izlog, a vjerujte mi da toga ima mnogo u filmu)
- čudovišta su najbolji dio filma, ali ne mogu se odati dojmu da kad mogu hitnuti automobil u zrak (viisoookoooo!!!! WTF???), a ne mogu kandžama rasparati tanka limena vrata garaže
- uvod koji objašnjava likove u filmu je napravljen amaterski (za razliku od fenomenalnog uvoda u prvodm dijelu)
- dobro zamišljenu i šokantnu scenu sa jednim djetetom i čudovištima (neću odavati detalje da ne pokvarim gledanje) je redatelj John Gulager uništio nepotrebnim slow motionom (opet ću reći WTF???), pa sam se tu uhvatio u mislima kako je John zaboravio osnove snimanja filma
- film ima pretjerano nabacanih gore scena koje gube na značaju, jer nisu pravilno upotrebljene, a da ne govorim o nepotrebnoj sceni obdukcije čudovišta kojoj se ne zna svrha osim da se prikaže filmski neukus (ovdje je pretjerivanje otišlo do neslućenih visina), a trebalo je biti kobajage smiješno
- lik Barmena je neshvatljivo loše osmišljen - u jednoj sceni je na samrti (u prvom dijelu je umro od srčanog!!! glupani od scenarista), a već u drugoj ubija Boga u Honey Pie u nepotrebnoj i razvučenoj sceni prebijanja, da bi onda opet bio na samrti i jedva se vukao cijeli film
- Honey Pie je trebala kao biti gl. junakinja, a bogme niti je to niti je uopće zanimljiv lik, već je samo stavljena tu onako da stoji jer je bila u prvom dijelu (kao i Barmen Clua Gulagera)...a čak je pokazala odlike nesalomivosti kad ju Barmen baci sa 2 ili 3 kata na leđa a njoj u sljedećem trenutku ništa...nit da malo zašepa iako je baćena sa velike visine

Završna riječ:
- Negativne strane filma bih mogao nabrajati do sutra, ali to nije poanta, pa sam nabrojao one najvažnije koje su me jako bole u oči. Kako bilo John Gulager (sin glumca Clua, koji glumi Barmena) je izgleda ipak jedan od redatelja kojem se posrećilo sa prvjencem (među njima je i Tobe Hooper), a sa ovim filmom je to i dokazao.
Tako da se sada nadam da nesretni treći dio nikada ne ugleda svijetla naših videoteka.
Ovaj film je čisto sranje i baš mi je žao što sam ga gledao i tako izgubio nešto malo više od 95 minuta svog života na ovakav film. Bolje vam je ponoviti gradivo i gledati nanovo prvi dio, jer taj film je zasluženo bio jedan od najboljih horor filmova u 2006 godini...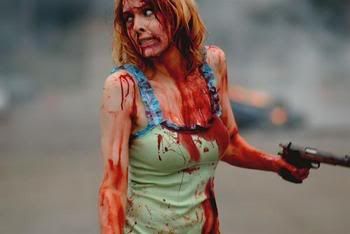 Honey Pie glavna junakinja, koja to nije u ovom filmu...a moglo se i bez nje, i bez Barmena...i bez ovog filma