ponedjeljak, 15.09.2008.
The Monster Squad (1987)

Odred za Čudovišta (1987)

Produkcija: Home Box Office (HBO) / Keith Barish Productions / TAFT Entertainment Pictures
Redatelj: Fred Dekker
Scenarij: Shane Black & Fred Dekker
Kreator čudovišta: Stan Winston i njegov Stan Winston Studio

Glume:
Andre Gower (Sean Crenshaw)...........................Duncan Regehr (grof Dracula)
Robby Kiger (Patrick)...........................................Tom Noonan (Frankensteinovo čudovište)
Brent Chalem (Horace)........................................Carl Thibault (Wolfman) / Jonathan Gries (Wolfman kao čovjek)
Ryan Lambert (Rudy)...........................................Tom Woodruff Jr. (Gill-man)
Michael Faustino (Eugene)...................................Michael MacKay (Mumija)
Ashley Bank (Phoebe Crenshaw)........................Stephen Macht (Det. Del Crenshaw)

Film je izašao u kina 14. kolovoza, 1987 godine
Trajanje: 82 minute
Buđet: 12 mlijuna $
Zarada: 3 770 000 $
Nagrade:
1988 godina - osvojio Srebrnog Gavrana na "Brussels International Festival of Fantasy Film"; te nagradu "Young Artist Award" (za okupljenu ekipu mladih glumaca u Filmu ili TV seriji) i nagradu Saturn za najbolje kostime (Michael W. Hoffman / Aggie Lyon), najbolja muzika (Bruce Broughton), najbolji sporedni glumac (Duncan Regehr) i najbolja prezentacija mladog glumca (Andre Gower)
2008 godina - osvojio Saturn nagradu za najbolji DVD izlazak nekog filmskog klasika
Foršpan 20th Anniversary Edition DVD-a


Ekipa na okupu - WolfMan, Gill-Man, Mumija i Frankie

SADRŽAJ:
"- The Monster Squad je maleno društvo dječaka i prijatelja, koji obožavaju filmove o čudovištima.i po cijele dane samo o njima pričaju u svojoj kućici na stablu. No, kada u njihov maleni gradić stigne pravi grof Drakula, koji uspije oživjeti sva legendarna čudovišta - Vukodlaka, Čudovište iz Crne Lagune, Mumiju i Frankensteinovo čudovište, stvari postaju čupave i opake za sve. Naime Dracula želi uz pomoć amuleta koji sadržava koncentrirano dobro zavladati svijetom.
Ali nije računao na Odred za Čudovišta i to u sastavu:
12-godišnjeg Seana Crenshawa, koji je vođa grupe i njegovog najboljeg prijatelja Patricka, bucmastog Horacea, najstarijeg dečka u skupini Rudya, Seanove male seke Phoebe i malešnog Eugenea.
No, hoće li njihova složnost, odvažnost i veliko znanje o protivnicima biti prevaga koja će biti dovoljna da se legendarna čudovišta pobijede?"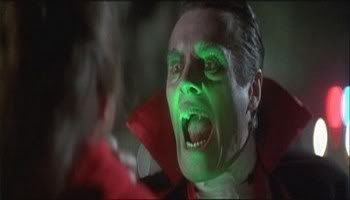 I ne tako strašni Dracula

RECENZIJA:
- Evo filma za kojeg bi trebali znati ne samo horor ljubci nego i djeca. "The Monster Squad" su "The Goonies" (1985) horor žanra tj. ovo je čistokrvni film za djecu i to sa najdražim Universalovim čudovištima - Draculom, Frankenstainom, WolfManom, Mumijom i Čudovištem iz Crne Lagune.
Da svi su tu i kuju urotu u osvajanju svijeta, a na putu im je skupina djece.
Sigurno ste svi zamišljali dok ste bili djeca kako se borite baš protiv tih starih i neuništivih čudovišta, e pa ovaj film upražnjava te fantazije u potpunosti.

Kao prvo na samom filmu se okupila odlična ekipa - redatelj i jedan od scenarista Fred Dekker (scenarist i redatelj "Night of the Creeps" !986)), drugi scenarist Shane Black (scenarist filmova - The Long Kiss Goodnight (1996), Last Action Hero (1993), The Last Boy Scout (1991) i svi djelovi Smrtonosnog Oružja), spcijalni efekti - Stan Winston Studio...

Baš ti specijalni efekti izgledaju odlično napravljeni (što reći nego Stan Winston....valjda njegovo ime sve govori) i to u pravoj posveti starih filmova iz davnih 30-tih, 40-tih i 50-tih. Meni samom su se najviše svidjeli WolfMan i Gill-Man. Iako, scenarij nije remek - djelo jako je dobro napisan (treba se gledati da je da ima oznako PG-13) sa samo jednom malom mrljom (Phoebe kao djevica koja treba spasiti svijet...to mi je nekako malo previše za dječije uši zar nije?).
Glumačka ekipa je napravila jako dobar posao:
- Tom Noonan kao neshvaćeni Frankenstein jako dobro odigrava svoju ulogu
- Ashley Bank kao mala seka Phoebe je pravi dragulj filma (posebice izdvajam upadice bratu)
- cameo pojava Davida Provala kao pilota je neobična, kratka ali kod mene upečatljiva, te vječitog 'školskog nasilnika' u filmovima Jasona Herveya (danas većinom glumi u TV serijama)
u glumačkom smslu ostatak dječijeg društva je napravilo dobar posao, tako da imamo onaj osjećaj prijateljskog zajedništva među svim dječijim likovima u filmu.


Osim one male crne mrlje u scenariju, jedini minus filma jeste sam Dracula, koji nije napravljen u strašnom tonu, već izgleda previše komično. Po meni bolje bi pasao Dracula iz "Van Helsinga" (2004) tj. glumac Richard Roxburgh (bez onih CGI efekata) i njegovo preglumljivanje.
Isto tako možda su malo bolje mogli iskoristiti Gill-Mana koji je ovdje bio više kao statist nego pravi strašni element (poput recimo WolfMana) i Draculine tri nevjeste.
Sam film uživa kutni status među horor ljubcima diljem svijeta (naravno i ja sam jedan od njih) no kod nekih renomiranih kritičara film je dobio slabe ocjene što me čudi.
Uglavnom vjerujem da su nakon 20 godina svi bili jako veseli kad je izašlo "Two-Disc 20th Anniversary Edition" DVD izdanje 2007 godine. Ja sam ga kupio odmah nakon što je izašao i uživao sam u ponuđenom:
intervjui sa ekipom i glumcima filma ("Monster Squad Forever" u trajanju od 87 minuta), filmski detalji (snimanje filma, efekti, dogodovštine sa snimanja), eksluzivni intervju sa Frankenstainom iz 1986 i ta seta snimanja (8 minuta), 8 minuta izbrisanih scena, reklame filma, glaerije... Bogato DVD izdanje i veliki plus za glavonje iz Lionsgatea (bravo).

Odred za Čudovišta nije u rangu Goonija, no zasigurno mu je jako blizu od svih drugih i sličnih filmova. Ako tražite horor film za djecu koji će gledati cijela obitelj onda nema boljeg od ovog filma...jer vjerujem da će se svi lijepo zabaviti...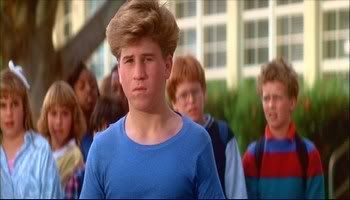 Jason Hervey kao školski nasilnik E.J.

(*u filmu nema niti kasapljenja, niti krvi, niti ičega lošeg za dječije nevine oči ili nečega što bi moglo iskvariti njihove male sive stanice)

Zanimljivosti u vezi filma (TRIVIA):
- prema redatelju Fredu Dekkeru u montaži je izbačeno oko 13 minuta filma jer glavonje u studiju nisu željeli da film traje više od 90 minuta
- Ashley Bank je odbila ulogu u "Fatal Attraction" (1987) da bi mogla glumiti malu Phoebe
- lice WolfMana (vukodlaka) modelirano je prema legendi Stanu Winstonu
- u kućici na stablu tj. u klubu Odreda za Čudovišta vidljiv je plakat filma Luca Fulcia "Zombi" (1979)
- scena kad Dracula diže malu Phoebe je snimljena odprve, jer glumac Duncan Regehr nije želio da Ashley Bank proživljava strah od njegovih crvenih očiju od leća i plastičnih vampirskih zubiju, a kad je mala Asley pitala redatelja kad treba vrisnuti...on joj je rekao - znat ćeš...
- pjesma sa odjavne špice ima dvije verzije - kako svi znamo iz razdoblja VHS-a na odjavnoj je špici jedan refren išao ovako: "...the creature swimmin' in the pool", dok iz DVD verzije (2007) refren ide ovako: "...the Creature From The Black Lagoon"
- Liam Neeson je trebao glumiti Draculu no kasnije ulogu nije dobio, iako je plaćen za snimanje nekih scena koje nikada nisu snimljene (ovo je prije nego je Liam postao popularan)

Zanimljive izjave u filmu (QUOTES):

Eugene: "- Čudovište mi je ukralo čokoladicu!"

Sean: "- Gledaj, Wolfman ne treba ići na posao. On nije momak."
Patrick: "- Ma, što to govoriš? On šeta uokolo, on nosi gaće."
Sean: "- On mora nositi gaće. Ti su filmovi napravljeni u 40-tima. On ih mora nositi tako da mu ne vidiš...vučjeg pišu."

THE SCENA:
film ima par jako dobrih scena
- Wolfman's got nards...
- WolfMan transformacija
- Phoebe virgin & Horace vs. Gill-Man

R.I.P
Brent Chalem (Horace) - 07. veljače, 1975 - 09. prosinac, 1997 (upala pluća)
Stan Winston