ponedjeljak, 01.09.2008.
C.H.U.D. aka Cannibalistic Humanoid Underground Dweller (1984)

C.H.U.D (1984)

Produkcija: C.H.U.D. Productions / New World Pictures
Redatelj: Douglas Cheek

Glume:
John Heard (George Cooper)............................Daniel Stern (A.J. 'The Reverend' Shepherd)
Christopher Curry (kapetan Bosch)..................Kim Greist (Lauren Daniels)
Eddie Jones (šef O'Brien).................................George Martin (Wilson)
John Goodman (policajac u buffetu).................Jay Thomas (policajac u buffetu)

Film je izašao u kina 31. kolovoza, 1984 godine.
Trajanje: 88 minuta / 96 minuta (Director's cut)
Buđet: oko 1 250 000 $
Zarada: 3 412 497 $ (u prvom tjednu prikazivanja zarada - 1,7 milijuna $)
Stranice o filmu...
Nagrade:
1985 godina - osvojio nagradu za najbolji fantazijski film na "Brussels International Festival of Fantasy Film" i zaradio nominaciju Grand Prize na "Avoriaz Fantastic Film Festival"
Foršpan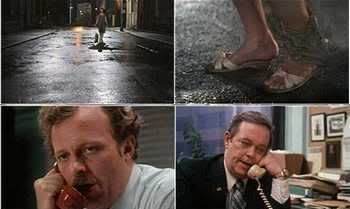 gornje dvije slike su sam početak filma...

SADRŽAJ:
"- Policija New Yorka počinje dobivati prijave nestanaka beskućnika, no za sada ti čudni slučajevi ostaju nerješeni. Na njima radi i kapetan Bosch, kojem je u isto to vrijeme nestala žena.
Iako, policija tapka u mraku slučajeve istražuje prijatelj beskućnika A. J., koji polako otkriva da se iza nestanaka skrivaju mutanti-ljudožderi nastali radioaktivnim otpadom kojeg je tu pospremio vladin čovjek Wilson, koji radi za Nuclear Regulatory Commission.
Nakon što Bosch slučajno otkrije svoju mrtvu ženu udružuje se sa A. J.- om u otkrivanju vladinih zataškavanja. Sve policijske postaje su pod uzbunom nakon što mutanti napadnu jedan buffet i kad usporedno tome krene operacija u kojoj bi trebali očistiti plinom sve dijelove kanalizacije i tako uništiti mutante. Igrom slučaja fotograf George Cooper i A.J. su završili u kanalizacijama, a za petama su im mutanti... Hoće li se njih dvoje na vrijeme izvući, hoće li plin pobiti baš sve mutante i hoće li fotografova djevojka manekenka uspijeti izbjeći napadu mutanta koji je došao iz podruma njene zgrade?"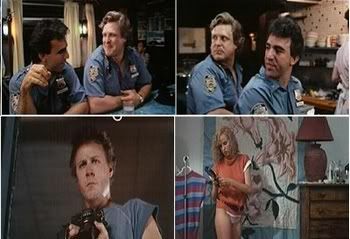 Goodman i Thomas u cameu (gornje dvije slike)...

RECENZIJA:
"- Kada bi ovaj film preveo na naš jezik i to punim imenom on bi glasio nekako ovako - Kanibalističko Humanoidni Stanovnici Podzemlja. Sam naslov zove gledatelja na gledanje zar ne?
Činjenica je da volim ovakve filmove koji spadaju u tzv. Creature Features (a ne u Monster movie kako ga neki trpaju) gdje uvijek neke beštije napadaju ljude. Pa, pogledajmo što (ne)valja kod ovog filma:

Što valja kod filma:
- najprije sama priča: mutanti nastali od radioaktivnog otpada koji žive u kanalizacijama ispod New Yorka i uz to su ljudožderi...urbana legenda, pomalo izlizana, ali uvijek pali
- film ima jako dobru glumačku ekipu (većina danas poznatih glumaca su tek započinjali svoje blistave glumačke karijere), na čelu sa Johnom Heardom (tata od Kevina u "Sam u Kući") i Danielom Sternom (Marv u "Sam u Kući")...
- gledajući da je ovo film sa skromnim buđetom (ovo naglašavam) specijalni efekti izgledaju jako dobro, iako su čudovišta jako solidno napravljena (facijalni dio je odličan, dok se na njihovim kandžastim rukama moglo bolje poraditi) ono što se najviše izdvaja je gore element (trupla, otkinute glave i lijepa lutka obješenog psića)...a ako vas zanima malo više o tim stvarima bacite oko na galeriju
- pojavljivanja čudovišta iako reducirana zbog buđeta su jako dobra i efektna
- karakterizacija kapetana Boscha mi se jako svidjela...nekako odstupa od jednobojnih karakterizacija u sličnim filmovima
- cameo pojava Johna Goodmana (tad još nije bio tako debeo) i Jaya Thomasa...i efektna smrt u buffetu od strane par gladnih mutanata




Što ne valja kod filma:
- slabo iskorištena pojava čudovišta u filmu
- male rupe u scenariju (čitao sam da se mnogo prčkalo po njemu i da su se neke orginalne i jako dobre ideje odbacile)
- nisu izbjegavani klišeji koji odmažu filmu
- filmu nedostaje ono nešto da kod mene bude u rangu remek-djela...možda da je nekako bolje dorađen, da je imao nekako jeziviji ugođaj, neke scene malo bolje odrađene...

Završna riječ:
Uglavnom film mi se svidio. Ima svega po malo, a još ako se pogleda godina (84') efekti su više nego solidni. Iako, film nije u rangu "Humanoids from the Deep" (1980) s pravom je zaslužio kultni status koji uživa među horor ljubcima (a bogme nije bez veze zaradio u prvom tjednu kino prikazivanja cijeli svoj buđet).
A kad bi se našla prava osoba ne bih imao ništa protiv jednog dobrog rimjeka (šteta što je Rob Zombie odustao, jer ovo bi mogao biti njegov prvi pravi film).
Ako imate vremena predlažem da najprije pogledate ovaj film a onda "Humanoids from the Deep" (1980) u jednom malom filmskom maratonu...Nećete zažaliti.


jedan od CHUD ekipe...

Zanimljivosti u vezi filma (TRIVIA):
- Robert Englund je trebao glumiti lik A.J.-a tj. 'The Reverend' Shepherd, ali je morao odustati zbog uloge Freddya Krugera u "A Nightmare On Elm Street"
- Jay Thomas imao svoj filmski debi
- film je imao mnoge reference u kulturi: filmovi (Clerks II, serija "Angel", a u "Donnie Darku" je trebao biti film u kinu no umjesto njega je išao "Evil Dead"...), te video igre i glazba...
crtana serija "The Simpsons" imaju najviše referenci na ovaj film i to u epizodama:
- "The City of New York Vs. Homer Simpson" - gdje je Homer upao u kanalizaciju i rekao: "...and that's when the C.H.U.D.s came at me."
- "Hello Gutter, Hello Fadder" - Homer propada kroz zemlju pa vidi sva poznata podzemna bića Morloke, Ljude Krtice i CHUD mutante...
uz sve to bilo je kroz epizode par manjih referenci na naslov CHUD

THE SCENA:
- kad Wilsonov agent pojede kovanicu od 25 centa zaprepaštenom A.J. -eu dok je pokušao telefonirati novinarima


Prejebeno...

p.s. - the unedited version of the shower scene (with Griest's body double) appears as an easter egg on the DVD. (From the main menu, click on Extras. At the top of the Extras menu is 'Trailer'. Click the Up button on your remote, and the eyes of the C.H.U.D. in the background will be highlighted. Click Enter, and the 'Unabridged Scene' will play.)