utorak, 26.08.2008.
The Prowler a.k.a Rosemary's Killer (1981)

Protuha ili Rosemaryn Ubojica (1981)

Produkcija: Graduation
Redatelj: Joseph Zito

Glume:
Vicky Dawson........................(Pam MacDonald)
Christopher Goutman............(Mark London)
Lawrence Tierney..................(Maj. Chatham)
Farley Granger.......................(Šerif George Fraser)
Peter Giuliano........................(The Prowler)

Film je izašao u kina 06. studenog, 1981 godine
Trajanje: 89 minuta (uncut verzija) / 87 minuta (cut verzija)
Buđet: oko 1 000 000 $
Foršpan filma


Glavni junaci filma - Mark i Pam

SADRŽAJ:
"- Nakon što je primio "Dear John..." pismo od svoje djevojke veteran II svjetskog rata se vraća svome domu u Avalon Bay, New Jersey, baš na vrijeme da sudjeluje na godišnjem plesu diplomaca.
Tamo ubija svoju djevojku Francis Rosemary Chatham i njenog novog dečka Roya, a ubojstvo ostaje neriješeno...
36 godina kasnije točnije 28. lipnja, 1980 godine održava se novi godišnji ples diplomaca i to prvi nakon misterioznog ubojstva dvoje klinaca iz 1945 godine.
No, ubojica maskiran u američku vojnu uniformu iz II svj. rata se vratio i to sa nakanom da pobije sve na plesu. Žrtve padaju jedna za drugom umirući u groznim smrtima, dok zamjenik šerifa Mark London ne počne otkrivati čudne stvari... Na kraju ubojica počne proganjati i njegovu simpatiju Pam MacDonald...
Hoće li maskirani ubojica uspijeti srediti i njih dvoje i tako ih staviti u svoj popis već ubijenih...?"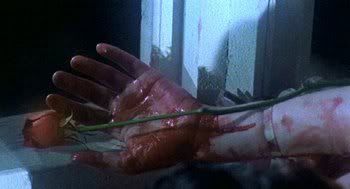 Zaštiti znak koji ubojica ostavlja na tijelima ubijenih ruža (Rosemary...shvaćate)

RECENZIJA:
Najprije da vam kažem da ovaj film nema veze sa Marvelovim superjunakom - The Prowlerom (nastao 1969 godine).
Ovih zadnjih nekoliko dana jako sam raspoložen za slasher filmove, a kako ste mogli vidjeti prije dva posta recenziju jednoga ste već imali priliku pročitati. Ovaj današnji je također čistokrvni slasher i to u doslovnom smislu riječi. Kako sam u gledanju ovakvih filmova na nekih 70% pogledanih odlučio sam taj postotak povećati čim prije. Odmah ću reći da je ovo pristojan slasher film iz 80-tih i ako ga uspoređujemo sa ovim novi slasherima iz 21 stoljeća...on je kilometrima ispred njih. No, da ne duljim evo što valja i što ne valja kod samog filma:

Što valja kod filma:
- specijalni efekti koje je radio legendarni Tom Savini (prema njegovom priznanju ovaj film sadrži njegov najbolji rad u dosadašnjoj karijeri) su i za današnje pojmove fenomenalni i odlično odrađeni
- gore elemenata u 'killovima' ne nedostaje, također su jako maštoviti (prerezani vratovi bajunetom, ubodi vilama, ubod bajunetom u glavu, sačmaricom raznesavanje glave)
- ubojica izgleda jako dobro i agilno, te je jako učinkovit
- ugođaj u filmu kad je u blizini ubojica je odličan (ovdje naglašavam scenu kad se Pam vrati u svoju studensku sobu da promjeni zaprljanu haljinu, a ubojica je još u kupaonici sa njenim ubijenim prijateljima); kadrovi kad ubojica ganja Pam su odlični (pogotovo akd ubojica silazi niz stepenice...)
- ne znam jel se varam, ali čini mi se da je ovo prvi i jedini slasher film gdje ubojica puca i ubija svoju žrtvu iz vatrenog oružja
- isto tako odlično je napravljena scena kad se diplomci oblaće za ples a kadrovi se izmjenjuju čas na njih čas na oblačenje ubojice u ala Rambo stilu (samo bez onog crvenog podveza an glavi)
- izdavajam dva prejebena killa - kad ubojica ubode tipa bajunetom u gornji dio glave a oštrica mu izađe na donji dio brade i predivna scena eksplozije glave od strane sačamrice (najbolji dio filma)


Što ne valja kod filma:
- glavni glumci su mogli bolje odglumiti svoje uloge, iako su nam pružili solidnu preformansu
- film obiluje klišejima i zakonima slasher žanra, pa odmah na početku možemo otkriti tko je ubojica
- također "The Prowler" obiluje predugim i zamarujućim kadriranim sekvencama koje bi kao trebale naglasiti napetost, no to je trebalo malo bolje urediti sa kraćim sekvencama i naglašenom jezom
- sami kraj filma kad je sve već gotovo, redatelj Zito nesretno kopira zadnju scenu iz De Palmine "Carrie" (1976)...nepotrebno sa mog gledišta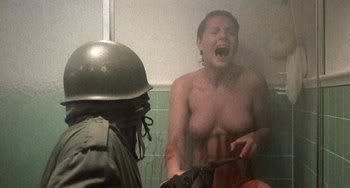 jedan od žestokih kilova ubojice (glumi ga Peter Giuliano)...samo ne znam zašto baš vile?

Završna riječ:
- Da nije efekata Toma Savinija ovo bi zasigurno bio jedan prosječan (sa oprezom bih upotrijebio i riječ mlak) slasher film. Joseph Zito (redatelj "Friday the 13th: The Final Chapter" (1984), i gdje je obavio mnogo bolji posao ako se gleda cijelokupni film) nije kompletan redatelj, no ima talenta da stvori odgovarajući ugođaj što je u nekim scenama to jako dobro pokazao.
Ono što je kod ovog filma najbolje jesu ubojstva i za razliku od "My Bloody Valentine" (1981) kojeg su cenzori uništili u scenama 'killova' The Minera, ovdje se sve vidi...da djeco...ponavljam sve se vidi i to polako sa svim onim krvavim detaljima (naglašavam da Uncut verzija ima 2 minute duže tih gore scena).
Iako, po mome sudu sam "The Prowler" kao cijelokupni film nije bolji od "The Burning" (1981) i "My Bloody Valentine" (sa kojim ima sličnu radnju i slično inovativno obučenog ubojicu) vrijedan je gledanja.
Sam film upada u 10 najboljih slashera svih vremena po mojoj procjeni (a ona eksplozija glave u 5 naj na mojoj listi...to znači male izmjene u onoj mojoj listi od prošle godine). Gledati čim vam se ukaže prilika...

THE SCENA:
- legendarna scena bajunet kroz glavu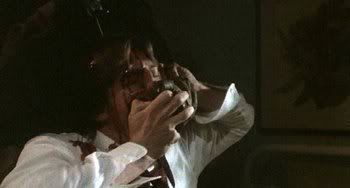 p.s. - nisam želio pokvariti gledanje kraja filma pa nisam stavio eksploziju glave...a ako ima onih koji ne mogu izdržati bacite oko ovdje...