nedjelja, 10.08.2008.
Fade to Black (1980)

Iščeznuti u crnilo (1980)

Redatelj i scenarist: Vernon Zimmerman
Produkcija: Leisure Investments / Movie Ventures

Glume:
Dennis Christopher (Eric Binford).................Tim Thomerson (Jerry Moriarty)
Gwynne Gilford (Anne Oshenbull).................Norman Burton (Marty Berger)
Linda Kerridge (Marilyn O'Connor)................Mickey Rourke (Richie)

Film je izašao u kina 14. listopada, 1980 godine
Trajanje: 102 minute
Nagrade:
1981 godina - osvojio nagradu Saturn za najbolju sporednu glumicu (Eve Brent), te imao nominacije u sljedećim kategorijama: najbolji film, najbolja režija, najbolja šminka (Colin Booker), najbolji glumac, najbolja kostimografija ( Doris Lynn) i najbolju sporednu glumicu (Linda Kerridge)
Foršpan filma...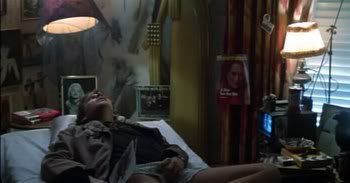 Da li se stvarno ovako samozadovoljavaju ekstremni filmofili...? (Eric mašta o M. Monroe)

SADRŽAJ:
"- Eric Binford je ovisnik o filmovima i usamljenik kojemu si filmovi jedini izvor zabave. Kad upozna djevojku Marilyn O'Connor koja nevjerojatno liči na Marilyn Monroe oni se vrlo brzo svide jedno drugome i dogovore se za spoj. Silom prilika djevojka bude spriječena i ostavlja Erica da ju čeka, taj njen nedolazak u njemu pobuđuje neuravnoteženost što dovodi do toga da počinje miješati svoje najdraže filmove sa stvarnim događajima, a potom se osvećuje svima koji su mu nažao učinili i to pomalo na neuobičajeni način - sve ih ubija oblačeći se u najpoznatije filmske likove Dracula, The Mummy, Hopalong Cassidy i Norman Bates...
Ali, sve to polako vuče nesretnog Erica prema tragičnom kraju..."

RECENZIJA:
"- Dugo sam naštimavao momenat kako bih sa ugodom i velikom pažnjom pogledao ovaj rani primjerak slashera i jedan od onih filmova iz tog meni omiljenog podžanra horora koji je bolji od mnogih današnjih iz A produkcije (npr. remake "Prom Night" i sl.), a da se tiču naravno slashera .
Jedna od velikih činjenica i posebnosti ovog filma jeste da je ovo jedan od onih rijetkih netipičnih slasher filmova iz slasher podžanra koji nema zlog ubojicu ala Myers ili Jason koji šeće uokolo i ubija nedužne tinejđere.
Ovdje je ubojica ujedno i gl. 'junak' filma - Eric Binford, no itekako se poistovjećujemo sa njegovim problemima dok lagano upada u stanje koje ga vodi u put bez povratka. Eric ima dosta poveznica sa junacima poput Carrie ili Willarda tj. sa likovima koji su gurnuti u stanje da više ne mogu kontrolirati bijes i ubilačke nakane prema ljudima koji se prema njima loše odnose i koji su itekako odgovorni za ubilački postupak koji bude u plahim junacima.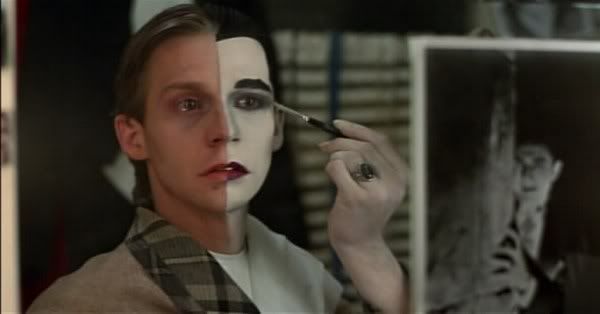 "- Zašto ne živiš u realnom svijetu kao svi mi ostali?" : kaže mu teta

Što valja kod filma:
- prvenstveno Dennis Christopher koji je najsvijetlija točka filma i koji je jako dobro svoju ulogu odigrao, pogotovo drugu polovicu filma
- ovo je film o filmovima (pogotovo onim klasičnim), te je ujedno i lijepa posveta ikonama klasika horora (Dracula, Mummy)
- dobar pokušaj da se snimi nešto malo drugačije, nešto što bi dovelo do osviježenja u horor žanru
- odlična šminka je ono što se odmah primjeti
- ovo je prvi film u kojem glumi Mickey Rourke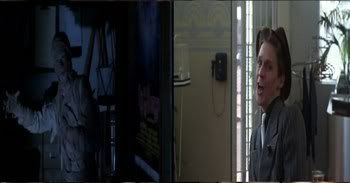 Mummy i James Cagney imitacija by Eric Binford

Što ne valja u filmu:
- film je više psihološka drama nego pravi horor tj. uopće nema neki izraženi horor element (jezu, stravu...i sl.)
- psihološki obrasci filma su trebali biti dublji i mnogo bolje scenaristički obrađeni
- cijeli scenarij je slabo napisan i sadrži dosta banalnih dijaloga
- ostali likovi su u filmu jednodimenzijalni i jako slabo karakterizirani, pa tako jako dobri Dennis Christopher ostaje sam, bez da mu se bilo koji glumac ili glumica u filmu uopće glumački približi (tj. da dobije potporu) i tako dodatno da na dubini naglašenih dramskih elemenata
- u nekim djelovima film postaje predug i dosadnjikav zbog scenarističkog praznog hoda; film se mogao smanjiti u montaži za sigurno 12 minuta (ako ne i više)

Završna riječ:
"- "Fade to Black" ili kako sam ga je preveo "Iščeznuti u crnilo" (thanks for advice elrania) nije iz ergele filmova kojima ćete se vraćati i uživati u njihovom gledanju. No, ovaj film ipak zaslužuje da ga se barem jedanput pogleda bar zbog toga što je jedan od prvih slashera, što ima Mickeya Rourkea u svojoj prvoj filmskoj ulozi, dobru glumu glavnog glumca i ponajviše maštovite i neobične načine ubijanja ubojice...
Pogledati i zaboraviti. Film definitivno zavrijeđuje remake...no ne neku sraćku nego pravi dobar remake film."

THE SCENA:
- Eric kao Hopalong Cassidy sređuje u revolveraškom dvoboju Mickeya Rourkea, po meni najboljoj sceni u film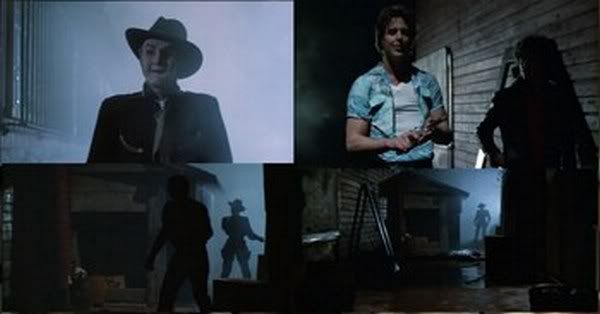 p.s. - samo ime filma aludira na sadržaj, jer riječ Fade to Black se odnosi na dio scenarija gdje jedna scena prelazi u drugu...