ponedjeljak, 04.08.2008.
Night of the Hell Hamsters (2006)

Noć Paklenih Hrčkova (2006)

Produkcija: Chameleon Pictures / Nimble Pictures
Redatelj: Paul Campion

Glume:
Stephanie Ratcliff...........Julie
Paul O'Neill.....................Karl

Film je izašao 23. rujna, 2006 godine (FantasyCon Short Film Showcase)
Trajanje: 16 minuta
Buđet: oko 10,000 Ł
Nagrade:
- osvojio nagradu za najboljeg redatelja na Festivalu Noći Kratkometražnog Horor Filma, Australija
Foršpan filma
Službena stranica
IMDb ocijena: 7.7/10 (70 glasova)


WTF is this Julie??

SADRŽAJ:
"- Tijekom jake olujne noći, mlada bejbisiterica Julie i njen momak Karl se počnu zafrkavati sa improviziranom pločom Ouija. Nakon prizivanja demona Spozgara, kojeg je Karl bez veze imenovao, a koji je prema perzijskoj mitologiji demon oluja, sve kreće jako čudnim putem...
Uskoro svi hrčci obitelji čijoj je djeci Julie bejbisiterica su opsjednuti zlim demonima i kreću u napad na dvoje mladih. Kad hrčci vrlo brzo srede i ubiju Karla preostaje im jedino još Julie.
No, Julie ima druge planove i želi preživjeti...tko će na kraju izvojevati pobijedu? Nepokolebljiva Julie ili zli i opaki mali krzneni glodavci?"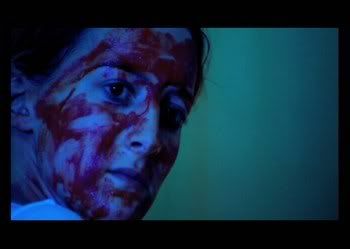 Krvava je borba protiv Paklenih Hrčkova...

RECENZIJA:
"- Lutam danas malo po netu kad spazim među hrpom novih i starih horora ime ovog kratkometražnog horor filma sa prejebenim naslovom - Night of the Hell Hamsters (2006).
I još kada sam vidio plakat filma...dobio sam želju da film pod hitno moram gledati.
Nakon što sam ga nabavio brzinom svijetlosti odmah sam ga i pogledao.
I ostao sam iznenađen dobro obavljenim poslom. Najprije jako velika pohvala ide samom ideji - hrčci kao glavni negativci..
Oni su glavne zvijezde ovog 16-minutnog filmića, pa iako se vidi da su to krpene lutke...izgledaju odlično za ovakvu vrstu filma (štoviše izgledaju bolje nego u nekim B horor filmovima sa dovoljnim buđetom, a gdje beštije izgledaju mnogo žalosnije). Sa onim svojim glasovima i podjebavanjima podsjećaju me na Gremline, no opaki su poput Crittersa što najbolje zna Karl, kojeg je samo jedan hrčak dobro osakatio (odgrizao mu prst i mošnje...).
Ali, izgleda da su ideju o Paklenim Hrčcima redatelj i njegovi scenaristi iscrpili, pa možemo i reći preslikali iz filma "Monty Python and the Holy Grail" (1975) i to iz one najpoznatije scene (dobro uz onu "Crnog Viteza") gdje 'ubojiti zecov' kolje Arthurove odane vitezove...mislim da vam ovo sve kaže zar ne? (ako netko nije gledao ovaj film Monthy Pythona...e jebeš ga onda).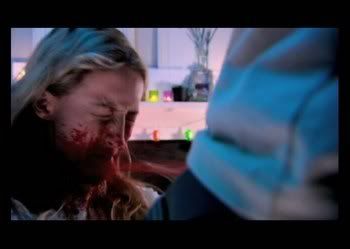 facial bloody 'cumshoot'

Glumci su dosta dobro svoj dio odradili (Paul O'Neill koji glumi Karla mi puno sliči na Davida Arquettea), ali ono što je meni jako dobro leglo jeste napetost u filmu, te jako dobro ozvučenje što poboljšava demonski ugođaj u filmu.
Gore elemenata ima mnogo za tih 16 minuta, pa tako će na svoje doći i oni koji vole splatter/gore scene. Tu opet do izražaja dolazi utjecaj filmova kao što su - Evil Dead serijal i BrainDead, jer "Noć Paklenih Hrčaka" ima mini krvave prizore koji se ne bi trebali stidjeti svojih starijih uzora.
Redatelj filma Paul Campion je majstor specijalnih efekata koji je radio na masu blockbustera kao što su - Lord of the Rings, 30 Days of Night, Sin City i sl. Njegovo majstorstvo je u bojanje tekstura filma, što se primjećuje u onoj sceni kad kap krvi padne na improviziranu Ouija ploču. Volio bih da redatelj uspije dobiti ponudu od nekog renomiranog studija da snimi dugometražni film sa malo žešćim specijalnim efektima, jer ovaj film je pokazao koliko se tu još stvari da iskoristiti za pravo remek djelo, koje će vrlo brzo dosegnuti kultni status (nešto recimo kao što je Samu Raimiju napravio "Within the Woods" (1978) za njegovu ED trilogiju, ali i samu redateljsku karijeru).

Uglavnom ovaj film se treba pogledati što prije kod pravih ljubitelja horor filma, ne samo da se uživa u slapstick/splatter/horor elementu, nego da i mladi filmaši pogledaju kako se sa malo love može snimiti nešto jako značajno i moćno.

THE SCENA:
- "Your boyfriend Karl sucks cocks in Hell!" : kaže levitirajući Pakleni Hrčak Julie.