utorak, 29.07.2008.
The Giant Claw (1957)

Džinovska Kandža (1957)

Produkcija: Clover Productions
Redatelj: Fred F. Sears

Glume:
Jeff Morrow (Mitch MacAfee)....................................Mara Corday (Sally Caldwell)
Morris Ankrum (gen. por. Edward Considine)..........Louis Merrill (Pierre Broussard)
Edgar Barrier (Dr. Karol Noymann)..........................Robert Shayne (gen. Van Buskirk)

Film je izašao u kina u lipnju 1957 godine
Trajanje: 75 minuta
Foršpan filma
*PAŽNJA VAŽNO - molim pogledati tek poslije pročitane recenzije da ne ubije dojam...unaprijed hvala


SADRŽAJ:
"- Tijekom pokusnog ispitivanja radara na njemu se ukaže neki neidentificirani leteći objek. Zračne snage odmah šalju svoje avione u izviđanje, no ne pronalaze ništa čudno iako se jedan od aviona gubi tijekom akcije.
Mitch MacAfee koji je opazio taj objekt na radaru je pred opomenom od svojih nadležnih, ali kad se počnu događati nerazjašnjeni nestanci drugih aviona u okolici stvari počinju dolaziti na svoje mjesto, jer se otkriva odgvorni krivac za razne nestanke.
Predhistorijska ptica gigantskih proporcija iz antimaterijske galaksije i svog ledenog doba od prije 17 milijuna počinje terorizirati New York. Ekipa na kojoj je na čelu Dr. Karol Noymann i Mitch MacAfee, te glavna časnička klika ubrzano rade na uništenju naizgled neuništivog letećeg predatora. Redom padaju zgrade Ujedinjenih Nacija i Empire State, koje svojim moćnim kljunom ptica velika poput bojnog broda mrvi i pretvara u ruševine. Hoće li cijeli NY biti devastiran ili će ekipa znanstvenika uspijeti uništiti smrtonosnu prijetnju...?"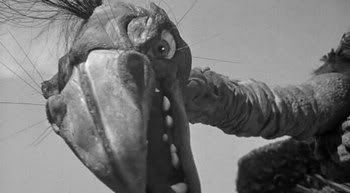 Ne ovo nije The Muppet Show ili Ulica Sezam...ovo je Džinvska Kandža

RECENZIJA:
"- Već dugo vremena tražim neki crno-bijeli film o čudovištima koji bi od gušta pogledao i nakon što sam prije par dana primo mail od jednog prijatelja iz Škotske gdje mi preporučio jedan od najboljih "tako loš da je dobar" filmova. Naravno...to je film današnje moje recenzije a ime samom filmu je
The Giant Claw (1957)
A.. što kažete?
Jebeno ime za SF B-film iz druge polovice 50-tih.
Ok. Idemo dalje.

Početak filma započinje sljedećim rečenicama naratora:

"- Once the world was big, and no man in his lifetime could circle it. Through the centuries, science has made man's lifetime bigger, and the world smaller. Now the farthest corner of the Earth is as close as a pushbutton, and time has lost all meaning as man-made devices speed many many times faster than sound itself."
Jednom je svijet bio velik i niti jedan čovjek za svog života nije ga mogao obaći. Tijekom stoljeća, znanost je čovjeku životni vijek povećala, a svijet načinila manjim. Sada je najudaljeniji kutak Zemlje blizu isto kao prekidač, i vrijeme je izgubilo sav svoj značaj prema uređajima napravljenih od ljudskih ruku brzine mnogo mnogo puta bržih od zvuka samog.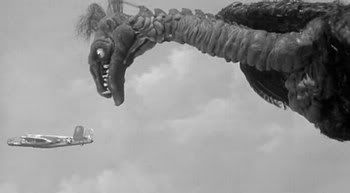 Famozna 27:53 minuta kad stradava prvi avion...

Krasnog li početka zar ne?
Potom se lagano upoznajemo sa likovima koji će nas pratiti kroz film - Jeff Morrow (This Island Earth, Kronos), Morris Ankrum (Invaders From Mars, Earth vs. the Flying Saucers) i Mara Corday (Tarantula, The Black Scorpian) sve sama jako poznata glumačka imena B produkcije SF-a tog doba.
Sve krasno ide, ali nakon 20min se pitam gdje je jebeno čudovište?
A onda BAM točno kao sat u 27 minuti (ako ćemo cjepidlačiti - 27:53) dobivamo prvu pojavu opake beštije, ali smo par minuta prije upozoreni na njen jako opširan opis (opet narator):


"- Something, he didn't know what, but something as big as a Battleship has just flown over and past him."


(hrv. - "- Nešto, nije znao što, ali nešto veliko kao bojni brod (može i oklopnjača) je upravo prelijetjelo i prošlo kraj njega")

"- Pasija ti mater!!!" : uzviknuh dok sam skakao sa naslonjača i počeo umirati doslovno od smija dok sam gledao crno bijelog letećeg monstera, a Jägermeister sa par kocki leda koji sam lagano pijuckao mi izletio kroz nozdrve (bez leda) te se umaloh udavih.
Čudovište sa mog gledišta izgleda ovako:
Opis br. 1 (moj opis) - pola lešinar (ili mutirani kondor) pola starija verzija Goge Dode iz Tiny Toon Adventures crtića gigantskih proporcija, sa pankerskom čupom na glavi (ima i uši)
Opis br. 2 (opis mog mlađeg brata) - mješavina purana (ili Raphus cucullatus tj. znan i kao Dodo sa Mauritiusa) i Gonza (ne mene ili Huntera S. Thompsona) iz The Muppet Showa koja je velika poput bojnog broda (sa pankerskom čupom na glavi, a ima i uši....znači dolazi iz svemira...ptica sa ušima...kontate)
Uglavnom beštija ima - jako buljave oči (konjiktivitis??), uvijek je gladna (jede sve odreda beton, avione, aute, ljude, vlakove), puše nozdrvama kao bjesni bik i glasa se gra-graaa...eh da skoro zaboravih na najvažnije dolazi iz antimaterijskog svemira. Kako to znam? E pa lijepo...znanstvenik u filmu po imenu Dr. Karol Noymann sve zna pa i što je leteće čudovište (slušajte sad...heheh):



"That bird is extraterrestrial. It comes from outer space. From some God-forsaken anti-matter galaxy millions and millions of light years from the Earth. No other explanation is possible."



(hrv. -Ta je ptica vanzemaljac. Dolazi iz svemira (nemoj srat...). Iz neke od Boga zaboravljene antimaterijske galaksije milione i milione svjetlosnih godina od Zemlje (zar Džinovska Kandža putuje warp brzinom?). Niti jedno drugo objašnjenje nije moguće (e svaka ti dala))


Dž. Kandža je izgleda ženka sa svojim Džinovskim Jajetom...

Da ne duljim evo na što treba obratit pozornost:

Što je dobro kod filma:
- izaziva salve smijeha od prve pojave monstera (27:53min.)
- dobra ideja koja bolno zaziva remake (Tim Burtonu je jedan od filmova koji se pamte...)
- Mara Corday koja glumi Sally Caldwell je u svoje doba bila jako dobra koka
- film je kratak (samo 75min.)
- film ima scene rušenje loših maketa zgrada Ujedinjenih Nacija i Empire State
- montaža je predivna (Anthony DiMarco i Saul A. Goodkind su nadljudskim snagama film prikazali što boljim....kapa dolje) i čistina slike je kao u A-prodkuciji
- film ima jedno od najsmješnijih opakih čudovišta svih vremena - lutka koja leti na jako vidljivim žicama
- riječ bojni brod se mnogo spominje tijekom cijelog filma (jednom budem prebrojio) i baš dobro dođe za popit bićerin nećeg žestokog kad god se ta riječ spomene
- sad znam odakle je Larry Cohen pokupio ideju za svoj kultni film "Q" iz 1982

Što nije dobro kod filma:
- produkcija (Sam Katzman možda i najgori producent svih vremena, koji je želio zaraditi što više love za jako malo love....zato je snimanje bilo u Meksiku a ne u Americi i zato film izgleda tako smiješno i žalosno)
- film ima jedno od najsmješnijih opakih čudovišta svih vremena - lutka koja leti na jako vidljivim žicama
- jeftino do zla boga (makete, lutka čudovišta, iritirajuće smiješno glasanje čudovišta...i sve ostalo)
- scenarij je jedan od najgore napisanih koje sam vidio (dijalozi smiješni i glupi, mislim da bi i dijete izmislilo bolje porijeklo čudovišta, nepotrebno ubačeno i najviše iritirajuće je sam glas naratora, koji nama gledateljima sve objašnjava kao da smo najveći kreteni)
- upotreba scena iz drugih filmova (evo samo nekih koje sam primjetio - "The Day the Earth Stood Still" (1951), "The Beast From 20,000 Fathoms" (1953) i "Earth vs. the Flying Saucers" (1956)...da me sada jebeš ne mogu se drugih sjetiti...ali kad vidim da je 06:12 ujutro...koga briga)
- neprestano forsiranje riječi (opis čudovišta) - bojni brod
- ovo definitivno nije film tipa filmova kao što su Mothra i Rodan


ne ovdje ne puši kubanku, nego krši loše napravljenu maketu aviona

Završna misao:
"- Ovo je jedan od onih filmova koji su ispoljili trash podžanr i ako očekujete filmske klasike ala "Them!" (1954) ili "Gojira" (1954) onda zaboravite na gledanje ovog C/B djela (film je ipak nastao 3 godine nakon tih...a ima žalosne efekte...a da ne spominjem "King Konga" iz tada već daleke 33', koji je imao prejebene efekte).
Ako želite zabavu i želite se ismijati na istinsko (ne)djelo i film iz zlatnih godina SF-a gdje ljudska znanost (i bedastoće) pobjeđuje čudovišta i opake vanzemaljce onda toplo preporučujem ovaj film.
Kako bi HorrorHR rekao - ovo je baš film za ekipu...e bogme baš jeste...(uz mnogo piva)

THE SCENA:
- iako je bilo par njih ja sam izabrao jednu i to sa zanimljivom izjavom (Quotes):
Mitch MacAfee: "- You keep your shirt on and I'll go get my pants on."

te naravno kršenje UN zgrade ala Gojira: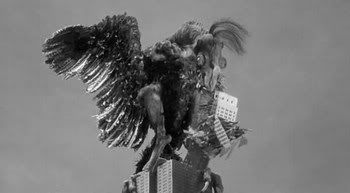 Čak je jednim dijelom tijela (u letu) skršila slučajno zgradu (lijepo je izgledalo)

p.s. - JamesNintendoNerd je ovog monstera stavio na svoje No. 1 mjesto svih vremena čak ispred drugih legendarnih monstera...što dovonjo govori kakav je dobar (smiješan dojam) ostavio na njega